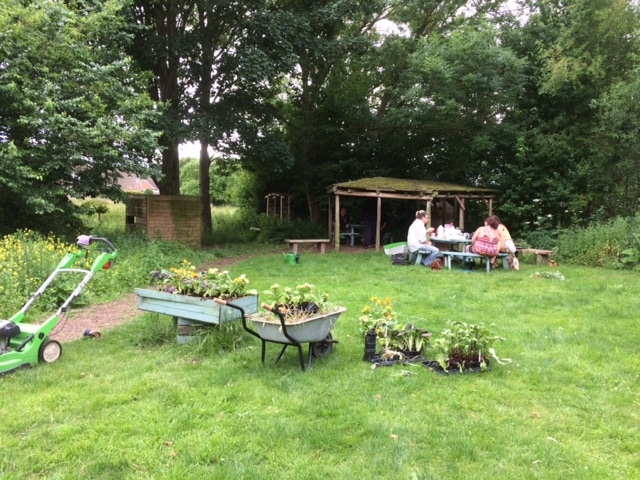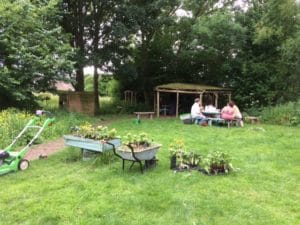 Seed of Hope is a Community Interest Company providing Recovery based social and therapeutic gardening. They work with Bridgwater and Taunton College, using its stunning Walled Gardens of Cannington as a base. Using the gardening expertise and facilities of the college, and the mental health recovery experience, of Kris Scotting and Jayne Alcock they use gardening to support people in their personal Recovery journey. Participants are supported to achieve a level one qualification in Practical horticultural Skills awarded by City and Guilds.
Co-founder Kris Scotting was a student on the School for Social Entrepreneurs Dartington (SSED) Somerset Social Entrepreneurs Programme 2018. "I used to be a psychiatric nurse, but I'm better now! I started as a volunteer in 1985 working with ex-offenders in Hampshire in a market garden, and really saw the benefits there. I thought it would be a good idea to get some training so went off and trained as a psychiatric nurse." He worked for 8 years in the NHS then worked in the voluntary sector for 11 years before moving on to work for another social enterprise.
"I can't tell you when the exact moment was, but at some point I realised there was no such thing as mental illness. Clearly people experience emotional and psychological distress which can be life limiting and even life ending. Having worked in that sector for many years I noticed that taking tablets doesn't necessarily make people better, and it's a very restrictive system that says -"just take it easy, don't worry about having a life or a job, or a relationship, because you can't do those things when you've got a mental illness." There are different ways to do mental health. The over-riding paradigm in statutory mental health services in England is the medical model, which says you've got the illness, take the tablets do as we say and you'll get better.
"But there is another paradigm which is the Recovery one which says that people with mental health problems can and do recover. And that's not necessarily a clinical recovery or a social recovery, that's about living your life in a satisfying, hopeful and contributing way even with a mental health problem and that's what Seed of Hope's about. It's about getting outdoors, in nature, nurturing living plants and the environment, caring for something other than yourself, working together as a team, with a common goal. And it's about being outside in increased light levels which is good for you and above all, hope.
"Hope is in our name and hope is one of the key things in Recovery. If you haven't got hope, then what is the point? Gardeners are some of the most hopeful people in the world."
"We started on a wing and a prayer and were lucky to get a grant from Tesco Bags of Help which allowed us to work for a year here and prove the viability of the project. It also enabled us to build many of the structures you see here at the site (Cannington Community Orchard). As a result, we incorporated as Seed of Hope CIC in 2017 in the hope that would help us to be more self sufficient and sustainable.
From a neglected orchard, bordering a stream they have created a beautiful garden with all plants grown from seed in their green house and poly-tunnel on another section of the site. Plants are grown on in raised beds made from upcycled scaffold boards and there is a wildflower area that borders the stream which is real wildlife haven. "We put the hide in for bird watching and we had a grand opening, and you couldn't make it up, two red kite flew across the back. We've also got a kingfisher and otters in the brook."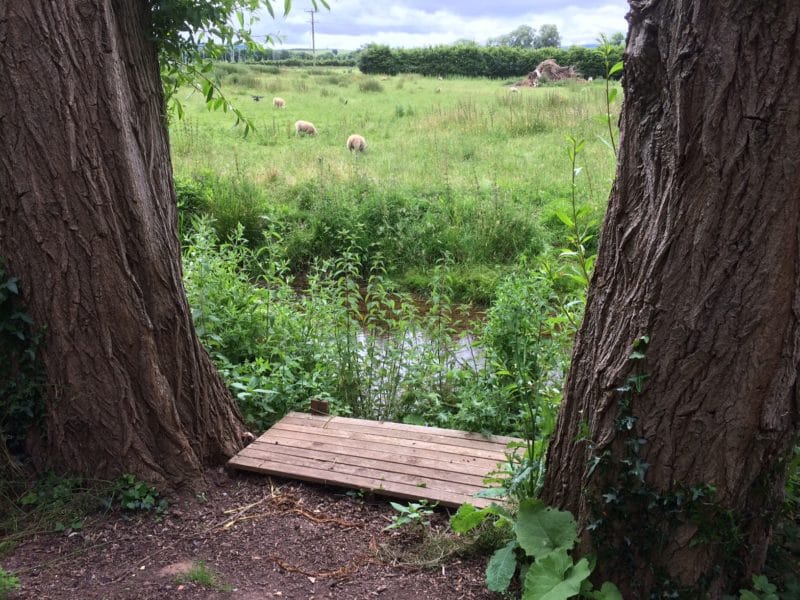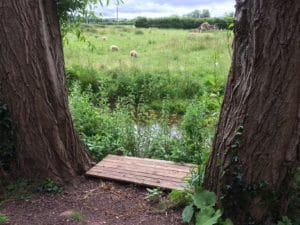 "The project was to create a Recovery pathway through the garden. We put in several tonnes of hard core and created a shaded contemplation area." They also put in a log path and a little corner with a wooden dragon sculpture and a sitting area looking over the stream and adjoining fields.
"The path echoes the path of Recovery, it's not always straight and easy". It meanders through an area planted with wildflower seeds, through a lovely archway "covered in dog rose and honeysuckle to bring you out into the real world."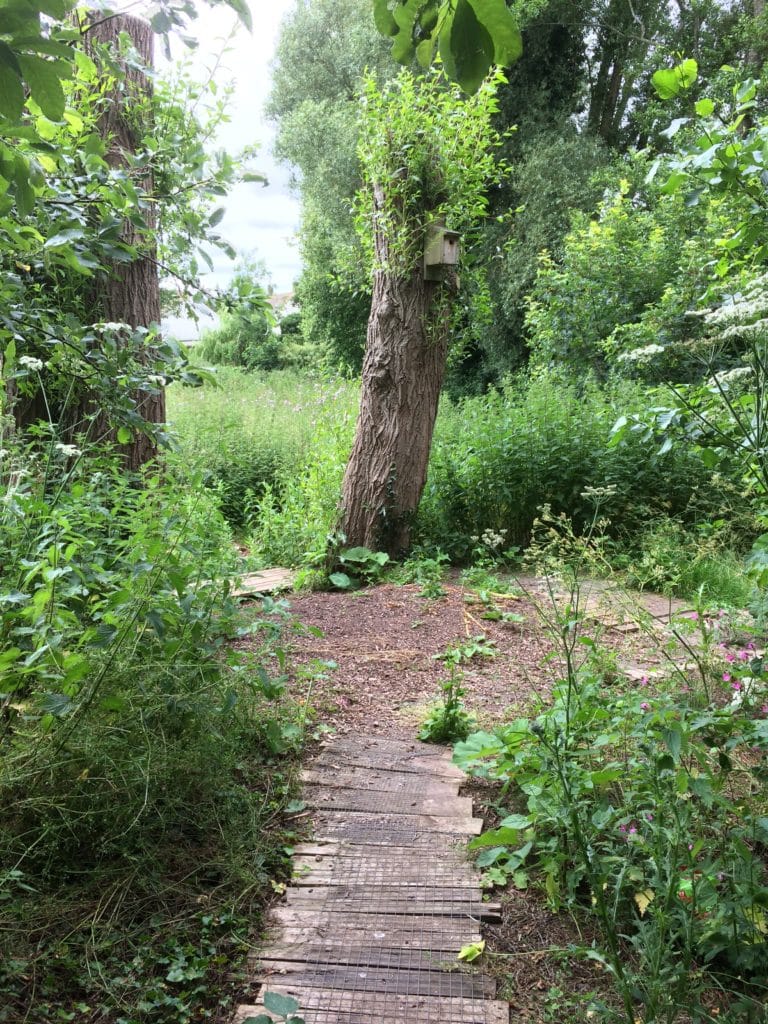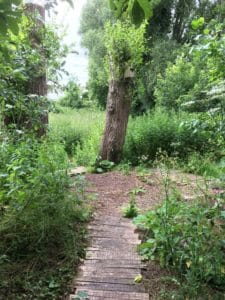 Sadly, the site has suffered from a few acts of vandalism, but Kris sees this as akin to the Recovery journey, "life knocks you back but you just have to get up again and carry on".
Initially, Kris and Jayne hoped that people would pay for Seed of Hope's service through their individual health and social care budgets. "Some people have, the budget should come from the NHS but it is very difficult to access. If people have a learning disability for example, or a disabled child or are over 65, the first thing that happens is that they'll be assessed for eligibility by doctors or social workers. In mental health this happens much less frequently. Under the 2008 Health and Social Care Act everybody's entitled to an assessment of their health needs and a health budget should be allocated accordingly, but this doesn't always happen. The research shows that when people are given an individual health and social care budget they do really well with it, but in an austerity society the budget is often unavailable or inaccessible."
So Seed of Hope have started to diversify to find other ways of making money which will enable people to access their service.
They sell packets of wildflower seeds, called Seeds of Hope, for £1 per packet and hold events at which they sell items made by the Seed of Hope participants and volunteers. For example, a new range of upcycled pallet wood planters, planted with dwarf varieties of herbs and veg plants that they have grown from seed. These have proved very popular, "the idea and the success is based on the talents of the group."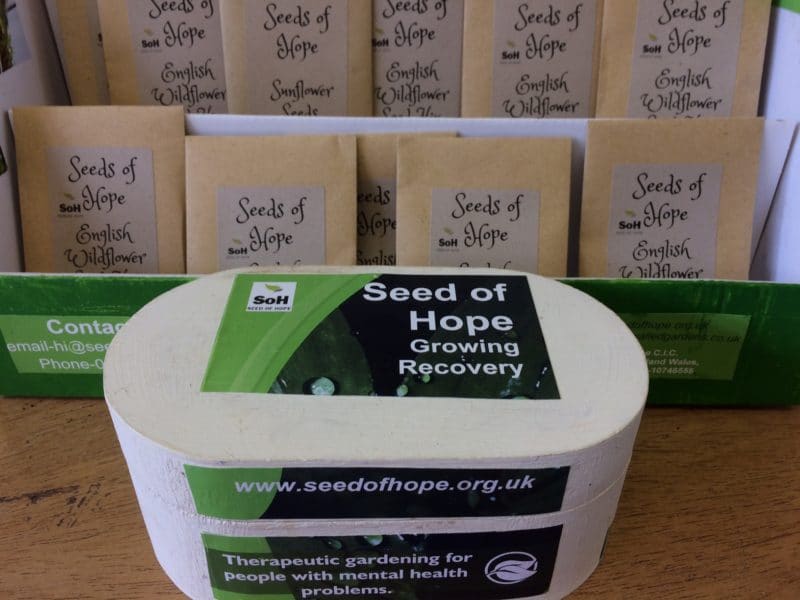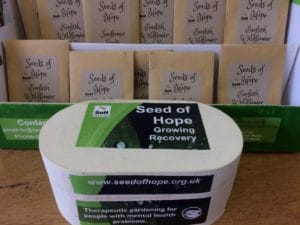 And it is the creating of the garden and garden products for sale that forms part of the therapy for the participants. Whether it is getting involved in ripping apart pallets and re-assembling them into planters, or digging and weeding raised beds or planting seeds and potting on plants.
A typical day starts with a chat over a cup of tea, then yoga, some gardening, lunch which is a social group affair at the wooden table outdoors, followed in the afternoon by the Recovery group session.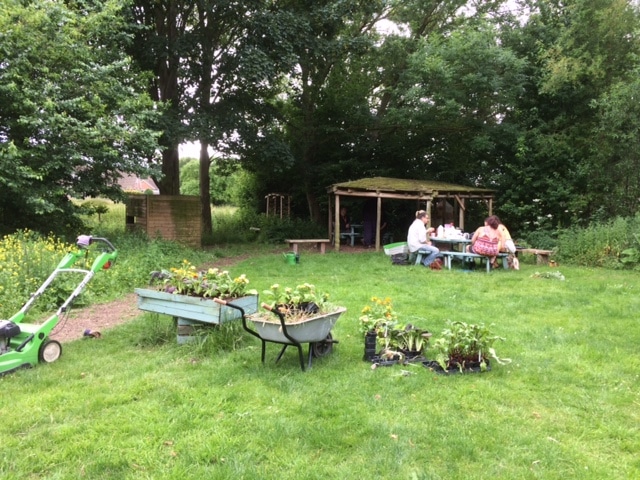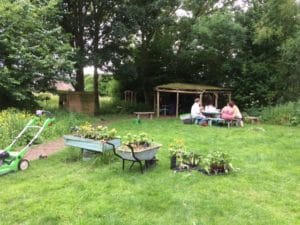 Plans for the future include expanding into more locations. A recent visitor from London would love to see the concept replicated there, particularly the Recovery sessions. Kris would like this to work in a similar way to Alcoholics or Narcotics Anonymous, whereby if you are away from home, you can look up a Seed of Hope Recovery group based in your area and go along and join in. This is one way in which the SSED Somerset Social Entrepreneurs Programme has helped Kris, to explore new options such as social franchising.
Seed of Hope had been going for a couple of years before Kris joined the SSED programme. This was a five-month intensive programme where students learnt 'by doing', gaining advice and guidance from business experts, participating in interactive sessions with experienced social entrepreneurs and fellow students and receiving individual in-depth analysis of their social enterprises.
"The networking has been fantastic, worth its weight in gold. We were encouraged to take every opportunity to network, with fellow students, and with the business experts and mentors that come in to give practical help and advice. I would recommend the programme to others for the networking opportunities alone and also the contacts, which is one of the reasons why I went on the course."
"I definitely noticed the 'SSE effect'. Once you're in there, the fellows are valued. You get the publicity through case studies like this and have access to the network of other SSE fellows across the UK and beyond. The action learning sets are fantastic, and we're continuing with ours in Somerset now that the course is over."
There is a real sense of community amongst the people in the garden. It is a calm environment and it is easy to see why it has such a therapeutic effect. "We're about mental health, not mental illness. We've got humour ingrained in our DNA. We laugh at ourselves and our situations and that in itself is therapeutic, because a lot of therapy groups are very straight-laced."
One of their success stories is a man who literally couldn't come into the room with the other participants at first, because the voices in his head were so bad. He is now a confident and social member of the group and is even starting his own social enterprise. Another member recovered and is now in full time work. One met her partner there and is now engaged to be married. Another plans to get a job as a landscape gardener.
The Seed of Hope board is made up of the group participants. In their articles of association they enshrined that anyone who comes to Seed of Hope can become part of the company and have an equal vote in what goes on, so even if Kris or Jane were no longer involved it would still be able to carry on in its present form.
School for Social Entrepreneurs – Dartington are one of six delivery partners offering a minimum of 12 hours tailored business support to social entrepreneurs in Somerset and Devon as part of the Enhance Social Enterprise Programme. For more information and to register visit http://www.devon.cc/ese.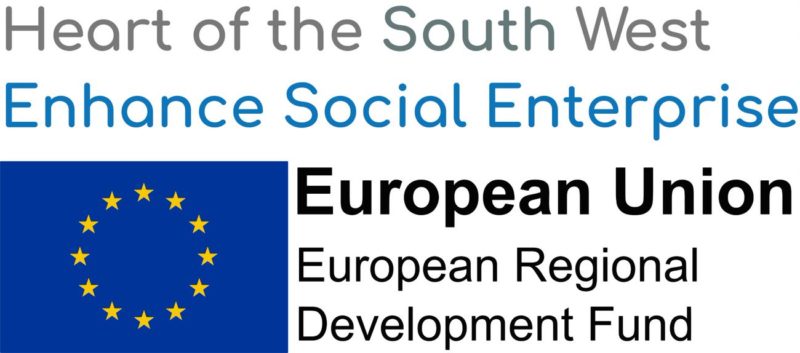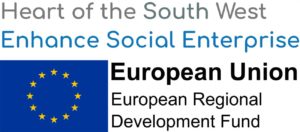 The Heart of the South West Enhance Social Enterprise Programme is receiving funding from the England European Regional Development Fund (ERDF) as part of the European Structural and Investment Funds Growth Programme 2014-2020.