Blog post by Susanna Jones, marketing officer for the Enhance Social Enterprise Programme.
Could you please tell us a bit about your background and 4 Dementia Carers?
" 4 Dementia Carers started due to my own personal experience. As a single parent working full-time, I found myself caring for my mother who had vascular dementia. At first, I didn't realise that she had dementia, I knew my mother needed support and that I was the only family member near enough to provide that support but I had no help or pre-training for it. This was a very emotional time when I learnt how to deal with traumatic things that you cannot prevent or predict. I found it difficult to do right for everyone, I did my best when looking after my mother, but if I knew then what I know now, I would have done things differently.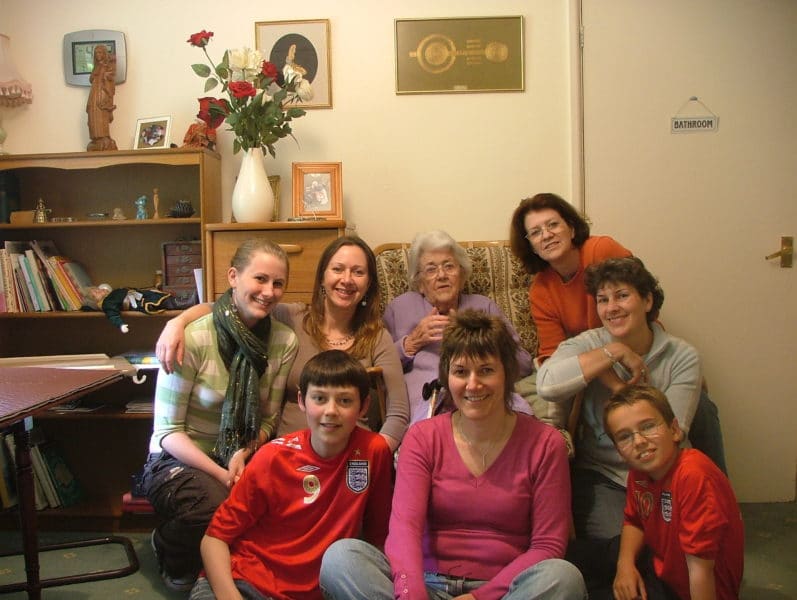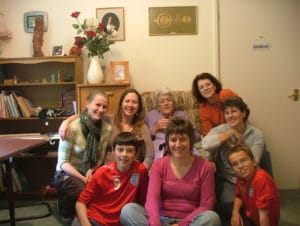 There are 24.6 million people who know a family member or close friend living with dementia, which is 38% of the population. In the workplace, you would not know who was going through this. People who leave their jobs to be full-time dementia carers often give a different reason. They may go off sick to take someone with dementia to an appointment because they don't feel they can ask their employer.
I decided to make my workplace, the Met Office, a Dementia Carer Friendly Workplace. We focused on dementia carers because they are hidden and at risk to their own mental health and wellbeing. What we realised was by supporting dementia carers, who often would not come forward because of taboos and stigma, we benefited other carers too. One of the directors said that a positive impact of making the Met Office Dementia Carer Friendly was that they began considering all carers when making decisions. In 2016 I retired from the Met Office to spread what I had done there to other organisations. "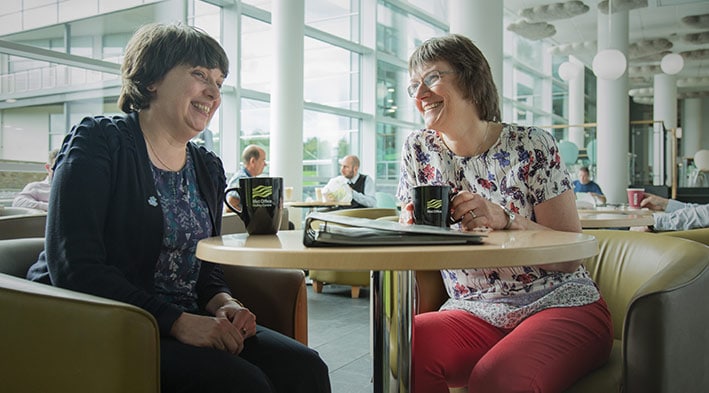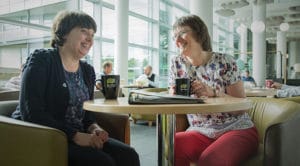 Why did you choose to do the Lloyds Bank School for Social Entrepreneurs (SSE) Start Up Programme at School for Social Entrepreneurs – Dartington?
" I had little knowledge of starting my own business and I knew there were a lot of things I might do wrong without the right support. I didn't have any funds at all and I valued having other social entrepreneurs to bounce ideas off and to network with. The Lloyds Bank School for Social Entrepreneurs (SSE) Start Up Programme supported by the Enhance Social Enterprise Programme was the perfect business support for me. Without the programme I wouldn't have been able to fund the training I needed, have access to a mentor, make much needed improvements to my website, create marketing tools or even know what to charge. The Programme took you through the stages to create a business, for example we looked at legal structures, on my own I would have created a CIC but during the course I realised this structure is not right for where we are now. My one-to-ones with learning manager Sam Haydock were very useful. We worked in small Action Learning Set groups to work through problems and we still meet to this day. The course has helped me to connect to a whole family of entrepreneurs. We have a lot in common – we want to fix something! This helps you keep going when things get difficult, the programme and your peers help you to see a way forward! "
How has 4dementiacarers developed since completing the Programme?
" I am encouraging more workplaces to become Dementia friendly workplaces. The model includes having a champion to drive it forward including buy in from the top; delivering dementia friendly sessions to increase staff awareness and understanding about dementia; developing a Dementia Carer Network group which is a community of past and current carers and creating Carer Buddies who can meet up for a chat when needed.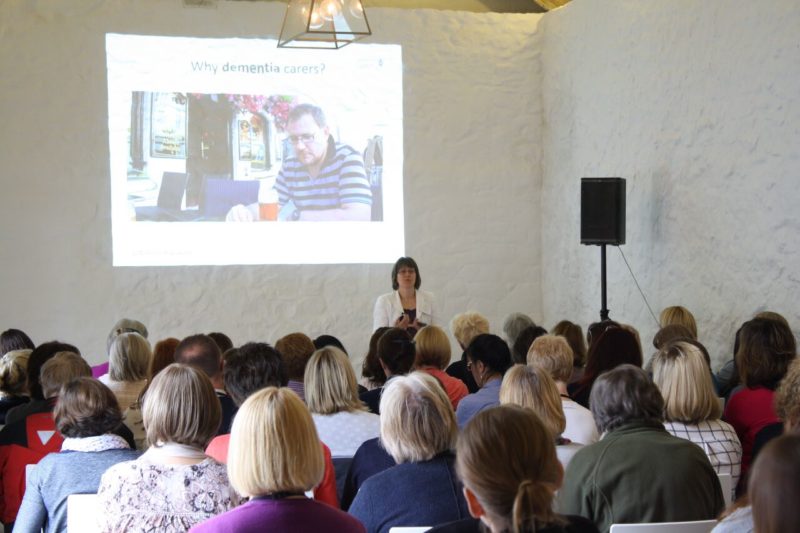 I have developed Dementia Carer Workshops which demonstrate a caring organisation to employees, reduces the stress dementia carers feel under and helps them cope with their situation. Following one of our workshops, the British Library developed a Dementia Carer Network and Carer Buddies. When asked what action they would take away from the day, one participant said: " Talk more instead of thinking I can cope alone. Listen more, say less; try not to confuse the issue – give more time. Stop feeling guilty. " And 100% of participants said they would recommend the course to others.
I have also promoted Dementia walk-throughs with local GP surgeries led by a group of dementia patients. The insight into difficulties faced by someone living with dementia led to quick practical changes which benefitted other patients too.
As my contribution towards the Newton Abbot and Teignbridge Dementia Action Alliance, I facilitate Dementia Carer Network meetings monthly, this inclusive membership has led to some vital support, including for one dementia carer who felt suicidal. "
What would you say to other new and aspiring social entrepreneurs considering taking The Lloyds Bank for Social Entrepreneurs (SSE) Start Up Programme at School for Social Entrepreneurs – Dartington?
" I wouldn't be where I am today if it had not been for this Programme. If you too have a great idea which could benefit the community in some way then this Programme can help you to make a success of it. If you don't give it a try you will never know the difference it could have made to others. There is nothing like working alongside other like-minded entrepreneurs. If you are like me providing this support will give you enormous satisfaction. Just do it! "
Mary received the Newton Abbot & District Civic Society Award – Individual Merit for Outstanding service to the community Civic Award 2017 and is now a School for Social Entrepreneurs fellow.
School for Social Entrepreneurs – Dartington are one of six delivery partners offering tailored business support to Social Entrepreneurs through the Enhance Social Enterprise Programme. For more information about the support offered by each of our delivery partners, and to register for the Programme visit our website: http://devon.cc/ese.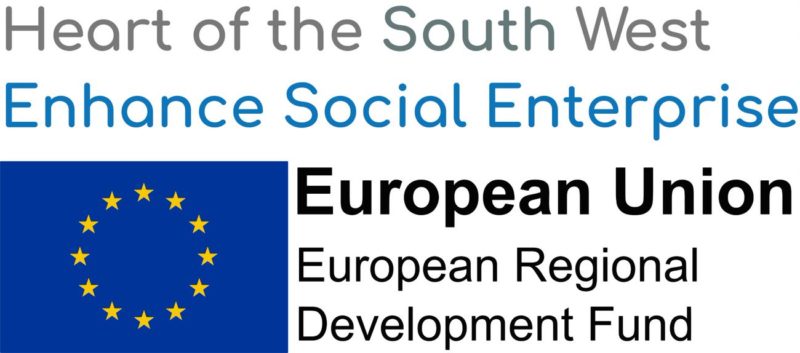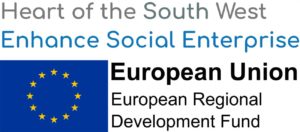 The Heart of the South West Enhance Social Enterprise Programme is receiving funding from the England European Regional Development Fund (ERDF) as part of the European Structural and Investment Funds Growth Programme 2014-2020.