The team is working on a range of infrastructure projects, with partners, to support the growth and resilience of the economy. This includes the deployment of superfast broadband, development of a range of employment sites in strategic locations, mobile coverage, district heating and energy schemes.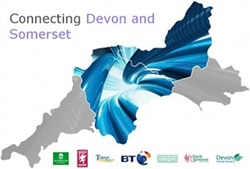 Connecting Devon and Somerset (CDS)
This £171m programme is bringing superfast broadband to rural areas that would otherwise not see commercial investment. To date, 327,000 homes and businesses across the local authority areas of Devon, Torbay, Plymouth, Somerset, North Somerset and Bath & North East Somerset now have access to faster broadband thanks to CDS, which is the biggest public funded broadband programme in England.
Phase two of the programme is underway and is set to provide over 60,000 of the hardest to reach homes and businesses with superfast or ultrafast broadband by the end of 2019.
Around two thirds of all broadband infrastructure built or planned in the region is wholly commercial. CDS fills the gaps in rural communities and businesses where the commercial market will not provide the infrastructure.
You can find out more information on the programme on the CDS website and you can follow @DCCSCCBroadband on Twitter and Connecting Devon and Somerset on LinkedIn.
Get Up to Speed
As part of the Connecting Devon and Somerset programme, there is also a programme of business and community support that is delivered free of charge. The service is delivered by the Comic Peninsula Consortium. Find out more about the get up to speed support service here.
Exeter and East Devon Growth Point
We are working in partnership with Exeter City Council, East Devon District Council, developers and central government, to deliver a development programme worth over £2 billion. This includes the first new town in Devon since medieval times, next generation business parks, and a community energy centre.
Devon County Council has worked in partnership with the Heart of the South West Local Enterprise Partnership (HotSW LEP) and East Devon District Council to develop the Exeter & East Devon Enterprise Zone within the Growth Point.
This will provide business rate relief for new and growing businesses, worth up to £55,000 per business year on year, for up to 5 years. More information can be found on the East Devon District Council website.
Skypark
Adjacent to Exeter International Airport, Exeter's Skypark is a new generation of business park combining office, industrial and distribution space with hotel, local facilities and a biomass and gas combined heat and power plant.
Skypark is predicted to have a significant positive impact on the local economy as part of the wider Exeter and East Devon Growth Point Initiative, with the creation of up to 6,500 jobs over the next 20 years. Skypark is one of the key sites in the Enterprise Zone.
Exeter Science Park
Located at the gateway to the Exeter and East Devon Growth Point the Park offers immediate access to the M5 motorway and Exeter International Airport.
With considerable scientific resource on the doorstep, including the Met Office and the University of Exeter, companies located at the park will benefit from strong regional, national and international networks. Science Park is one of the key sites in the Enterprise Zone.
Roundswell Enterprise Park
Roundswell Enterprise Park is being developed on the edge of Barnstaple to provide high-quality workspace and business support to SME businesses focused on those with high growth/value potential.
Node
Located on Roundswell Enterprise Park, Node offers high-quality office, coworking and collaboration space for entrepreneurs, business start-ups, and small and medium-sized businesses.
Strategic employment sites
In addition to developments at the Growth Point, and management of the Council's own Industrial Estate Portfolio, the team is currently working to bring forward two strategic employment sites in West and North Devon, utilising land owned by DCC, and in response to identified economic need.
Okehampton East Business Park
This site comprises c.12 net developable acres for which outline planning consent has been secured for mixed business use. Infrastructure works have been completed and all the plots are now under offer to a good mix of mainly local and expanding businesses. The site when fully developed out has the potential to support more than 400 jobs.
Energy projects
Working with public sector partners in Exeter we have set up a joint venture Dextco to deliver district heating in the city centre and potentially in south west Exeter.
Partners are Exeter City Council, University of Exeter, RD&E hospital and Teignbridge District Council. Procurement of a private sector partner to build and operate the city centre scheme was launched in summer 2017.
We are working with North Devon Council on the assessment of district heating potential in Barnstaple. Both projects are part-funded by central government's Heat Networks Delivery Unit.
In addition to this, we are working with Teignbridge District Council on potential district heating schemes in Newton Abbot.
Mobile phone reception in Devon
Comprehensive mobile phone coverage in Devon is very important to economic and social development, and it is now regarded as a utility.
The Economy and Enterprise Service has commissioned consultants to work with us to develop a business case for public investment to improve mobile phone coverage. Procurement for scheme delivery is expected to be launched in early 2018.
Devon County Council statement on health risks from 5G technologies deployment – June 2019
The County Council draws on the advice and guidance provided by Public Health England (PHE) regarding the health and safety of mobile technologies including 5G.
PHE continues to monitor the health-related evidence applicable to radio waves, including in relation to base stations and is committed to updating its advice as required.
The County Council has been in touch with PHE (June 2019) to ask for any further advice. PHE responded to confirm that its briefing note on 5G is still current, and PHE has also recently updated its website with information on 5G. Read more about the statement here.
Transport lobbying and resilience
We work closely with our colleagues in transport planning to ensure that, where possible, Devon's growth is not hindered by transport constraints. This includes lobbying central government and rail providers as well as providing economic evidence to support proposals.
One Public Estate Partnership
Devon County Council serves as the managing authority for the Devon and Torbay One Public Estate (OPE) Partnership. The OPE Partnership is a collaboration between local authorities and public sector bodies to deliver strategic public land use, housing, and co-location projects. OPE aims to create economic growth, deliver integrated public services, generate capital receipts, and reduce running costs of government buildings.