Active Travel Fund Tranche 3 Schemes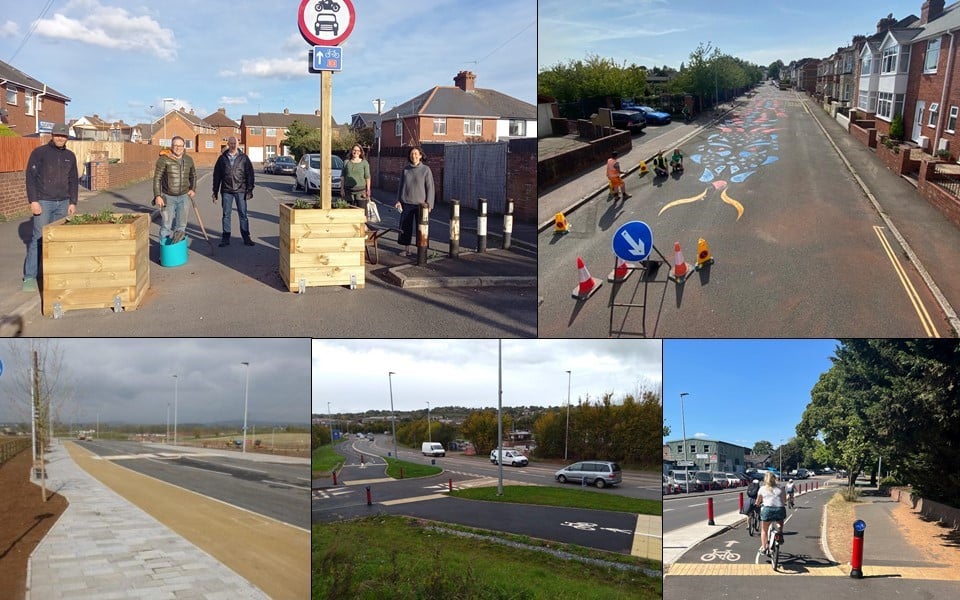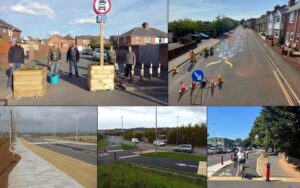 E9
Following a 2021 public consultation which showed almost 75% of respondents in favour of permanent changes to reduce traffic, ATF Tranche 3 funding will be used to make permanent and formalise the temporary changes on the popular local shopping street of Magdalen Road, Exeter. These changes include a widened footway on the northern side of the road to improve the environment for people walking, a one-way (westbound) restriction for vehicular traffic to reduce the impact of traffic in the area and a contra-flow (eastbound) lane to maintain two-way cycle traffic on the E9 route. The scheme also includes enhancements to the public realm, with additional cycle parking and planting, and an informal pedestrian crossing on Denmark Road near the Magdalen Road junction.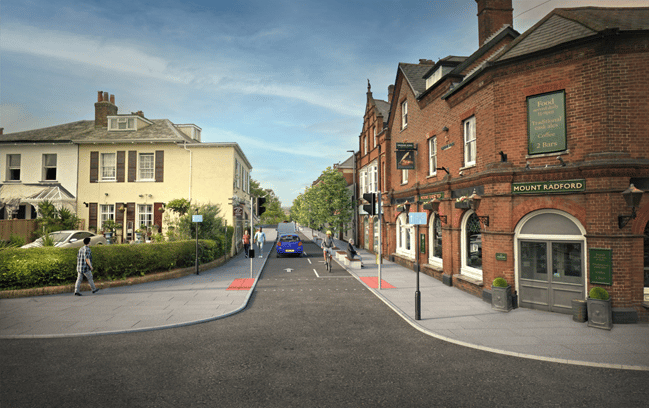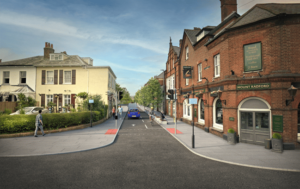 ATF Tranche 3 funding is also being used to make permanent the modal filter on Dryden Road, thus reducing traffic and improving safety for cyclists on the E9 corridor.
Further information on the Magdalen Road scheme can be found in a June 2022 report to Devon County Council's Cabinet.
E12
A bi-directional off-road cycle track will be installed along the eastern side of Rifford Road, Exeter, forming part of the E12 north-south strategic cycle route. For the majority of the route's length, cyclists will be segregated from pedestrians, and cyclists will be given priority across side roads. At its northern end, the cycle track will connect to the Sweetbrier Lane cycle lane delivered through ATF Tranche 2, whilst at the southern end (Ludwell Lane Roundabout), there are future connections proposed to the Royal Devon and Exeter Hospital and the City Centre via the E9 route, and the Riverside Valley Park and Marsh Barton via the E12 route.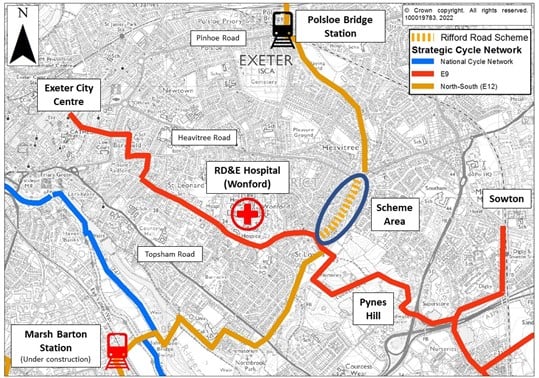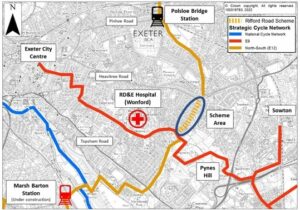 Further information can be found on the consultation page for the scheme devon.cc/riffordroad.
Green Lanes
Langaton Lane is a narrow Devon lane linking the Pinhoe area of Exeter to the new Tithebarn residential area of the city. Onward walking and cycling connections can be made from here to new employment sites at Science Park, Skypark and the growing new town at Cranbrook. Langaton Lane has scope for dedicated walking or cycling provision, giving rise to road safety concerns, particularly given the scale of planned development, which is expected to increase traffic levels.
Between June 2021 and March 2022, Langaton Lane was closed to vehicular traffic to facilitate works to services. This temporary closure was well received locally, so Devon County Council implemented a further temporary closure under an Experimental Traffic Regulation Order, which cam into force in March 2022. A decision on whether to make this closure permanent will be made later this year.
The Council has also received ATF Tranche 3 funding to upgrade the surfacing on Rydon Lane which is currently an unsurfaced country lane between the villages of Woodbury and Exton. This improvement will improve conditions for year round walking, everyday cycling and horse riding, providing a more resilient link from Woodbury to the popular Exe Estuary Trail and railway station at Exton on the Avocet line between Exeter and Exmouth.
Heavitree and Whipton Low-Traffic Neighbourhood
Following two phases of consultation with local residents and stakeholders, Devon County Council is developing proposals for a Low Traffic Neighbourhood trial in the Heavitree and Whipton residential areas of Exeter. As outlined in a July 2022 presentation to the Highways and Traffic Orders Committee (HATOC), this trial scheme would close residential streets to through vehicular traffic, creating quieter streets for walking, wheeling, cycling and community activities.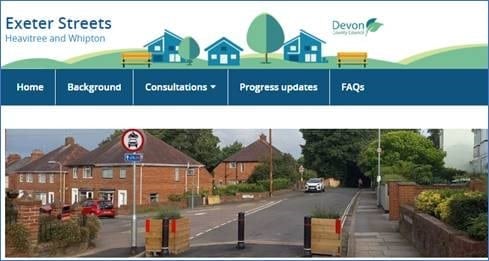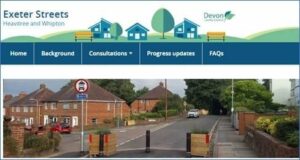 After further consultation with stakeholders, such as emergency services, on details of the design, it is intended to seek approval to implement a trial scheme at a future HATOC meeting. At this point, timescales for delivering the project will be agreed.
Further information about this project can be found at devon.cc/exeterstreets.