Rifford Road Cycle Track
The public consultation is now closed. The results of the public consultation can be found in the full Consultation Report.
What we are consulting on
Devon County Council is keen to hear the opinion of local residents, businesses and other stakeholders on the design for a segregated cycle route along Rifford Road.
The cycle route will be a 700m traffic-free facility along the east of Rifford Road between the junctions with Ludwell Lane and Honiton Road. Rifford Road is a 'missing link' in the North-South cycle route (also known as E12) that runs from Polsloe Bridge station in the north to Topsham Road in the south, and will ultimately link to Marsh Barton station. This route connects residents of Whipton, Heavitree and Wonford to schools, workplaces, parks, rail stations as well as the River Exe and the Exe Estuary Trail.
The proposed cycle way would also intersect the E9 east-west cycle route that runs from Pynes Hill, via Ludwell Lane and Dryden Road to the Royal Devon & Exeter Hospital and onto Exeter city centre.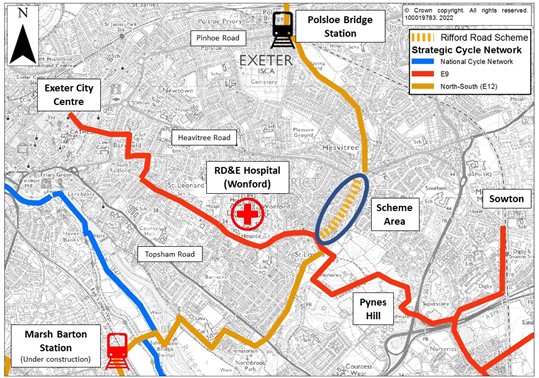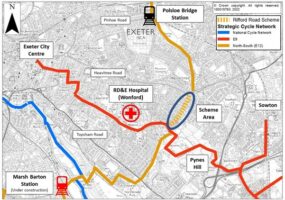 We have developed a design for the cycle route that will allow everyone to have space, and we welcome your feedback to help us improve the proposals further.
What we are proposing
The proposed scheme would provide a 3m-wide two-way cycle track along the eastern side of Rifford Road. There will be short sections at either end of the scheme where width constraints mean that paths in those locations will be shared between pedestrians and cyclists.
Due to the presence of a large number of services buried under the road surface, the cycle route would be built level with the adjacent footway. An example of similar segregated infrastructure can be found on Exhibition Way, although the precise design may be altered slightly.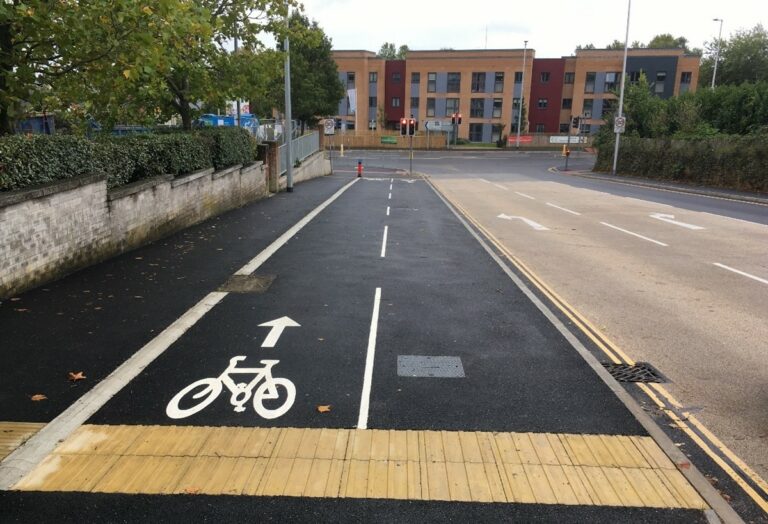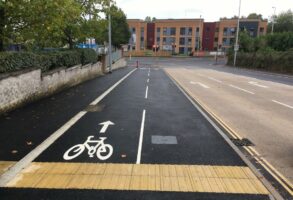 As demonstrated in the below cross-section, the two-way cycle route will be provided by removing the central hatched area of Rifford Road and moving the traffic lanes and parking bays across. Two lanes of vehicular traffic will be retained. Bus stops and driveway accesses will also be retained. In accordance with the recently updated highway code, at junctions, pedestrians and cyclists would have priority over side roads.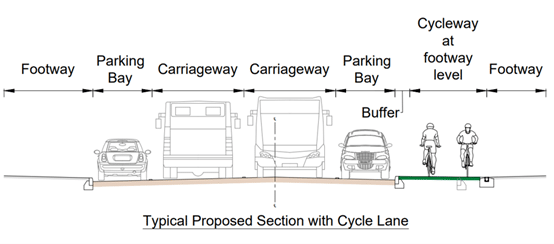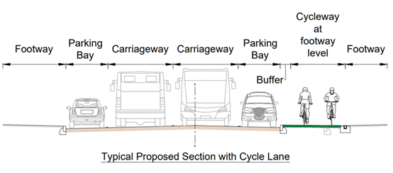 The proposed scheme would also include new crossings of Rifford Road and side roads, as detailed below.
Crossings of side roads
At junctions between Rifford Road and side roads (such as Lethbridge Road and Woodwater Lane), cyclists will be given priority over vehicular traffic. Raised tables will be constructed to continue the cycle path, and give-way marking painted on the road. Some of these crossings will be slightly set back from the junction, to provide vehicles turning into the side roads with sufficient space to stop. In addition, junctions will be narrowed to reduce vehicle speeds and this will create shorter crossing distances for pedestrians and cyclists.
Crossings of Rifford Road
Two new parallel crossings are proposed across Rifford Road, one immediately north of the Ludwell Lane roundabout and the other immediately north of the Lethbridge Road junction. Parallel crossings are types of zebra crossings allowing pedestrians and cyclists to cross. An example of such a crossing is situated on the E4 cycle route, near Cumberland Way (see image below).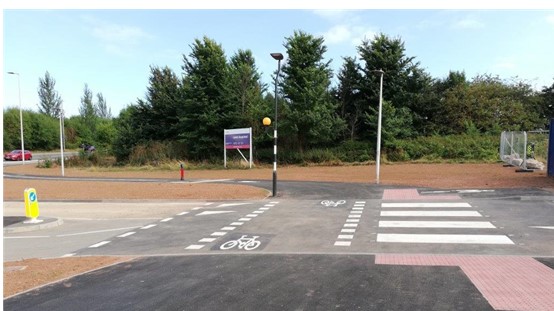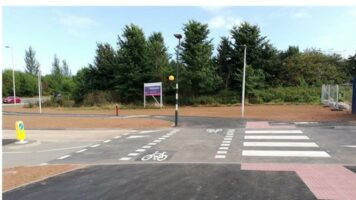 In addition, existing informal pedestrian crossings, such as that immediately south of the Woodwater Lane junction, will be modified to reflect the revised road layout. The removal of the central hatched area on Rifford Road will reduce crossing distances for pedestrians, meaning existing refuge islands are no longer needed. However, road humps will be retained to reduce traffic speeds approaching the crossings.
Ludwell Lane Roundabout
At Ludwell Lane Roundabout, the following changes are proposed:
a new parallel pedestrian/cycle crossing on the north-eastern (Rifford Road) arm, connecting to the E9 cycle route on Coronation Road
at the south western arm (Burnthouse Lane) a raised surface where pedestrian and cycles can cross will be created, to the same level as the footpath and cycleway
the footways around the roundabout will be widened to provide improved shared pedestrian and cycle space;
the existing raised table on the north-western (Coronation Road) arm will be realigned.
The existing central island on the roundabout will be retained, as will the pedestrian access to Ludwell Valley Preschool.
From Ludwell Lane Roundabout, pedestrians and cyclists will be able to use existing facilities to access the Ludwell Valley Park, supermarkets, community centres and the Royal Devon & Exeter Hospital (using the E9 cycle route via Coronation Road and Dryden Road). There are also wider plans to improve cycle facilities on Burnthouse Lane and in future provide further improvements to the pedestrian and cycle facilities in the heart of Wonford.
Parking
As noted above, the cycle route will be constructed by removing the central hatched area of the carriageway, with parking on the eastern side of Rifford Road moved by a few metres. However, changes to pedestrian and cycle crossing facilities (including the construction of the two new parallel crossings) will require the removal of approximately 17 spaces out of a total of 122 spaces across the length of Rifford Road. This is considered proportionate in view of the scheme's significant benefits for pedestrians and cyclists, and the County Council's wider objectives of improving active travel rates and tackling the climate emergency.
The location of the parking spaces that will be lost are shown in the map linked below. Please let us know if you require any assistance understanding this map
Enabling people to be physically active is a core component of the  Exeter Transport Strategy 2020-2030, and encouraging active travel also reduces people's reliance on the private car, therefore reducing carbon emissions which in turn helps  address the Climate Emergency.
It is recognised that some people  may feel uncomfortable or unsafe cycling on busy roads. The provision of facilities which separate cyclists from vehicles and pedestrians will provide a safe and attractive facility for all users.
The proposals on Rifford Road complete a 'missing link', connecting existing facilities to provide a 5km section of North-South cycle route, and supporting safe cycle routes for residents to a wider range of facilities.
There are lots of residential properties nearby and it is close to major trip generators, such as the Royal Devon & Exeter Hospital, Lidl and St Peter's School as well as a number of primary schools. The scheme therefore has significant potential to convert short vehicle journeys to walking or cycling.
Design choices
Why we progressed designs for a two-way cycle path
A two-way cycle path requires less space than lanes on each side of Rifford Road, and is considered suitable for the anticipated  cycle flows.
We also considered the option of creating a wide path shared between pedestrians and cyclists along the complete length of Rifford Road. However, this may not necessarily give everyone the space they need and mixing of cycles and pedestrians may not be as attractive to pedestrians or cyclists.
Why cyclists are given priority at junctions
The recent changes in the highway code give pedestrians and cyclist priority across side roads. The proposed design is reflective of this change and the narrowing of some junctions will also slow vehicle speeds and help improve safety.
Find out more
Webinar
A consultation webinar explaining the proposals and enabling members of the public to put questions to transport planning officers was held on Wednesday 30 March 2022 at 17:30. The webinar presentation was recorded for the benefit of those unable to attend.
Community Centre
We will be available to meet with members of the public at the Wonford Community Centre on Thursday 31 March and Thursday 7 April between 10 am and 12 noon. The address of the Community Centre is as follows:
Wonford Community and Learning Centre
Burnthouse Lane
Exeter
EX2 6NF
For those travelling to the Community Centre by bus, the nearest stops are outside/opposite Wonford Methodist Church and are served by Stagecoach routes H1, H2, R and S.
The consultation leaflet contains further details of the proposals.
Accessibility
We take accessibility seriously and recognise that some of the information presented in the files available on this page may not be fully accessible to someone using assistive technology such as a screen reader. If you need guidance or an alternative format, email transportplanning@devon.gov.uk with details of any preferred format and the assistive technology you use.
Have your say
We would like to know what you think about our proposals. Please let us have your comments by 22 April 2022 by completing our online survey.
Alternatively to request a paper copy of the consultation leaflet and/or the survey:
email us at transportplanning@devon.gov.uk
write to us at Transport Planning, Devon County Council, Matford Offices, County Hall, Topsham Road, Exeter, EX2 4QD.
The consultation closed on 22 April 2022.
What happens next
Based on your feedback, we will refine the proposals for Rifford Road, to ensure all users get maximum benefit. We will then seek approval to construct the scheme from Devon County Council's Cabinet.
From
21/03/2022
Until
22/04/2022