A number of archaeological excavations and open days in Devon have coincided with the Council for British Archaeology's Festival of British Archaeology 2014. Here are a few of the events that took place, benefiting from the glorious weather we have enjoyed this year.
Haldon Belvedere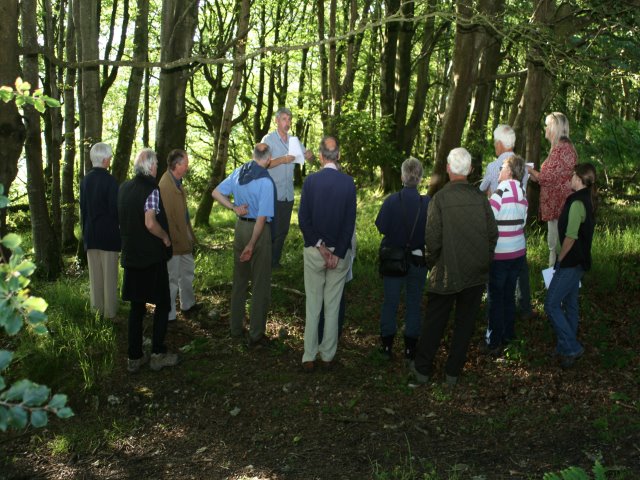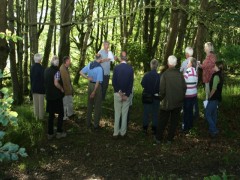 On a wonderfully sunny evening the Devon Historic Buildings Trust opened up the Belvedere and we were treated to a glorious panorama of the Devon landscape from one of its most famous landmarks.
Conservation Architect Sue Spackman explained the history of the Belvedere, otherwise known as Lawrence Castle, which was built in 1788 for local landowner Sir Robert Palk. It was built to commemorate his friend Major-General Stringer Lawrence, who was a key player in extending the British Empire in India.
County Archaeologist Bill Horner put the hilltop into a much earlier context, explaining how archaeology has revealed extensive evidence of Stone Age occupation. Excavations off the hilltop in the 1930s found 1000s of flints, over 200 sherds of early Neolithic pottery and a rectangular structure, one of the earliest houses to have been recorded in England. In the 1990s, excavation of new services during the refurbishment of the Belvedere, which was grant aided by DCC, allowed the recording of more Neolithic evidence on the summit and over a wider area.
The weather afforded the party excellent views to other early Neolithic sites such as High Peak and Hembury.
Mount Folly Enclosures Project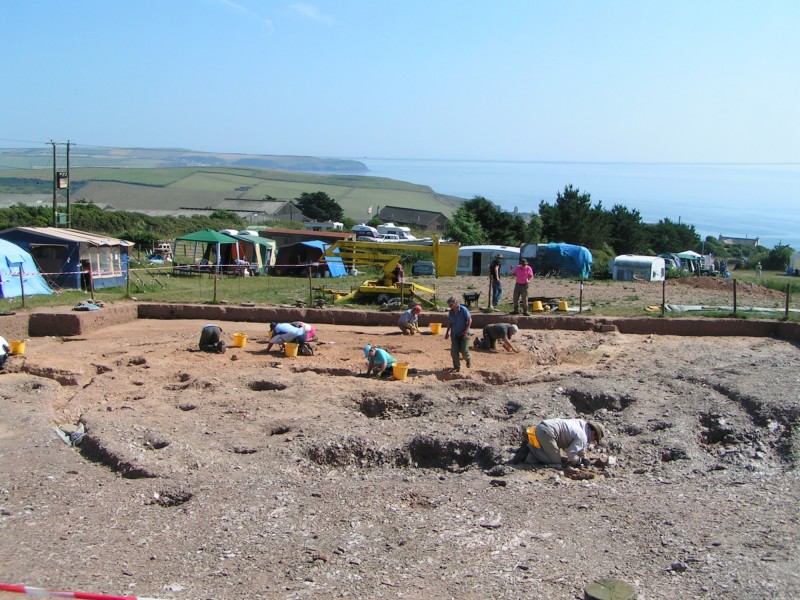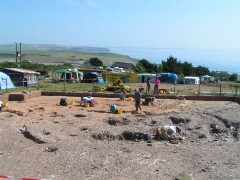 This Iron Age and Romano-British coastal settlement at Bigbury on Sea in the South Hams was first discovered in aerial reconnaissance by Frances Griffith, then County Archaeologist, in 1989. Excavation has been underway since 2003 and has grown to be one of the largest volunteer excavations in the south of England. Work has been grant-aided by DCC.
Now concentrating on the area in front of a terrace and round-house(s) and working at lower levels, the team of local diggers, led by Dr Eileen Wilkes of Bournemouth University, have been finding more evidence of Bronze Age occupation of the site.
Ipplepen Community Excavation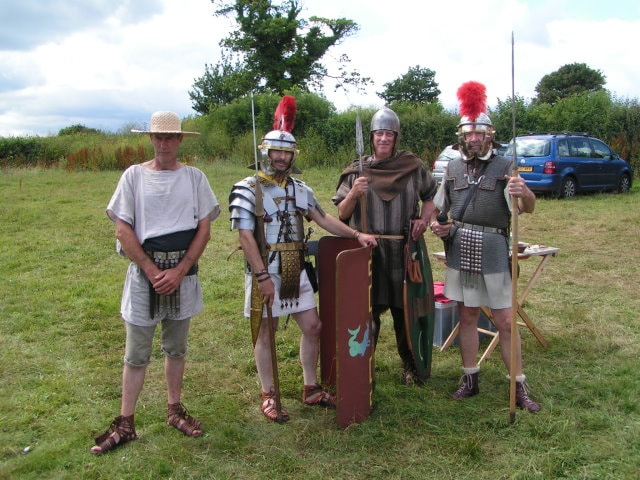 Now in its third full season, the University of Exeter training and community excavation on this extensive Iron Age and Romano-British settlement attracted a large crowd to see the dig and also enjoy a range of associated activities.
The dig focused on a section of Roman road identified by a geophysical survey commissioned by DCC in 2012 after the discovery of Roman coins by local metal detectorists. Wheel ruts found in the road surface are thought to be like those at Pompeii, caused by carts being driven over the surface. A few more Roman coins have been found this year, including first and fourth century AD types. However, the discovery of personal artefacts, such as a Roman hair pin, brooches and a bracelet have been particularly exciting.  Green and blue glass and amber beads have also been unearthed, which suggests that colourful necklaces were also worn. Pottery has also been discovered by the students and local volunteers on the excavation, including copies of popular Roman pottery for cooking and eating and imported fine pottery from the continent such as drinking cups and Samian bowls. The dig is funded by the University of Exeter, Portable Antiquities Scheme, The British Museum and DCC.
Denbury Camp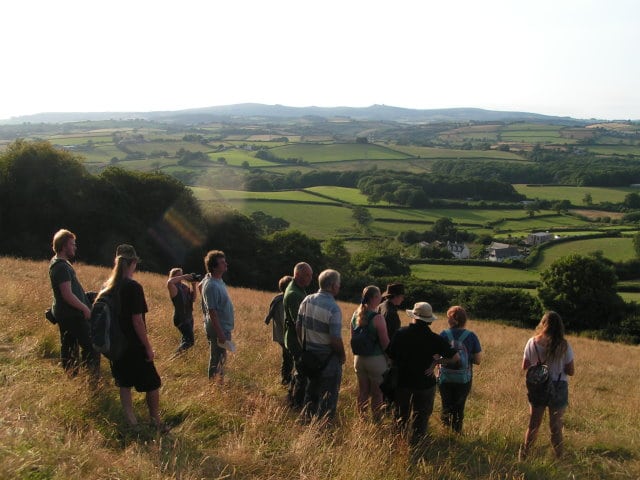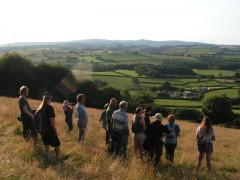 Student and local participants in the Ipplepen excavations, and a passing Danish holidaymaker, enjoyed a sunny evening's walk to Denbury Camp, led by John Avon the Stover Country Park Manager. John covered the many issues around managing a site for its archaeology, flora, fauna and landscape value.
County Archaeologist Bill Horner used a detailed archaeological survey plan to explain the phases of the Iron Age defences, the earlier Bronze Age burial cairns and the impact of medieval cultivation.
Batsworthy Cross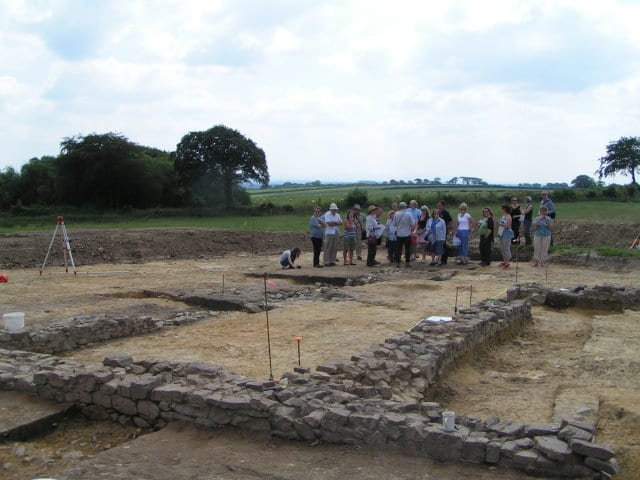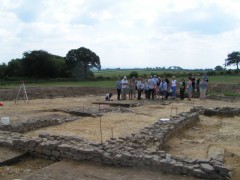 Ongoing excavations by Wessex Archaeology on land near Batsworthy Cross, Knowstone, North Devon have revealed a small medieval settlement. Several of the features were identified by geophysical and earthwork surveys before the excavation began.
The remains of a single stone-built structure have been excavated. Finds include fragments of medieval coarseware pottery. These remains may have been a dwelling or stock building, perhaps forming part of a small farming community. A droveway, formed by two large ditches wit associated banks was also found. This would have been used to control the movement of animals around the landscape. Evidence of former medieval settlement and enclosure has been recorded on nearby Knowstone Moor and Hares Down.
The excavation has taken place as a condition of consent for the construction of a nine-turbine wind farm by RWE Innogy UK. The condition was requested by DCC's Planning Archaeologist, Steve Reed, who helped staff from Wessex Archaeology show over 200 people around the site on the dig open day.
East Devon Heath Week Family Festival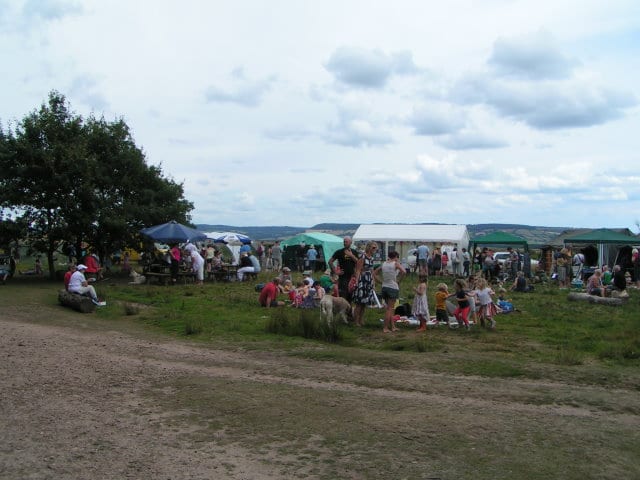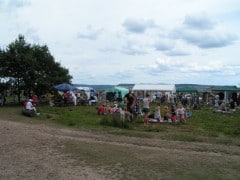 Nearly 500 people attended this year's Family Festival at Woodbury Castle on the East Devon Pebblebed Heaths. Organised by the RSPB and the Pebblebed Heaths Trust, the festival is principally an opportunity for youngsters to participate in ecology-based activities … and for their parents to enjoy pizza from a wood-fired oven, delicious home-baked cakes and a good cup of tea. DCC provided an information stall on the archaeology of Woodbury Castle and made available guide leaflets to this and other hillforts in East Devon.