South of Hope Cove in South Devon, and marking a prominent feature at the south of Bigbury Bay, is the Iron Age promontory fort of Bolt Tail.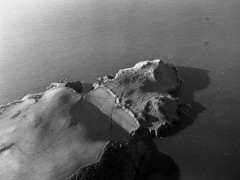 There is evidence for human activity at Bolt Tail from the flint tools that have been discovered here dating from the late Mesolithic (6000BC to 4000BC) and the Neolithic (4000 to 2200BC). However, the main archaeological monument at Bolt Tail is the Iron Age (700BC to 43AD) promontory fort.
A promontory fort is a defensive enclosure created by constructing ramparts across a neck of land, in order to defend, or restrict access to, a spur or promontory of land, often on the coast.
In this case, there is a single rampart running 260m across the headland. Towards the middle of the rampart there is an entrance near to a natural rock outcrop. Here the ramparts turn inwards to form the entrance.
No excavation has been carried out at Bolt Tail, but the form of the earthworks and the inward-turned entrance are similar to other promontory forts in the South West dating to about 300BC; so it is likely this promontory hill fort dates to the late Iron Age. The interior of the fort has been ploughed since as early as the 1840s, so there are no visible evidence of building platforms or other settlement here. However, it is likely that there were wooden-built round houses within the fort.
Bolt Head and Bolt Tail are not recorded as names until the 16th and 18th centuries but 'Boltesberie' and 'Boteberie' are recorded in the Domesday book in 1086. The Bolt may have been a stretch of high coast land between Bolt Head to Bolt Tail.
The coast around Bolt Head is rugged and dangerous to shipping. On 15th February 1760 the HMS Ramilles ran aground a few hundred yards east of Bolt Tail and rapidly broke into pieces, with the loss of 700 to 800 lives; only around 20 people survived by clambering onto the cliffs of Bolt Tail.
Bolt Tail is on National Trust land and is accessible at all times via a ten minute walk along the South West Coast Path. Walk on the South West Coast Path from Inner Hope, through the woods to the south of Hope Cove, and continue upwards until you get to the ramparts at Bolt Tail. Not only can you view the remains of this fascinating Iron Age promontory fort, but you get dramatic views across Bigbury Bay to Burgh Island, and further along the beautiful South Devon coast for many miles.
For more information, see the Historic Environment Record information about this site on Heritage Gateway.