Dolbury Hillfort is a Scheduled Monument thought to date to the early Iron Age, around 600 BC.  It is located on a 120m high hilltop overlooking the River Culm, within the grounds of Killerton House, Broadclyst.  The location of hillforts was chosen for their natural defence, such as steep slopes at the end of a spur or cliff edges of a coastal promontory.  Located on a high point gave many advantages such as protecting cattle from theft and providing advance warning of enemy attacks. Early hillforts usually consisted of a single earth or stone rampart with a simple entrance, with some forts subsequently developing into much larger ones, being protected by multiple defensive banks and ditches.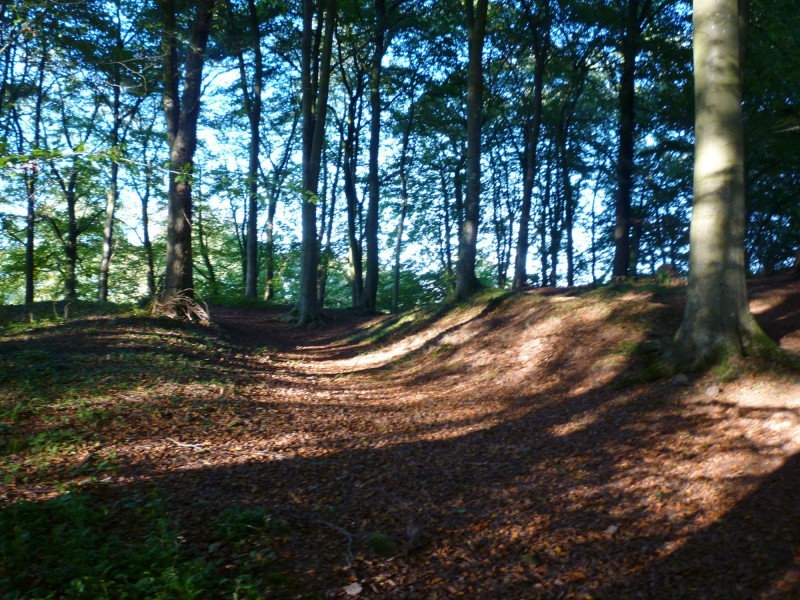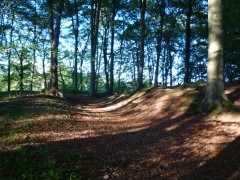 Dolbury hillfort is thought to represent two phases of construction.  The initial phase would be the enclosure of the ridge occupying the eastern half of the area, the higher and most defensible part.  Around the north and east sides of the ridge the steep slopes may have negated the need for earthwork defences.  No obvious entrance can be determined.   The second phase involved the incorporation of the western plateau, with scarping, as well as an insubstantial outer ditch.  The lack of a proper rampart bank may indicate palisading, or possibly a degree of incompletion. The main entrance on the north of overlapping type is distinctive and remarkably strong in spite of, perhaps 19th century or later levelling.   Occupying slightly lower ground in the west part is a well-defended enclosure built after the completion of the main hillfort.
The whole area of the hillfort and enclosure suffered some disturbance during the 18th century when the area was heavily planted with trees; this included the creation of Dolbury Clump (on the higher ground of the hillfort), which is a well known feature of Killerton Park. Despite the trees and undergrowth the earthworks are generally impressive.
Owned by the National Trust, access is on foot from Killerton House by gates at the top of the garden, or by footpath from the south-east through the park.  A National Trust car park is located at Killerton House.  The park is registered Grade II* in the English Heritage register of Historic Parks and Gardens.
For more information, see the Historic Environment Record information about this site on Heritage Gateway.