Extensive rebuilding took place in the 17th and 18th centuries in most of Devon's towns. Timber-framed houses of a particular west country style are notable. In the countryside farmhouses are built in characteristic vernacular styles using locally distinctive materials such as cob and wheat straw thatch. The traditional farmstead buildings reflect the historically mixed nature of Devon's farming. Some types are special to the county, in particular the linhay (a two-storey open-fronted shed). Castle Hill, Filleigh is one of Devon's greatest houses and designed landscapes, but more characteristic of the county are more modest medium sized country houses set in their own parkland.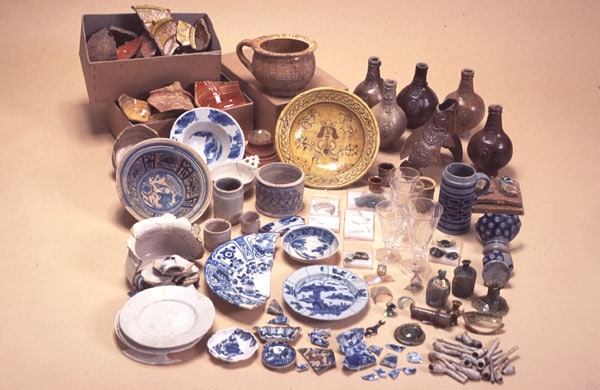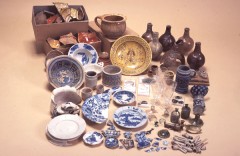 The Dartmoor tin industry expanded as did other forms of metal mining, such as the silver-lead mines of Combe Martin. Stone and slate quarrying for immediate local use and for export have left a legacy of abandoned quarries across the county. The pottery industry of North Devon expanded considerably to supply the growing local dairy industry and pottery was exported to the colonies in the new world. Ball clay was also worked, firstly for tobacco pipe manufacture and then to supply the pottery industries of the midlands. Lime kilns now dot Devon's coast, estuaries and riverbanks, as well as its rural hinterland, supplying lime for the improvement of agricultural land and for the mortar and renders seen in so many of Devon's buildings. However, the wool and cloth industry remained at the heart of the Devon economy, leaving a legacy of mostly water-powered mills and their associated weirs, leats and 'rack' field names.
Ports such as Exeter (with Topsham), Dartmouth and Barnstaple ranked amongst the wealthiest in England in the 17th century. This has left a legacy of fine architecture, ancillary industries such as boat buildings and waterfront archaeology in many of the settlements around Devon's coast and estuaries.
The warehouses of Exeter and the quays of Dartmouth, Barnstaple and Bideford are among the best evidence for Devon's long and extensive involvement in maritime trade.
Find out more about these sites by viewing the Devon Historic Environment Record.