In 1642, during the Civil War, the Parliamentarian Captain (later General) Chudleigh built an eight-gun fort at East-the-Water which, along with another fort on the west side of the river, defended Bideford and the river approaches.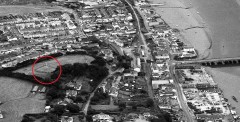 The fort is a five-sided platform with a stone-rubble retaining wall and parapet with 14 gun-ports.  It was largely rebuilt in the 19th century, which is probably the date of the granite plaque with lead lettering reading:
FORT ERECTED BY PARLIAMENTARY FORCES COMMANDED BY MAJOR-GEN. CHUDLEIGH.  April 1642
It is now a public park maintained by the Torridge District Council.
For more information, see the Historic Environment Record information about this site on Heritage Gateway.