The Parish Church of Bradninch was once dedicated to St. Denis but became known as St. Disen's in the 19th century.  Legend has it that St. Denis was a 7th century Irish hermit who upon finding no place of worship here built the first church.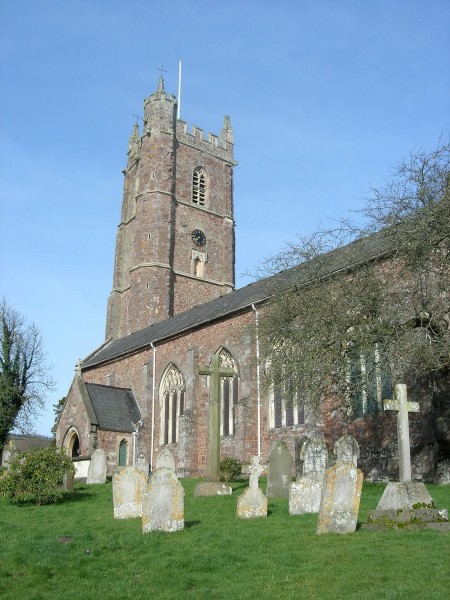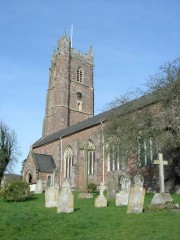 The church we see today, however, is mainly 15th and 16th century in date but incorporates some earlier work in the chancel and at the base of the 24 metre high tower.  The church was partially rebuilt in 1841 when the nave and aisles were heightened but the nave roof dates from further restoration that took place in 1889. 
The pride of the church is its great 15th century screen with its 52 painted panels that were added in the 16th century, the paintwork being renewed in the 19th century.  The paintings include the temptation of Eve, the Annunciation and 12 sibyls or prophetesses.  The rood above the screen is modern; the original rood was destroyed in the 17th century and the heraldic head-piece that replaced it in 1620 was removed to the Guildhall when the church was restored in 1841.  Between the chancel and the Lady Chapel is a smaller screen whose painted panels include St. George and the Dragon, St. Francis of Assisi and St. Christopher.
There is much else of interest in the church, however, ranging from a green man on the column opposite the south door to a monument in the chancel erected in 1679 in memory of Peter Sainthill who lived at Bradninch Manor to the Royal Arms above the tower screen commemorating a visit by King Edward VIII in 1936.  All the stained glass is 19th century.  The windows in the Lady Chapel are of particular interest; that behind the altar was designed by parishioner Sarah Yeatman as a memorial to her parents while that in the east wall was given by American congressman, George West in memory of his mother, Jane West who died in 1854 and is buried in the churchyard.
Another American connection is commemorated on a plaque on the churchyard railings next to the gate; Squire Boone, father of pioneer Daniel Boone, was baptised in the church on Christmas Day 1696.
For more information, see the Historic Environment Record information about this site on Heritage Gateway.