Now open for 2022-2023, £25,000 levy funds available for social care in Devon
Devon County Council can transfer apprenticeship levy funds to other employers in Devon. You can use this fund for apprenticeships for your staff to help develop your workforce. This includes new apprentices or existing employees.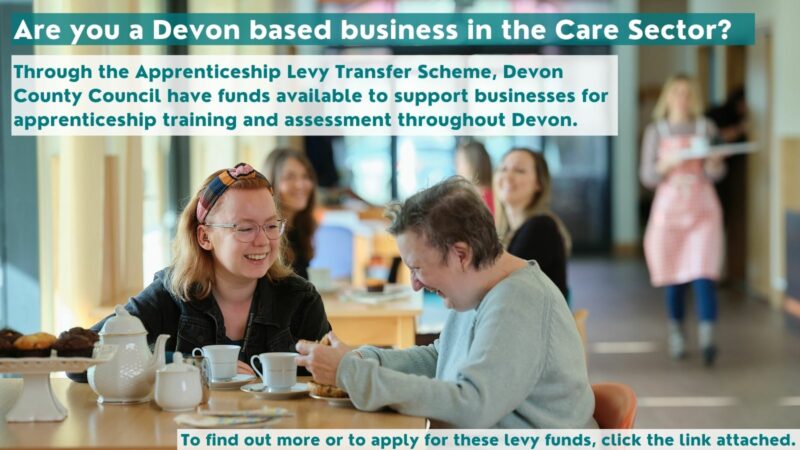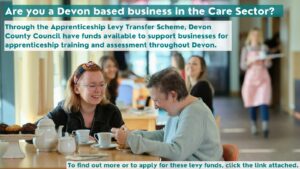 Who is eligible and has priority?
Organisations that deliver services to the most vulnerable in society and a need to build workforce capability.
Organisations that offer opportunities for people with learning disabilities and care experienced young people.
To prioritise requests from particular geographical areas, where evidence shows that there is the most need to build workforce capability.
To give priority to non-levy paying employers in the first instance.
How to access the apprenticeship levy fund?
You will need to set up an apprenticeship service account.
You'll be asked for a name, email address and to create a password. You will then receive a access code to confirm your identity.
You will then need to add the PAYE scheme for your organisation. You can do this by using either of the following: the Government Gateway login for your organisation or your accounts office reference number for your organisation.
Complete the transfer fund details for Devon County Council. You will need to complete a number of different fields:
Apprenticeship training: Job role, Number of apprentices, Start by and Have you found a training provider. You can find a list of apprenticeship training available here.
Your business details: Sector and Location
Contact details: Name, Email address, Business website
After you have completed the transfer funds form this will be sent to the apprenticeship levy panel to review and you'll then receive confirmation if your levy funding application has been successful.