Has your support helped transformed someone's life? Have you got innovative practice to share?
Send us your celebratory photos and words and we'll help share good practice.
---
Social Care Day of Remembrance at Rose Hill
Clients and staff at Rose Hill Community Project and Outreach Services (Northam Care Trust) planted a tree in recognition of the day.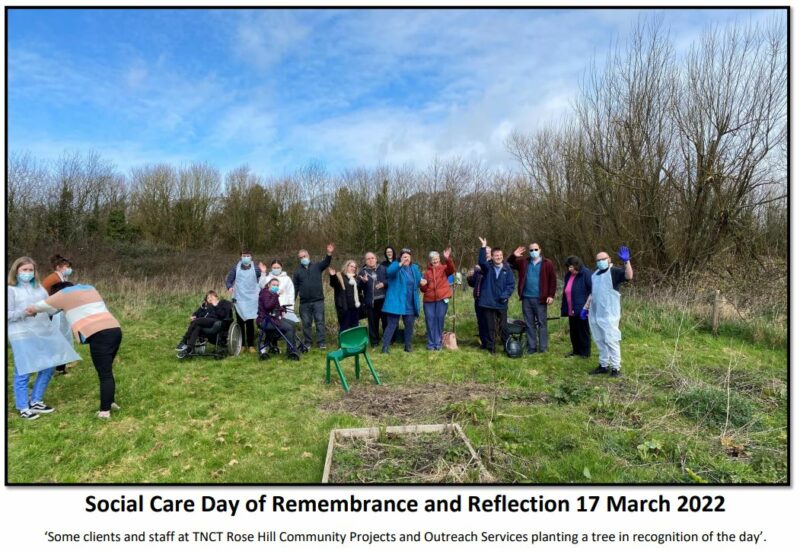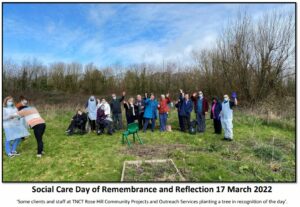 ---
Mera Peak Challenge
John Powell and Unicare Devon are fundraising in support of Headway Devon and Rowcroft Hospice with an exciting challenge. John said:
"Throughout 2021-2022 we have been hiking as many UK peaks as we can and have already scaled Tryfan, Blencathra and Pen Y Fan but our biggest challenge looms – Mera Peak! Let's think about that: 23 stone, one year to get in shape and then climb 6476 meters over a 22 day expedition. The oxygen level drops from 20.9% at sea level to only 9% which means every  additional bit of weight carried has a huge impact, but hey let's do it!"
Find out more and support this great endeavour.

---
Local charity receives Queen's Award for their support during lockdown
The charity, Westbank, who we work with to deliver a number of community services, has been presented with the Queen's Award for Voluntary Services.
The Queen's representative in Devon, the Lord-Lieutenant for Devon, David Fursdon, presented it to them recently.
It's for the amazing work Westbank's Neighbourhood Friends did during the coronavirus lockdown period.
The Neighbourhood Friends help vulnerable or frail adults, from Exeter, East and Mid Devon, to stay out of hospital or to have shorter hospital stays. They match volunteers up with people who need help, for example, moving furniture so that there's room for hospital beds or other equipment in their home; installing key safes so that care workers can gain access; and providing company and a warm drink to people following a stay in hospital.Over the lockdown period, they helped around 2,030 people.
Jenny Luscombe, the charity's longest serving volunteer said:
"It was such a pleasure to meet the Lord Lieutenant of Devon and an honour to have received The Queen's Award, which is the equivalent of receiving an MBE for people like myself who give their time to volunteer."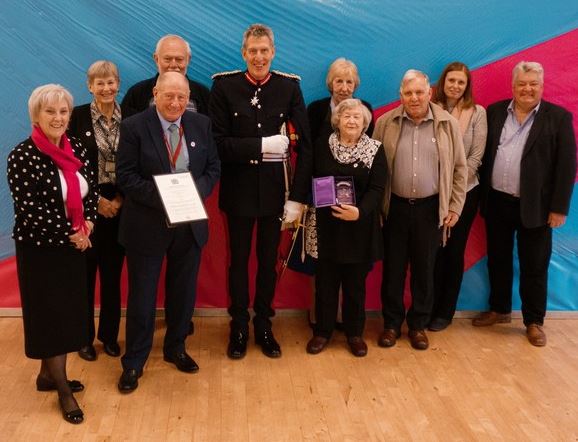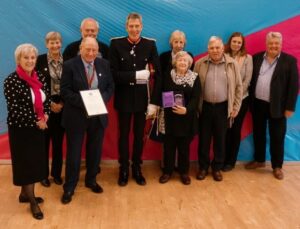 ---
Made-Well is registering to be the Assessment and Quality Alliance (AQA) Centre giving the people they support the opportunity to gain training in a range of areas.
They will be using the Unit Award Scheme (UAS). Learners will receive a certificate for each unit they successfully complete, which lists the outcomes and experiences covered in the unit.
UAS has been offered by AQA as a recording of achievement scheme for over 30 years. It is a tried and tested means by which learners, no matter what their age or ability, can have their achievement formally recognised.
The AQA Unit Award Scheme is invaluable as it is an important pathway for people to receive accreditation for their achievements.
---
Interactive table in Tavistock library provides stimulation and fun for those living with dementia
Various local groups have helped fund a Tovertafel for Tavistock Library, an interactive table providing fun activities for older people living with Alzheimer's or dementia related illnesses.
As an interactive device, the Tovertafel projects games and activities which older people living with dementia can enjoy with their carers or families.
Thanks to Tavistock Dementia Alliance, Home Instead Tavistock and Tamar Valley, Tavistock Memory Café, Tavistock Lions, Tavistock Town Council, Tesco's Bags for Help and the National Lottery, older people throughout the local area and their carers or families can enjoy the Tovertafel for free in the local library.
Lynn Roddy, owner of Home Instead Tavistock and Tamar Valley and Chair of Tavistock Dementia Alliance was instrumental in getting a Tovertafel into the local library.
She commented:
"The Tovertafel will be a great local resource where people can take their relatives or clients living with dementia to enjoy mental stimulation and some fun! I know our caregivers at Home Instead will readily use it with their clients, and it is available to everyone!"
To find out more about the Tovertafel at Tavistock Library and how you can use it, please call 01822 612218 or email the library tavistock.library@librariesunlimited.org.uk.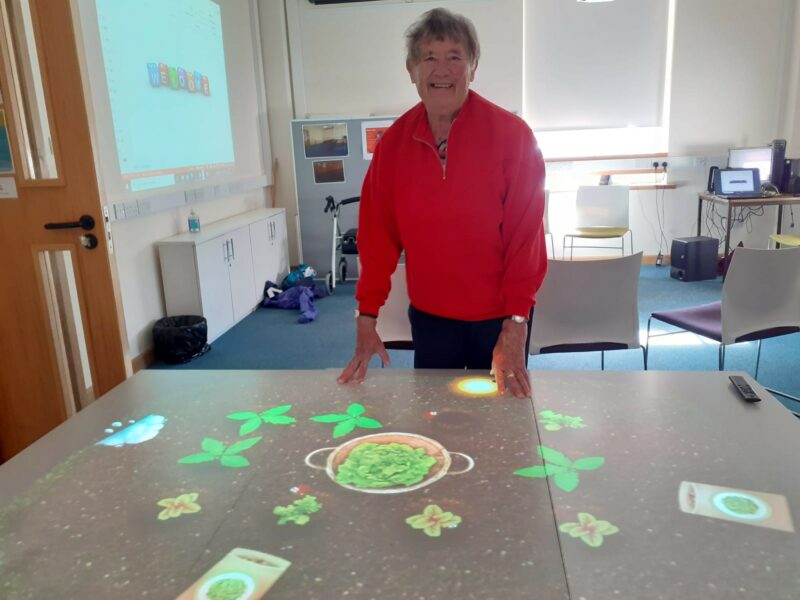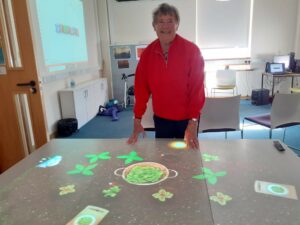 ---
Celebrating success – Exmouth care home wins the Great British Care Awards regional final
Many congratulations to Cathy Rant, Registered Manager and her team at Cranford Residential Home in Exmouth. They won the Great British Care Awards Regional finals for workforce development. Claire Smith, Beckie Anderson and Kerri Crisp, who are all part of Cranford's training centre went to Bristol to the award ceremony and will be entered into national finals in March 2022.
Cathy has developed a successful accredited training programme with progression routes for all staff, which is integral to effective recruitment and retention at Cranford. Cranford is an Approved Training Centre and has five registered trainers who deliver in excess of 20 courses to their staff.
Cranford Residential Home has also been shortlisted for the Caring-UK national award 'Commitment to Workforce Development'. The award ceremony is in December 2021 as covered in the Exmouth Journal.

---
George is running the Great North Run in aid of unregulated services
George Coxon from Pottles Court care home, is raising money for charity and fellow provider organisation Headway Devon at The Great North Run on Sunday 12 September. Every penny donated will go to improve the lives of people supporting those affected by stroke, brain bleed, brain infection and head trauma.
To sponsor George, you can donate via JustGiving.com.
---
Success story: up, up and away – virtually!
A private care provider, "Ask A Sister" in Teignbridge wrote in to share how they saw an opportunity to counter the negative effects of repeated lock downs and restricted visits from friends/family and closures of social groups by treating their clients to virtual travel experiences using a reality headset, Oculus Quest, enabled them to take clients on balloon rides in the Swiss Alps, stroll along the Nile or go on safari in Kenya to name a few.
Clients were quite speechless initially, then became animated and had lots to talk about and eight months later they are still finding lots to see and do!

---
Funding success
We are delighted to announce that Made-Well secured funding from the National Lottery Awards for All England to purchase a mini horse lorry, which will enable them to take their pony therapy mobile and reach out to even more people with life-limiting conditions.
The pony therapy sessions, run in cooperation with the local primary schools, individuals and families, have been very successful bringing therapeutic benefits and moments of pure joy to people living with complex disabilities and conditions such as dementia.
Here are clients and staff with miniature ponies.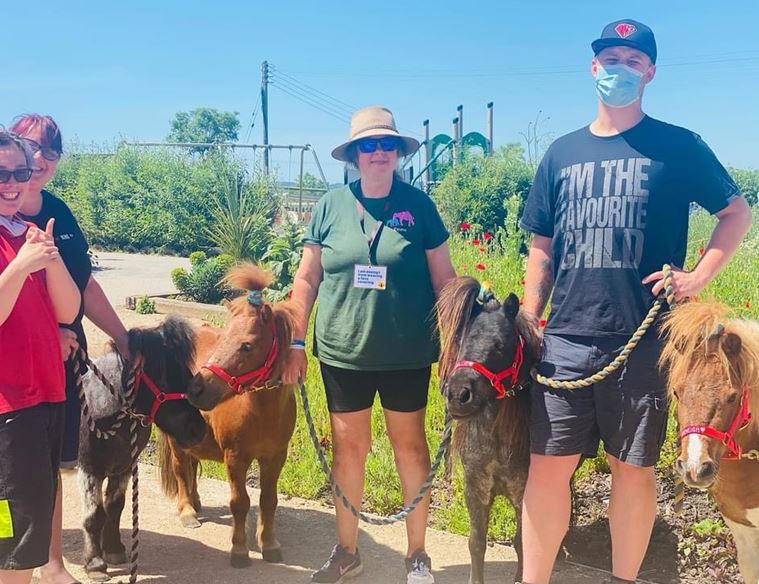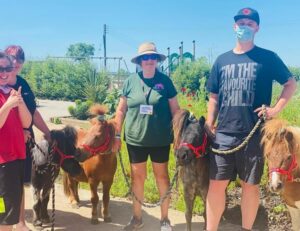 ---
George is running the Great North Run in aid of unregulated services
George Coxon from Pottles Court care home, is raising money for charity and fellow provider organisation Headway Devon at The Great North Run on Sunday 12 September. Every penny donated will go to improve the lives of people supporting those affected by stroke, brain bleed, brain infection and head trauma.
To sponsor George, you can donate via JustGiving.com.
---
Congratulations to Joseph!
Joseph has been doing a supported internship in the Made-Well cafe. The internship is coming to an end and he's been offered a paid job as a centre assistant.
Joseph is working in all areas of Made-Well including hospitality, horticulture, maintenance, animal care, woodwork and enterprise projects. Well done Joseph!

---
CareYourWay's Client Poem Contest
In June this year, CareYourWay (a domiciliary care provider based in Totnes) launched a poem competition and invited their clients to express their emotions on paper. There were many entries and Stevie M. won the first prize. Stevie wrote about appreciating small things we have in our life and that they matter most. You can read her poem below.
Here is Stevie holding her trophy.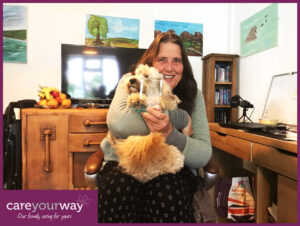 Great grandma, telling of as a small child of seeing Queen Victoria,
Grandad a Mounted officer in the police, Mother a Wren, Dad a soldier. Lifetimes shared and loved but never lost.
Open sided Dust carts, pop lorry's laden heavy with wooden crates, brush men at the door, only a few hours of television by posh folk in shirt and tie, rationing had ended, millions of lives lost, but films of war and victory.
Offices filled with secretaries and clerks, typing on manual machines.
Telephone operators on busy switchboards. Short codes and numbers button A and button B lives shared, friendships formed, not forgotten.
Now witnessing life of generations, all that history they have seen and lived, all my own memories and experiences, joys and tears and loves. Now I wonder, sit, look out the window, and dream were once ran and leaped and climbed. So now years later, cars with chips, and the world over heating, the world still has wars, the greedy still want more, BIGGER is always better! We can only eat one meal, nothing learnt, if only we could take time for one another.
---
Claymation film made by people with learning disabilities
A new stop-motion animation created by people with learning disabilities and their support workers in Devon was released in time for the G7 summit.
The animation aims to highlight how the impact of climate change can directly affect marginalised people such as those with disabilities.
Local people with learning disabilities, many of whom are supported by the charity United Response, worked with Devon-based creative groups to help shape the animation's narrative and storyline. They were supported to decorate the animation's set and narrate the film.
They also recorded a behind-the-scenes documentary. Both the animation and documentary are available on United Response's YouTube channel.
This is the third production from the Devon group over the past year. The group created their debut animation on isolation and loneliness last summer, following it up with a film on disability hate crime just a few months later.
Kate Conroy, senior service manager for United Response's Wellbeing Devon project, said:
"We decided to make this animation because of the G7 summit coming to Cornwall. It is an important opportunity to raise awareness of the bigger issues around climate change and help people understand the difference they can make so we can all live a more sustainable life.
"We want the G7 to listen to the voices of people with learning disabilities and hope this animation will help disabled people realise they can make a difference too – we want to involve everyone in the fight against climate change."

---
Funding for wheelchair bikes
We are delighted to announced that Made-Well has been successful with securing funding from the Sport England – Return to Play: Community Asset Fund to purchase a specially adapted wheelchair bike and a tandem cycle. This will enable their clients and members of the community to take advantage of the many local cycling paths including the Tarka Trail.
Made-Well has also been involved with local councillors in developing the Trail to provide a cycling path between Meeth and Hatherleigh to link with the national cycling network.
Pictured below is Ellie on her pink bike with Laura (Made-Well manager) and Daisy with her friend Tillie, on their disability friendly bikes. Behind is Mel Stride, MP for Central Devon (in a grey jacket) and Cllr Patrick Kimber, both supporting the development.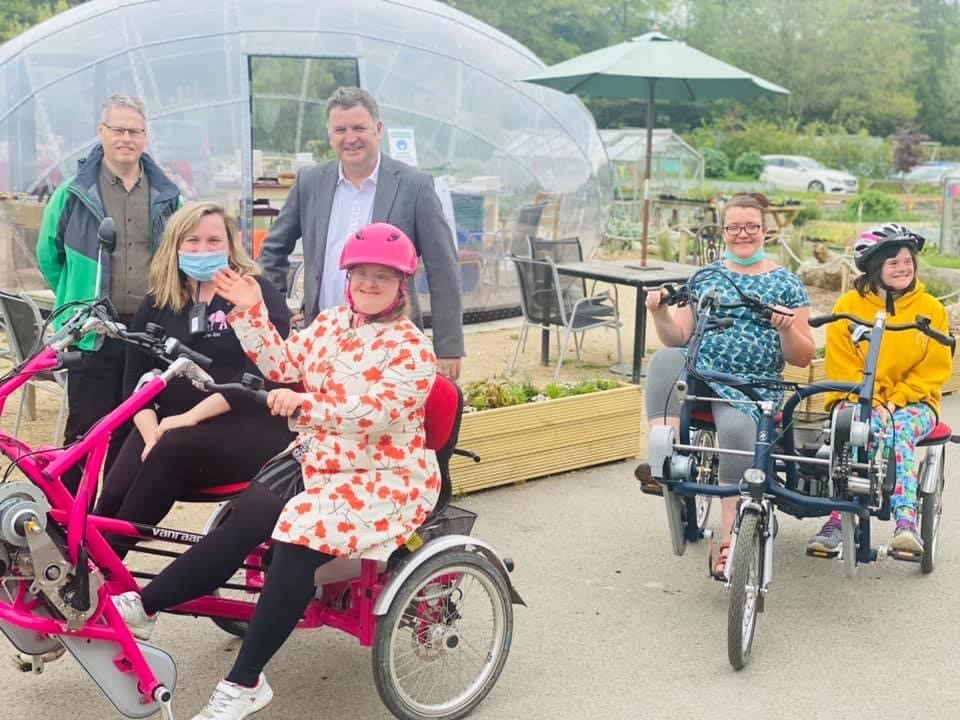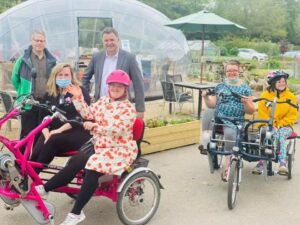 ---
Excuse for a panto
The Clubworthy House is a small two person care home over the border in Cornwall who support a Devon funded client.
The team has written, made props and performed their own pantomime entitled 'Excuse for a panto', which features two fairies, a baddy (the virus) and four people who travel to different places wearing different outfits in each place and try to work out how to cope with the virus. The show is 40minutes long with a quiz in the interval.
If you would like to watch the panto then please contact the team by Saturday 5 June.
At the same time they also raised money (over £1600 last year) to support the work of Professor Lorna Harries who is based at the University of Exeter Medical School, Animal Free Research UK.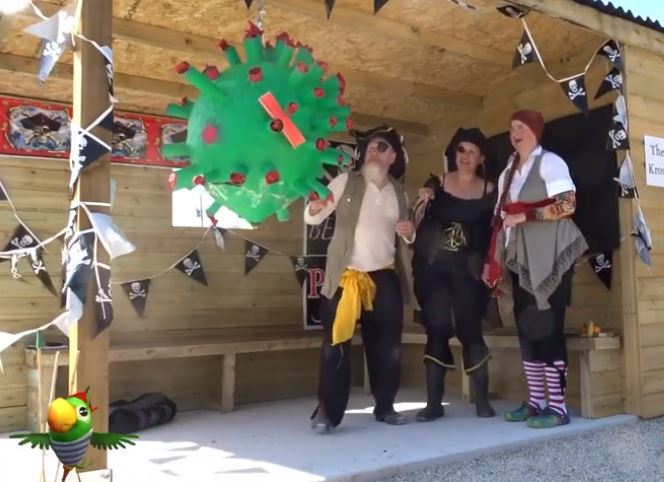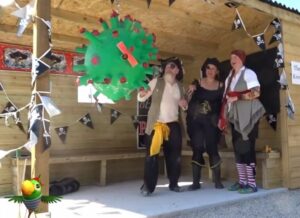 Above is Juliet (a resident) with Mike and Penny (providers) and below is another scene from the panto.

---
COVID HERO award
Jo Burke, Registered Manager, and Northam Lodge, part of The Northam Care Trust, have won the South West Care Home Network COVID HERO award for Devon in recognition of the hard work, dedication, team work and commitment of the staff team in keeping colleagues and residents with profound disabilities and health needs, safe during the pandemic.
Here is Jo with a resident GH.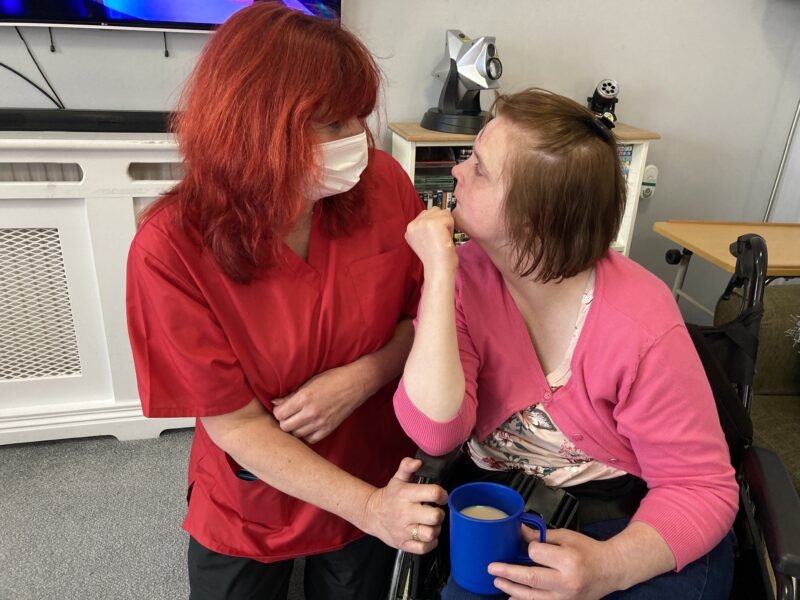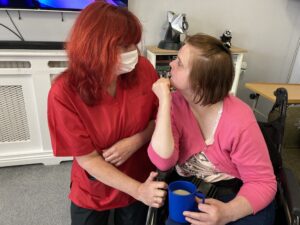 ---
Conversations in social care
Len Loft (Northam Care Trust) shares his experience and benefits of the Kickstart project and workforce investment (12th minute into the video). Also, Mims Davies, Minister for Employment, talks about recruitment and valuing social care.
---
Phillis Kirton – A Master of Floral Design
Hatherleigh Nursing home resident – Phillis has mastered the art of floral design winning a highly prestigious silver medal at the world-renown Chelsea Flower Show in 1997. You can read her story on our website.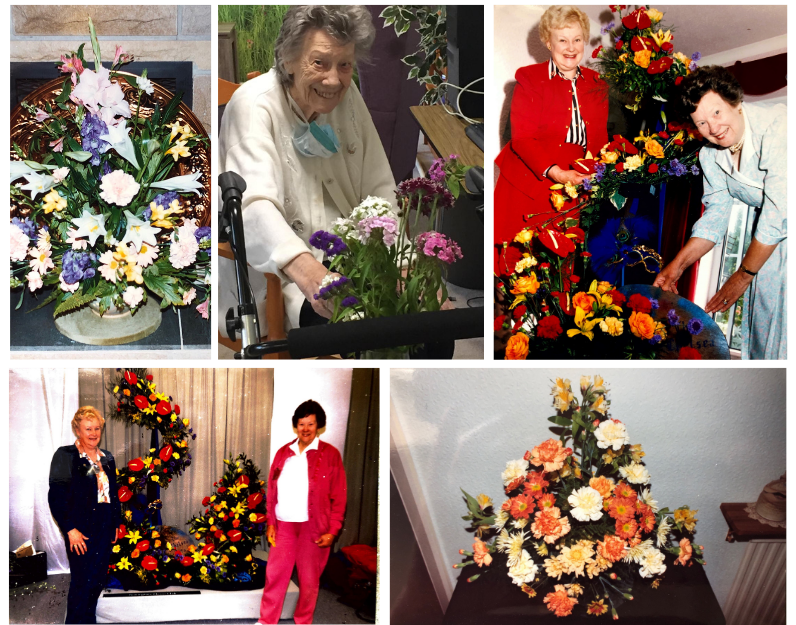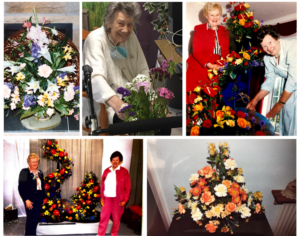 ---
Poems during lockdown
Headway Devon have been running Day Services online during lockdown. One of the activities has been poetry writing, which was really helpful for their clients in overcoming issues like manual dexterity, written and oral communication, anxiety and depression. Creative expression can help clients with the process of reshaping their personal identity as presented in this moving and powerful poetry.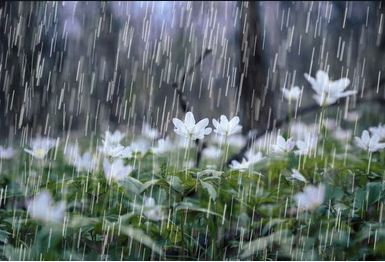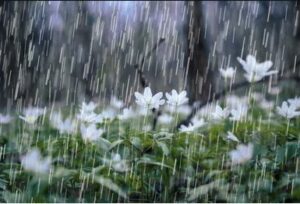 Rain
The rain when it rains then it pours
Bringing life and death
Wherever it falls
Can be such a magical scene,
Very serene.
Let's hope it's all saved for future
Generations to see
What we don't want is
To see an arid scene.
AB
---
The Care Company's Painting Projects
The Care Company's Painting Projects started a year ago to combat the negative impact on residents' mental health caused by isolation. The idea was to engage them in activities they would enjoy, bring out their artistic talents and at the same time make it useful and beneficial to the care home. The residents were encouraged to express their feelings through art and here is a selection of paintings by Stevie, Joan, Margaret and Willow (a four year old granddaughter of one of the residents).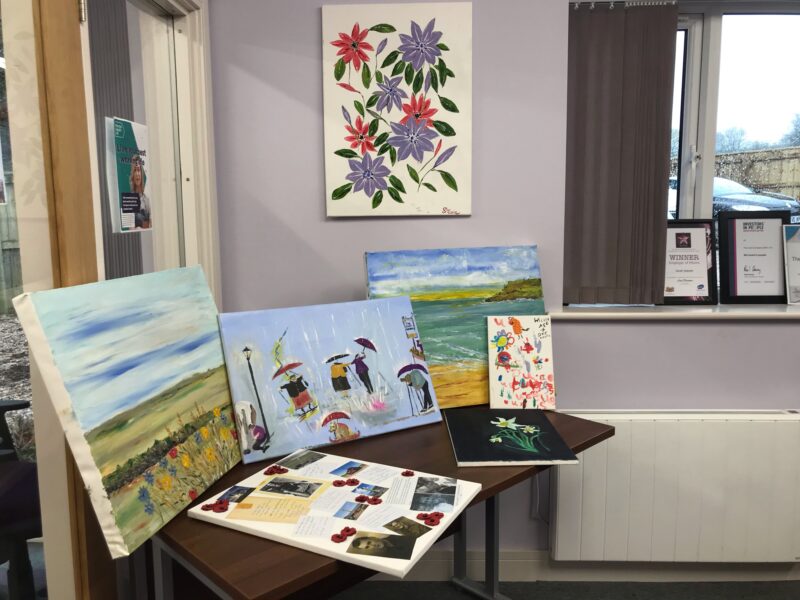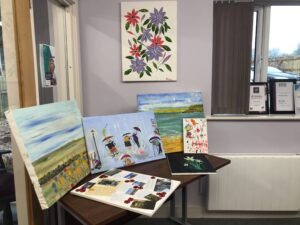 ---
It gives us a great pleasure to share these lovely photos from Summercourt and Seaton care homes now that visiting is once more permitted.
---
Prestige SW award won by Devon provider
The Care Company (SW) LTD have won the category of 'Best Homecare Service of the Year – Devon'. The judging panel was particularly impressed with the personal service and the use of social media platforms encouraging a very welcome culture with staff being recognise for efforts during such unusual times.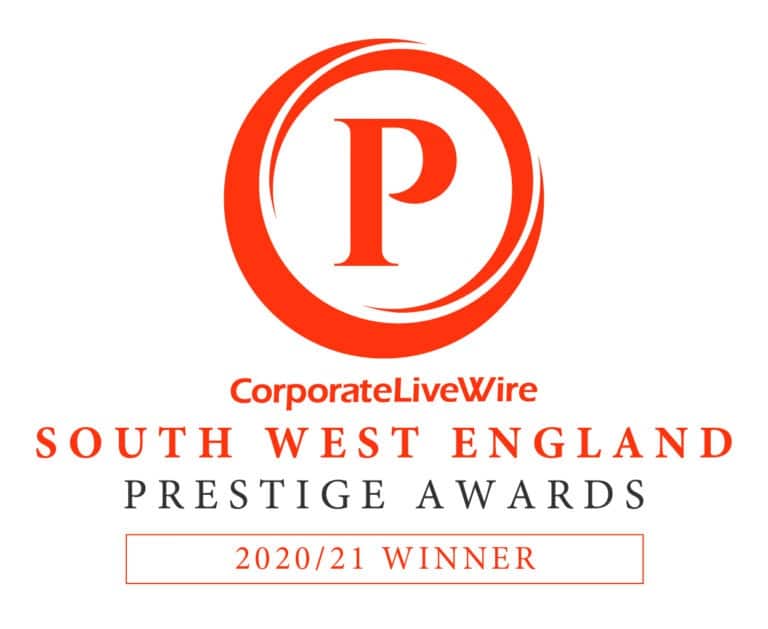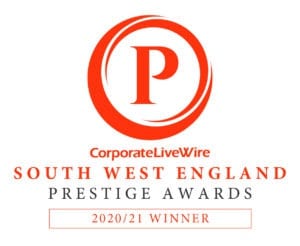 ---
Kickstart
The Northam Care Trust was awarded 30 Kickstart jobs by the Department of Work and Pensions and the success of this is evidenced in the BBC TV Spotlight news.
---
Getting out to get on
WayMakers and Hakeford Woods Forest School have partnered to offer a group project for young autistic adults aged 18-30 and those with anxiety. This project offers a safe space in beautiful surroundings for participants to connect with peers, engage in some purposeful woodland activities and access coaching support from an autism specialist. Our photo shows participants cutting back and replanting willow down in the valley. They also enjoyed a good ramble around the woods and a hearty lunch cooked over the campfire. More details about the project are on this poster.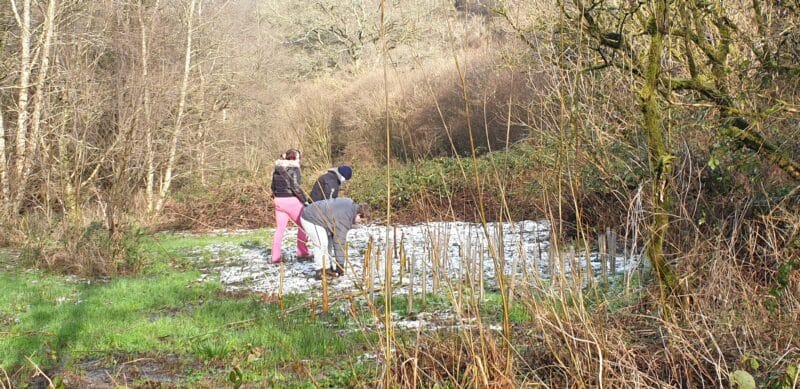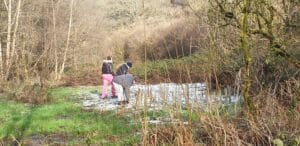 ---
The man who can turn his hand to anything
Ken Martin is a resident at Heanton Nursing Home near Barnstaple. His passion for woodworking has never stopped. He was a Jack of all trades. His colourful life full of creative, and hard work, was captured in the below set of pictures. And his story is told on this page.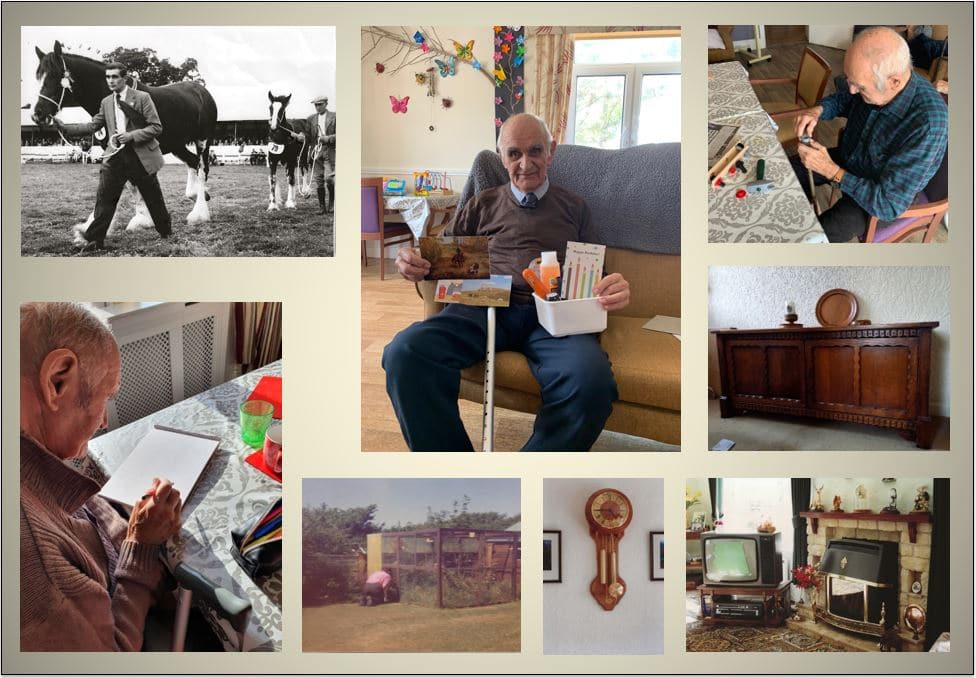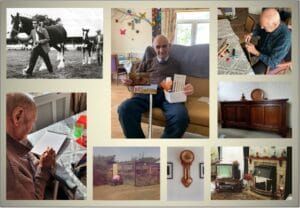 ---
Enabling support is still provided during lockdown, with compliance to current lockdown rules. Pictured below are Made-Well clients with ponies on a trip to woods.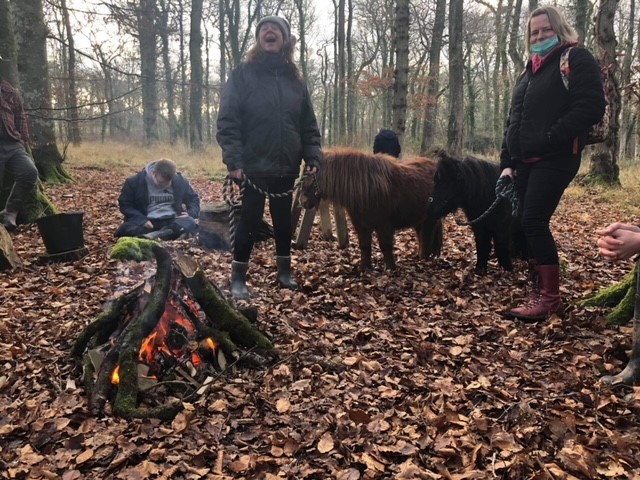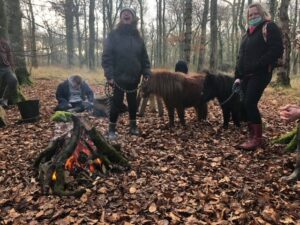 ---
Care home resident vaccinations roll-out across Devon as seen here in Pottles Court care home.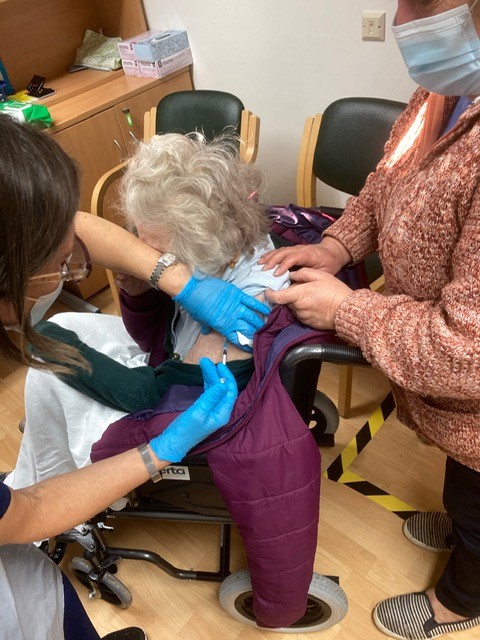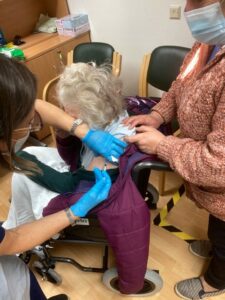 ---
Christmas celebrations at The Northam Care Trust Lodges
Residents, relatives and staff are enjoying their own person-centred Christmas creation with snow, sound and lights. The imaginative setting enhanced festive celebrations for people with profound and multiple disabilities and complex health needs who are supported by The Northam Care Trust.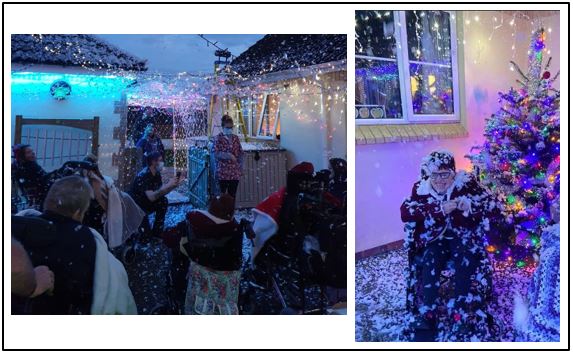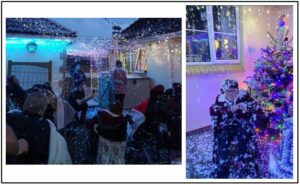 ---
Testing in care homes and safe visiting
Summercourt care home was thrilled to be part of the national pilot for Lateral Flow Testing and it is now using it successfully.
"We have been keen to support safe visiting during the pandemic and had a combination of remote virtual regular contact for families and our residents from the start of the pandemic as well as garden visits and some restricted indoor visits adhering to safe visiting guidance however everyone knew these arrangements still caused feelings of upset and dissatisfaction…."
Please read a personal reflection from Summercourt care home in Teignmouth.
One of the first visits; Marilyn reunited with her mum Betty after both of them tested negative.

---
Sefton Hall Nursing Home
They also took part in the pilot and here is what the care home manager said:
"We were worried about having the visitors in the home, but we had to look at the risks and the benefits for all residents, staff and relatives. We decided to go for the pilot so we could make a difference to residents and their loved ones lives. It changed the morale of the staff as well, by starting to see the light at the end of the tunnel".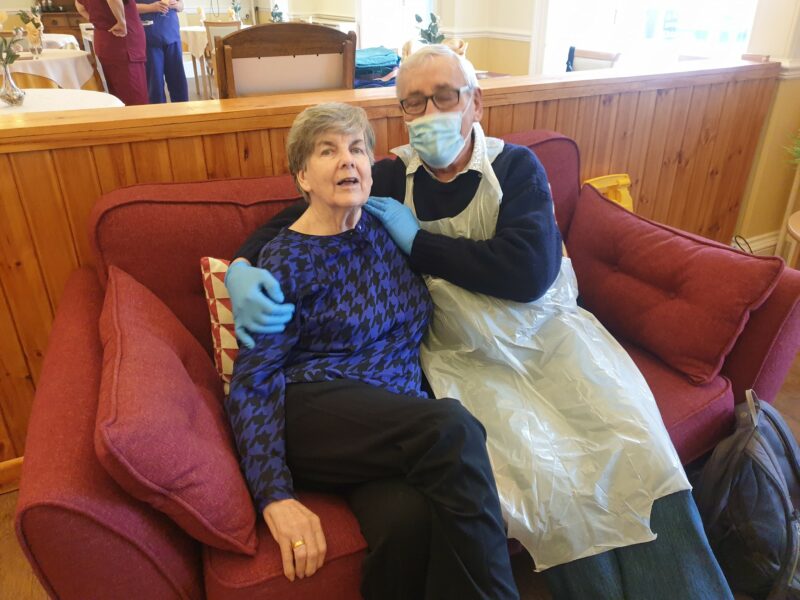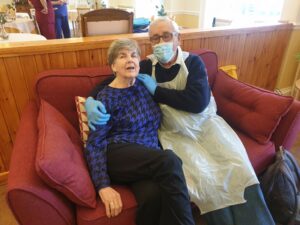 ---
Zack's Story
This year United Response have released two brand new animated episodes in a series called "Zack's Story" in an effort to tackle  loneliness, hate crime and County Lines.
These short stop-motion films were made with the help of staff and the people supported by United Response in Devon and Cornwall to raise awareness about topical issues that can affect everybody. The first film, Loneliness Animation, highlights the impact of loneliness and the importance of friendship and community. The second film, Hate Crime & County Lines Animation, tackles the issue of hate crime and raises awareness of the dangers of County Lines.
United Response also produced "Animation Diaries" (Loneliness Diary and Hate Crime Diary) that take a closer look behind the scenes to reveal how and why the animations were made and the different ways that people were involved.
All of these resources are freely available online and we hope they will help to inform, raise awareness and stimulate discussion about important topics.
United Response would love to receive feedback about how these resources are being used and also to receive suggestions for topics to feature in future episodes of Zack's Story! Please get in touch.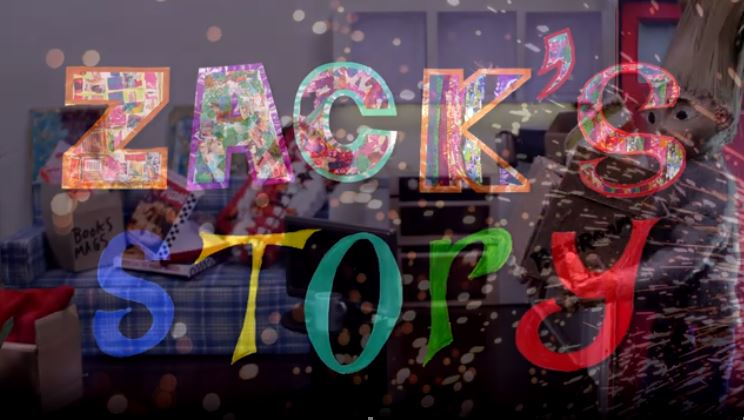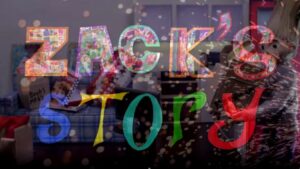 ---
Sam's online cookery course takes off!
Sam runs weekly online cookery courses with the support from New Key, who have now offered him permanent employment. The sessions empower people with learning disabilities to develop cooking skills as well as other related skills such as shopping, budgeting and IT, and they are fun too. Read Sam's story.
Here is Sam ready to cook chicken korma. Check out Sam's recipe and easy read shopping list and see John proudly presenting his ready dinner.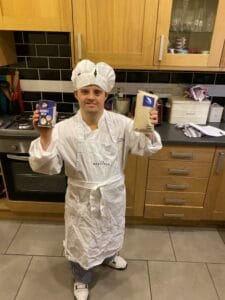 ---
Made-Well are now expanding and providing daily enabling services across their three Devon sites with one-to-one or group work available, especially for people with learning disabilities, physical disabilities and mental health issues. Find out more on the Made-Well website.
Oliver has been busy, harvesting and washing vegetables ready for Made-Well stall at Hatherleigh market.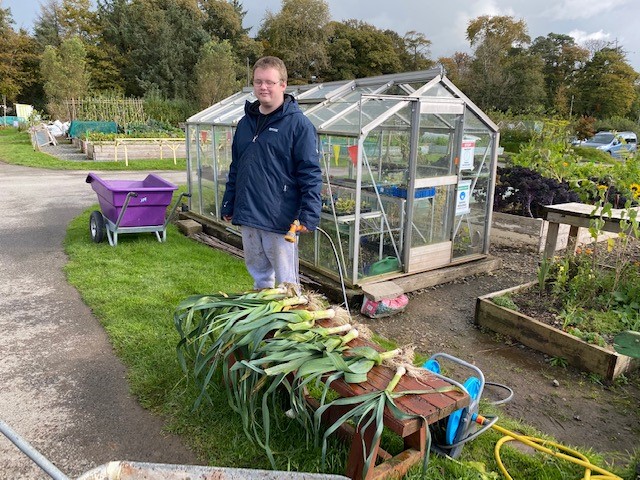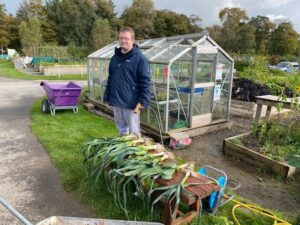 ---
Celebrating Kickstart success
Northam Care Trust in North Devon have secured a DWP Kickstart grant to help young people aged 16-24 to develop a career in social care with them.  Here are Dr Len Loft and team members celebrating accordingly!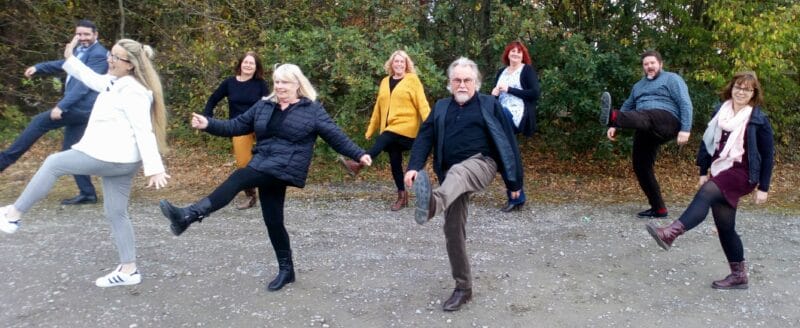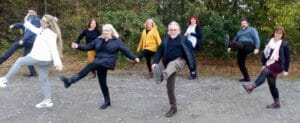 ---
If you have any good news stories you would like to share with other providers then please email us and we'll include it in our newsletter.