Personal protective equipment (PPE)
---
Devon County Council PPE Hubs closing at the end of January 2023
Devon County Council will be closing its 2 PPE distribution hubs at the end of January 2023 after 2 years of distributing free Personal Protective Equipment (PPE) to frontline workers, Adult Social Care providers, Childrens Social Care providers, Personal Assistants, and Carers.
All eligible Providers, Services and Individuals can continue to order until 5pm on Tuesday 17 January as normal using the Devon County Council online order form link. The form link will not work after this date.
Due to the various changes in PPE guidance, we have large quantities of goggles, Hand Sanitiser, LFT kits and safety glasses in stock. Please let us know using the form above if your teams can make use of these and if so please let us know how many items you would like.
Ordering PPE from 18 January 2023.
The Department of Health and Social Care will continue to supply free PPE to eligible sectors in line with Government Policy until the end of March 2023. This means that eligible providers (including Personal Assistants and Carers) and Local Authority Services can obtain their PPE supplies directly from the Government PPE Portal. Your order will be processed via this Portal and your supplies will be delivered directly to you.
To register, please contact the PPE Portal customer services team on 0800 876 6802 between 8am and 5pm, Monday to Friday. Alternatively you can email the team on ppeportal.queries@unipart.com.
You will not be able to obtain LFTs from the PPE Portal, however, if you are eligible these can be obtained via the Government website using the following link – Coronavirus (COVID-19) testing for adult social care services – GOV.UK (www.gov.uk)
FAQ for stakeholders- free PPE extension post March 2023.docx
If you have any difficulties accessing the Portal or any urgent requests for PPE before the 30 January 2023 you can contact the Devon County Council PPE team via the following email and they will endeavour to assist you – adultsc.personalprotectionequipmentadultsc-mailbox@devon.gov.uk.
National information collection on PPE
The COVID-19 gov.uk website contains guidance on Coronavirus (COVID-19): personal protective equipment (PPE) and is frequently updated.
National guidance
PPE guidance for community settings
Public Health England have issued illustrated guidance on the use of PPE by health and social care workers working in community settings.
Additional IPC guidance published by the health and care professions council.
PPE guidance
This guidance is intended for all care workers working in care homes in England. It can also be applied to visitors or essential care-givers within the care home setting.
This guidance is of a general nature and is intended to be compatible with legislation. If this guidance differs from any requirement covered by legislation, then the legislation should be followed. The guidance remains under review and may be updated in line with the changing situation as required.
Employers and managers must provide workers with safe conditions of work, complying with all applicable legislation, including the Health and Safety at Work Act 1974 and the Health and Social Care Act 2008: code of practice on the prevention and control of infections.
Advice for people who buy care and support through a direct payment.
Guidance for local authorities and clinical commissioning groups in the delivery of direct payments and personal health budgets.
Care homes guidance: how to work safely
Public Health England issued new guidance for care homes on how to work safely during this period of sustained transmission of COVID-19. The new guidance includes a document about how to work safely as well as a video about putting on and removing PPE.
Domiciliary care guidance: how to work safely
Public Health England issued new guidance on how to work safely in domiciliary care settings during this period of sustained transmission of COVID-19.
Ventilation for indoor spaces
The government has published guidance regarding the ventilation of indoor spaces to stop the spread of coronavirus.
Infection prevention and control
Public Health England guidance on infection prevention and control for COVID-19.
Public Health England contact details
If you require clarification or have concerns about infection control, please escalate them to your Line Manager in the first instance.
Managers can also contact the Public Health England Health Protection Team for advice on 0300 303 8162 or email swhpt@phe.gov.uk.
Ordering eye protection PPE
Eye protection is recommended for care of clients who are COVID-19 positive or isolating, when you are within two metres of the person and carrying out direct personal care (for example physical care).
If eye protection is required, regulated providers can order visors via the PPE Portal. If providers are unable to access PPE through the Portal, and they require emergency stocks, they can request visors, glasses / goggles and 70% alcohol wipes from Devon County Council by completing the PPE Request form.
Unregulated providers, personal assistants and carers can access PPE for free via DCC.
Images on the use of face coverings and masks
Devon County Council and NHS Devon have produced two simple images reminding care staff of the difference between face coverings for use by the general public and surgical masks for use when undertaking care work. The images are suitable for sharing on social media or printing out as staff notices.
PPE distribution, supply, collection
PPE distribution in Devon
Future changes for unregulated providers, voluntary sector, personal assistants and unpaid carers
An announcement was made in January confirming that frontline health and social care staff in England will continue to receive COVID-19 PPE free of charge until 31 March 2023 or until infection prevention and control (IPC) guidance is withdrawn or significantly amended. This is to ensure staff and their patients are protected.
The government is developing an improved platform for the procurement of PPE that will be quicker and easier to use. Health and social care providers have been invited to test-drive the new platform and help design a service that works best for them. The new and improved features will enable quick ordering options and status updates.
Following customer testing and trial launch, the new PPE portal will be rolled out to all eligible users from April 2022.
There will be a portal helpline for all services open from 7am until 7pm daily and providers/services will be able to access emergency stock out of hours if they need it via a separate DHSC process.
If the PPE portal is down at any time, Providers will be able to make a manual order using a survey instead of online platform.
Devon Council will keep an emergency stock for any providers, personal assistants and unpaid carers who need it and can't access if from the portal at any time for any reason.
All services currently collecting their PPE from Devon County Council will be able to register with the new PPE portal and it is hoped that all services can be onboarded on to the new portal and be ready to place their PPE orders by the autumn. We will contact you with further information over the coming weeks/months.
You can still order PPE and LFT kits from Devon County Council using this simple order form and will be able to do so until the end of October 2022 or until stocks run too low.
If you have any queries about PPE distribution in Devon please email us: adultsc.personalprotectionequipmentadultsc-mailbox@devon.gov.uk.
Transparent Masks now available for Adults Social Care teams, Childrens Social Care teams and Providers.
Throughout the pandemic we have received request for transparent masks from those supporting people with learning disabilities, sensory problems, people with dementia and/or general communication problems.
The Department of Health and Social Care have approved two transparent masks for use with appropriate risk-assessment (equivalent to a Type IIR mask), Neither will be available free of charge through the DHSC PPE portal.
Devon County Council have purchased a 'one off' supply of these masks and they are now available for free until stocks last for all social care providers and teams who support people who find it difficult to communicate using Type IIR or Type II masks.
Please note: Transparent Masks will need to be purchased at organisations own costs in the longer term once this supply has ran out.
Please complete this short PPE order form to order a supply of Transparent masks, once submitted one of our PPE gatekeepers will call you to arrange a collection from one of our PPE hubs across Devon.
If you have any queries please email the PPE team adultsc.personalprotectionequipmentadultsc-mailbox@devon.gov.uk
National and local PPE supply
For CQC registered providers. The central PPE portal – Clipper.
Providers should order PPE through their normal supply routes for the standard volumes of PPE required before the pandemic as the free national PPE Clipper portal is for additional PPE required over and above normal pre-COVID-19 use.
The national Clipper system supplies free packages of PPE to all CQC registered providers, who should register directly with the Clipper portal. Although a number of providers have signed up to this portal, and received some PPE, we are aware that not all providers have registered. If you are CQC-registered, we would encourage you to register on the portal and place an order. You will need to use the email you have registered with the CQC. If this has changed, you will need to first update your email details with the CQC before signing up to the portal. Please note that the portal registration process includes an email confirmation. If you don't receive one please check your junk mailbox. Once registered, you can order a small level of PPE as shown below, and multiple orders can be made within that limit, not just a single weekly order. Currently the PPE is supplied free of charge, so it is worth taking up this offer to help replenish your emergency PPE stock levels.
We encourage all providers to make use of this opportunity, as the PPE is currently free of charge and can be repeat ordered on a weekly basis.
If you have any queries about to the national PPE portal, including how to register, please ring the PPE customer service team on 0800 876 6802. This number can also be used for concerns about a product's suitability.
DCC will alert providers when changes are made to the volume of items which can be ordered from Clipper. The volumes have recently been increased.
DCC will continue to provide limited supplies of PPE to CQC registered providers, but only in emergencies when other supply sources have failed. Providers must evidence that they have tried to order PPE through the other routes and must describe why the emergency stock is required. Any such emergency supply will need to be collected from local PPE stores in Barnstaple, Newton Abbot, Exeter or Tavistock.
VAT zero rating for PPE
This tax information and impact note is about a new temporary zero rate that will apply to supplies of personal protective equipment (PPE).
Advice on safe use of PPE
Safe storage of flat packed aprons
Public Health England has provided some advice to mitigate any potential contamination risk associated with the flat packed aprons, which may arise from storage and access. If providers have an effective dispenser this would be preferable but if no effective dispenser is available, it is better, on receipt of the pack, to have someone who has washed their hands and donned a clean apron themselves to clean a surface, lay the box of aprons down and fold them individually into a suitable container e.g. drawer stack or lidded box. That way the aprons are separated in a controlled environment.
FFP3 respirator Vales or PAPRs issue
An alert has been issued regarding exhalation valves on FFP3 respirators and the air exiting powered hoods (known as powered air purifying respirators or 'PAPRs') not filtering exhaled breath. This presents an infection risk when using Ffp3 Respirators with Vales or Powered Air Purifying Respirators during surgical and invasive procedures.
Technical Specifications for PPE and medical devices (government update)
The documents below define the technical and regulatory standards for PPE (updated 30 July 2021). They recommend the use of PPE bearing the 'CE' mark (a European quality control system) that meets these technical standards.
Personal Protective Equipment and heat: risk of heat stress
Wearing PPE in warm / hot environments increases the risk of heat stress. This occurs when the body is unable to cool itself enough to maintain a healthy temperature. Heat stress can cause heat exhaustion and lead to heat stroke if the person is enable to cool down.
Measures to control the temperature of clinical environments and enable staff to make behavioural adaptations to stay cool and well hydrated should be made. Staff may require more frequent breaks and the frequency of PPE changes may increase, with a resulting increase in demand.
Please read further advice from Public Health England.
PPE Safety alert. Immediate action required regarding Nitri-Hand non sterile nitrile examination gloves
Recall of Nitri-Hand non sterile nitrile examination glove product codes:FTG813, FTG814, FTG815, FTE9936, FTE9940, FTE9941.
Blayco Face Visor Model PF-01 must not be used
Please quarantine any received stock and do not use the product coded as SKU: BTP515, BTB9984 as detailed in this Latex.
National quality assurance of PPE
This national guidance note provides information on the products below, which are safe for use, and clarifies the central assurance undertaken to approve release of these items into the supply chain:
Type IIR masks and latex labelling
Weian face masks
Blue sail nitrile gloves
INTCO nitrile gloves
Cardinal FFP3 respirator masks
3M 9330+ FFP3 respirators
Reminder about registering product or PPE safety queries
PPE Face Masks – Latex Warning
We have become aware that latex may be used in the manufacture of some face masks as well as gloves. Latex can produce an allergic reaction in some individuals which can vary in severity from a runny nose and itchy eyes to anaphylaxis.
Any product, which contains a CE mark on the packaging and where latex has been used in the manufacture of that product, will be labelled with the following symbol and/or appropriate warning on its packaging.

If you have a CE marked boxes of masks, which does not contain this symbol and/or warnings on the packaging, then the product should not contain latex.
The Council has received assurances that non-CE marked PPE distributed nationally will be checked before we receive it and we will be notified of any concerns. In the light of this we are not requiring any such PPE to be withdrawn due to latex concerns.
If you have purchased any gloves or face masks that are not CE marked on the packaging, you should make enquires with the supplier to determine whether they contain latex if the packaging is not clear.
If you have any PPE, which contains latex, you will need to refer this to your Health and Safety Competent Person. We would suggest that you provide information for all staff on the possible effects of a latex allergy for early warning and what to do if they do develop any of the symptoms. You should also undertake a risk assessment and attempt to identify any individuals who may be aware that they might have a latex allergy. Finally, we would suggest that you purchase additional stock of latex free products for those who develop symptoms and look to phase out any PPE stock you hold which does contain latex.
Re-usable PPE items
Please note that re-usable PPE items should be clearly marked as such and identified in advance by your organisation/manager. Re-usable PPE items may be used providing they are appropriately cleaned and stored between uses, according to the manufacturer's instructions or local infection control policy. Your manager will advise you where this applies and there is national guidance on PPE reuse. Goggles may be cleaned immediately after removal and hand hygiene is performed OR placed in designated closed container for later cleaning and disinfection.
Advice on cleaning equipment from NHS Devon
Protective Goggles – Following recent guidance, we have recommended that goggles with elastic straps are used for single use only and are not cleaned and reused.
Devon County Council currently has a good supply of Goggles and face shields. Please order free supplies using this short order form.
Protective Glasses – Protective glasses with plastic arms can be cleaned with soap/detergent and water followed by disinfection using 70% alcohol wipes. Some protective glasses come with detachable catch lanyards. Please remove and dispose of these lanyards as they cannot be sufficiently disinfected.
Face Visors with foam strip – Face visors can be cleaned with soap/detergent and water followed by disinfection with 70% alcohol wipes. Some visors have a foam strip across the top on the inside. These visors can be cleaned but can only be reused by the same member of staff.
Aerosol Gas Procedures (AGPs) PPE FFP3 Masks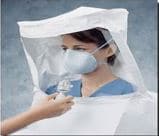 Filtering Face Pieces (FFP) are non-reusable face masks used by Health and Social care workers when undertaking Aerosol Generating Procedures (AGP's) on patients. There are different grades of FFP masks: FFP1 filters out 80% of airborne particles, FFP2 filters 94% and FFP3 99%.
Without the masks, carers are at high risk of catching and spreading corona virus. The Aerosol Generating Procedures produce fine infected droplets that are inhaled through the mouth or nose of the carer. The masks must be a secure fit to the wearers face forming a mechanical seal to prevent the aerosols being breathed in around the sides of the mask. Every face is different, therefore FFP3 masks come in a variety of shapes and sizes; different masks will fit different carers.
Once fit tested to a mask, a carer should continue to undertake a fit check every time a mask is worn. Facial hair can affect the fit of FFP3 masks and it is suggested carers are clean shaven.
A change of FFP3 mask type requires carers to be refit tested to the new brand of masks.
Clear examples and poster resources of how to apply and fit check an FFP3 mask
It includes, amongst others; intubation, manual ventilation, tracheostomy procedures, bronchoscopy, dental procedures, non-invasive ventilation; BiPAP and CPAP, high flow nasal oxygen, induction of sputum, respiratory tract suctioning, upper ENT airway procedures and upper gastro-intestinal endoscopy that involve respiratory tract suctioning, and high speed cutting in surgery/post-mortem procedures.
Having your own in-house Fit Testers in your organisation will enable you to have a responsive approach for your staff and clients.