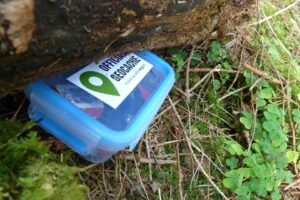 Geocaching is a high-tech treasure hunt. Participants use a Global Positioning System (GPS) device or mobile to locate hidden containers, called geocaches.
Hopefully you find a few of the geocaches that are hidden within the Country Park. This fun family activity, where everyone gets some healthy outdoor exercise. You can even combine geocaching with cycling.
To get started go to the website Geocaching.com, create a free account and download the official Geocaching® app or use a GPS device.