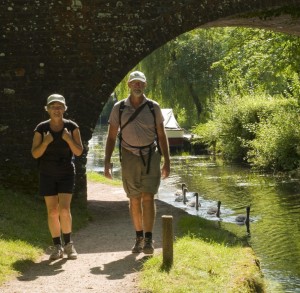 The Country Park is a popular place to enjoy a flat, easy walk in the countryside. You have the opportunity to stroll near settlements and services or to get away from it all and explore the quieter sections at the northern end of the Canal.
The Canal towpath is a public right of way that runs beside the Canal for the full eleven and a quarter miles. The towpath has been extensively resurfaced. Access points are located throughout the length of the Country Park. Several circular walks incorporating the towpath and the local footpath network are possible.
Every 6 weeks the Canal Rangers lead a healthy walk starting at various points along the Canal, as part of the Tiverton Walk and Talk programme. For more information see the Walking for Health website.
Picnic sites are located at the Canal Basin in Tiverton, Crownhill Bridge, Tiverton Road Bridge, Greenway Bridge, Sampford Peverell, Whipcott Bridge and Lowdwells.
If feeding ducks, please be aware that bread is not very good for their health so please limit to small amounts or better still use proper duck food (available at the Canal Basin gift shop).
Circular Walks
The canal provides a long linear walk along the towpath, which is connected to a number of circular walking routes including:
All three offer easy to moderate walking through some very attractive countryside.
In addition to the 'guided' Swan's Neck walk description above which does include significant sections on minor roads, a shorter and largely off-road alternative can be downloaded here and is shown below:
As well as the circular walks described above, the towpath is part of two long-distance walks – the Two Counties Way and the Mary/Michael Pilgrims Way.
Dog Walking
Dogs must be kept out of adjacent farmland.
Dogs must be kept away from waterbirds, especially during the nesting season in the spring and early summer.

Dog mess bins are provided at access points throughout the length of the canal and dog owners must pick up and remove any mess their dog makes.
Dog fouling is a serious issue in the Country Park. Not only is it a health hazard for children, unsightly, and disgusting to walk in, but it is significantly changing the fertility of the banks, leading to more nettles and less wildflowers.
The Country Park is regularly patrolled by MDDC Dog Wardens who will issue £80 on the spot fines to any dog owner failing to remove their dog's mess. The maximum fine is £1000.
Visitors to the Country Park are encouraged to report any dog owners they witness failing to remove their dog's mess – particularly regular offenders. Please telephone the Mid Devon District Council Dog wardens on 01884 255255 with a description of the dog/owner/vehicle, the time and the location.
Did you know?
There are regular bus routes that pass the canal. Details of timetables are available at Traveline South West.