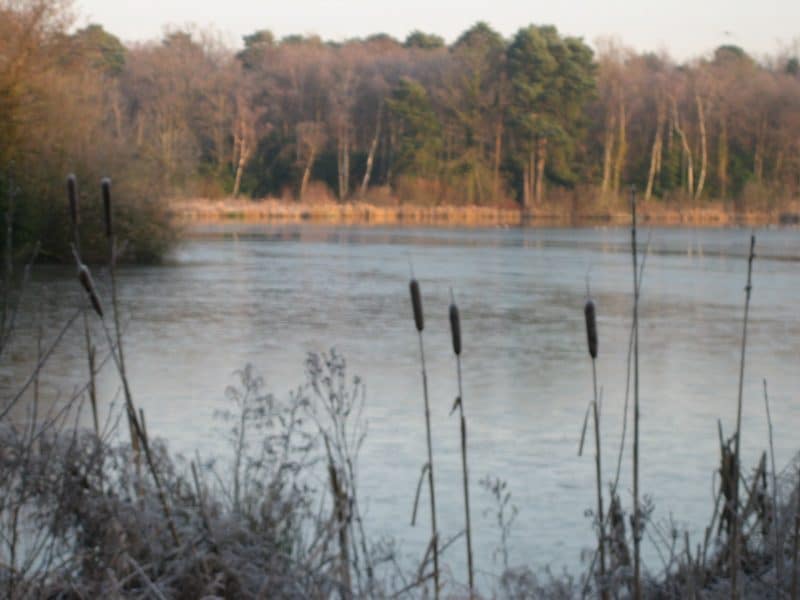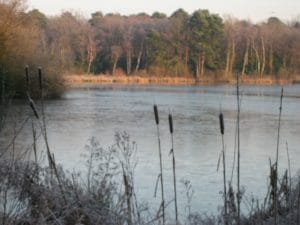 Stover's autumnal gold's and red's, which have been spectacular this year, are finally fading and falling now that winter has descended. The woodland birds will now have fewer daylight hours in which to feed.
Normally many insects have gone into hibernation and are hidden away by the beginning of December. However, this year's mild autumn has resulted in many insects still being active. Woods rustle as blackbirds and thrushes sift through the leaf-litter in search of food. Male robins are singing at the moment to mark out their territories and most will have paired up by Christmas. In early winter, both males and females are highly territorial. Song thrushes should start to sing in December, joining the wrens and the dunnocks. Keep an ear out for the mistle thrush's song – normally they start singing after Christmas. Crossbills will now be nest building – the hatching of the chicks coincides with the opening of conifer and alder cones which peaks in February. These will attract other seed-eating birds such as siskin and redpoll. If the scales on the conifer cones have been split longitudinally, then crossbills have been feeding on them. They are easily approachable at this time of year when they are concentrating on feeding. There are plenty of other birds to see in the Park in the winter which include great spotted and green woodpecker, bullfinch, siskin and redpoll. Chaffinch can be seen coming into Stover at dusk to roost in some of the rhododendron bushes. The best time to view these birds during December is from 3.30pm onwards; different birds arrive in groups of 30 to 50 and then assemble together. Starlings gather noisily on the pylons during this time of the day also. The first redwing was recorded on 3rd December. They can be heard as they migrate at night making a 'tseep' call. It's often not until after Christmas that fieldfares are seen inland in significant numbers, however four were seen nearby at Ventiford also on 3rd December.  If you are really lucky you may spot a woodcock resting on the ground – however its camouflage makes it tricky to see. They usually arrive at Stover after the 'Woodcock Moon', more commonly known as the 'Beaver Moon' which is the first full moon in November. Tawny owls are at present pairing up and establishing territories so are at their most vocal. Wood pigeon flocks have been seen flying over the Stover area – some will consist of migrating European birds.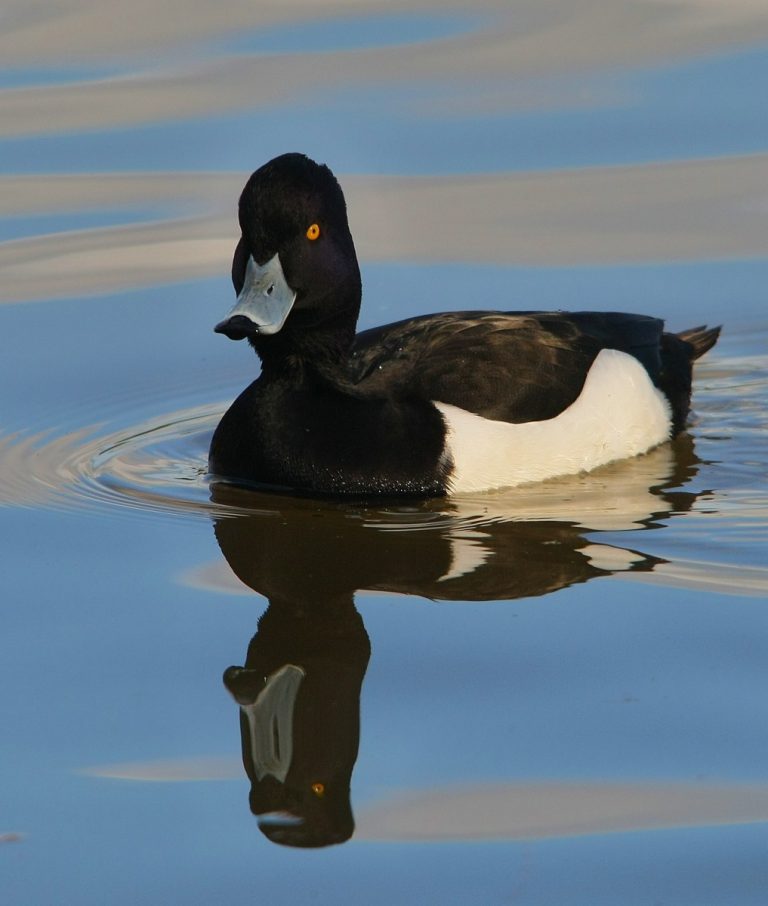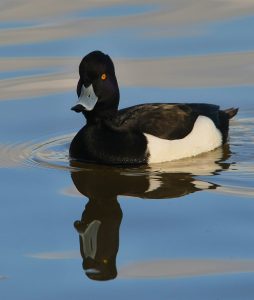 On the lake pochard numbers were very low the fourth November running with only one female present (down further from 2020 when there were 3), along with up to 13 tufted ducks (there was a record 37 last year). Up to 39 Mandarin ducks were present on the lake which has been the most sighted so far at Stover. Keep an eye out for wigeon and teal during December. 5 wigeon were recorded on 25th November. Wigeon are unusual as they are grazing ducks, eating grass like geese, but will also 'upend' whilst feeding on the water. Male wigeon have a striking yellow forehead whereas female wigeon are more uniformly brown than other female ducks, with a small bill. Teal are Britain's smallest duck and their population is increased by a large migrant population from northern Europe in winter. Up to 7 shovelor were spotted on the lake during November. The first sighting of goosander this winter was on 7th November; a fortnight earlier than last year. 7 were recorded on the 24th. Goosander are a type of sawbill duck having a serrated cutting edge to their beak that enable them to feed on fish, and are frequently seen on reservoirs and lakes during winter. Up to 2 little grebe were present on the lake daily during November, along with up to 4 cormorants. Cormorant numbers are building at this time of year and can be seen perched in the trees on the island. The peak count for black-headed gulls during November was 200. Herring gulls were seen throughout last month. Water rail are present in the marsh along with snipe. The snipe are easiest to see when they are standing on the edge of the marsh. Many more rest up in the middle making them impossible to spot. At dusk they can be heard leaving the marsh for their feeding sites on nearby pasture. The highest coot count was 78 on 30th November, along with 18 moorhen on the 6th. Kingfishers and herons have been recorded throughout November.
Mammals are easier to spot now that the ground cover has died back and they spend more time foraging. Foxes appear particularly striking as their breeding season gets under way, peaking early in January. Foxes become increasingly active at this time of year and can often be seen in daylight hours. Even if you don't see them, you will most certainly hear their barks and screams at night. Their distinctive musky smell is obvious all over the Park.
Some insects can be seen over the winter months such as a small brown moth known as the winter moth. Oak and sitka spruce are favourite hosts, of which Stover has plenty ! Any warm sunny days during the winter months may rouse brimstone, red admiral and peacock butterflies from their hibernation so they may be seen briefly on the wing. Dragonfly sightings carried on into November this year with common darters recorded up until 28th November (was the 29th last year). The majority of adults will all have died with the arrival of the colder weather, however their eggs and nymphs will remain safe under the water until the adults start emerging again next summer.
Next years buds are starting to appear on many of Stover's trees. The scarlet elf-cup fungus is out at the moment and can be found on rotten wood in the damper areas of Stover's woodlands, along with the barometer earthstar fungus visible on the heath.
Many thanks to Sibelco Minerals for donating 60 tonnes of puddling clay for the old inlet bund which had sprung a leak. Originally the ornamental lake extended past the bund in front of Stover House, but is now silted over.
Merry Christmas !