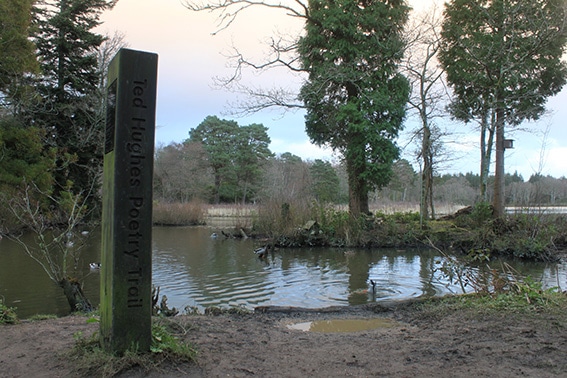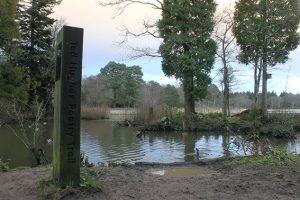 The Ted Hughes Poetry Trail has been created to celebrate his poetry and long-standing links with Devon.
Visitors to the trail can read examples of Hughes' finest poems relating to the natural world. These poems have been chosen with the help of Carol Hughes to relate to the wildlife to be seen and heard around the Park.
The Park features 16 specially designed 'poetry posts', each displaying a poem by Ted Hughes on a theme relating to the natural world.
There is also a short Children's Poetry Trail which lets families share together some of Ted Hughes' most memorable poems about the world of animals, some of which are illustrated by Raymond Briggs.
Allow up to two hours to complete the full poetry trail, or follow shorter circuits to suit.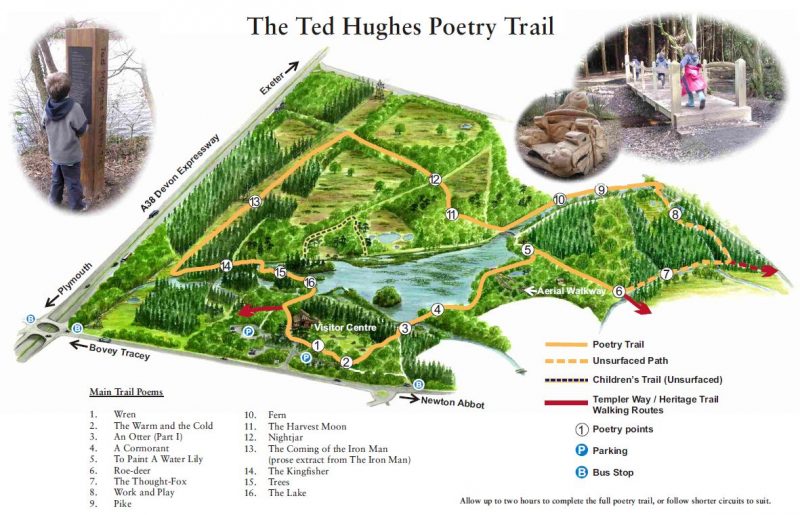 Main Trail poems
Wren
The Warm and the Cold
An Otter (Part I)
A Cormorant
To Paint A Water Lily
Roe-deer
The Thought-Fox
Work and Play
Pike
Fern
The Harvest Moon
Nightjar
The Coming of the Iron Man (prose extract from The Iron Man)
The Kingfisher
Trees
The Lake
The Ted Hughes Poetry Trail was created by Devon County Council in 2006. The project has been supported by English Nature, the Big Lottery Fund and WBB Minerals.
You can download this information about the poetry trail as well as more about Ted Hughes himself, using the following links: