Site user restrictions
Recycling centre facilities are available only to householders delivering their own household waste.
Waste from the following groups/premises/activities is not accepted at recycling centres:
Landlords disposing of waste from rental properties.
Parish/District/County Councils or council premises.
Educational or medical establishments.
Charity shops, charitable organisations and premises (except where otherwise agreed in writing with DCC).
Any club, society or other association of persons (including allotment organisations).
Religious establishments.
Prisons or probation service.
Agricultural holdings, including small holdings and paddocks (excluding waste from the farmhouse itself).
Waste from shops, businesses, traders including business waste associated with people working from home.
Removal firms.
'Man and van' or house clearance operators.
Waste from rented holiday homes/holiday lets/campsites/caravan parks.
Fly-tipped waste (unless delivered by the district council with prior agreement from DCC).
Also see Chargeable waste.
Vehicle restriction policy
The vehicles listed below will not be permitted at any recycling centre in order to keep unloading times to a minimum and to ensure sites have enough capacity to serve as many people as possible, to improve site safety and tackle abuse by trade/commercial users:
Any vehicle over 3.5 tonnes gross weight (including hire vehicles).
Any vehicle over 6m in length (including hire vehicles).
Any vehicle tipping.
Box vans/Luton vans including horse box vans (with the exception of vehicles hired to a householder from a legitimate hire company for a hire period of less than 3 days and appropriate documentation can be produced).
Any trailers over 3m (10 feet) internal/body length*.
Large vans (Transit size) and pick-up vehicles** are not permitted towing any trailer of any size (fully fitted camper vans/fully fitted minibuses*** are excluded from this restriction).
Tractors/Agricultural machinery.
Vans which do not comply with the van permit system. 
* trailer size limit at Maclins Quarry, South Molton is 1.8m internal/body length due to the very small and restricted nature of the site.
** Pick-up truck/vehicle – a vehicle having an enclosed cab (or enclosed double cab) and a separate rear cargo area with a tailgate. The rear cargo area may or may not be enclosed.
***A minibus will only be considered 'fully fitted' if it has professionally fitted seats from the front to the rear of the vehicle which must be in their original position and upright.
A diagram explaining the vehicle restrictions is available below, please click to enlarge. In addition to this, if you have a van, please check whether you require a permit.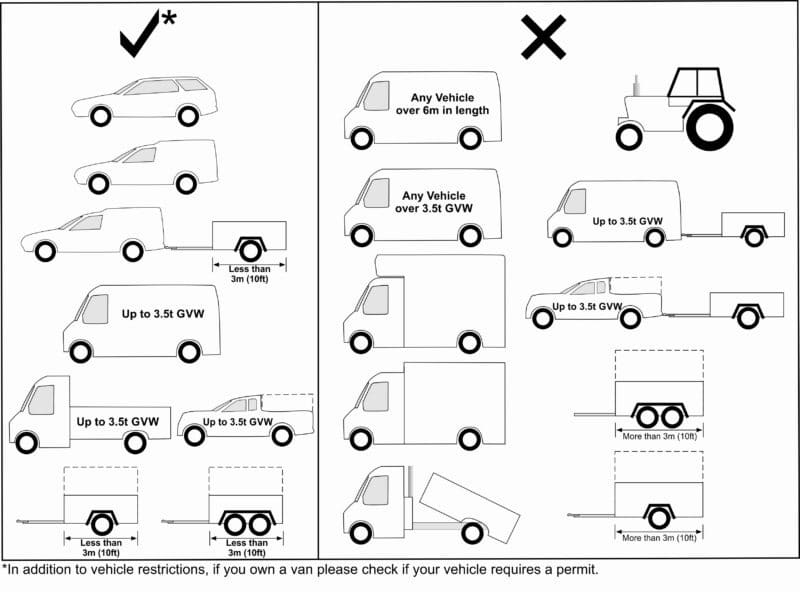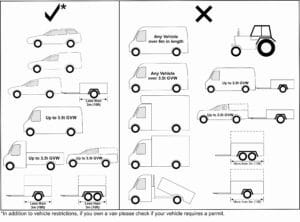 Van permit system
Vans require a permit to access the Household Waste Recycling Centres (HWRCs).
The van permit system is open for applications.
If you are intending to visit a HWRC in a van, please ensure you have checked whether your van requires a permit.
Please see van permit system for all information.