---
The Grand Western Canal Joint Advisory Committee supports and encourages an active partnership between all the bodies with an interest in the management of the Grand Western Canal Country Park.
The management of the Grand Western Canal Country Park is undertaken by the Canal Ranger Service which is part of Devon County Council's Public Rights of Way and Country Parks Team.
The Joint Advisory Committee provides the main mechanism for the collation of local views and co-ordination of advice relating to the management and maintenance of the canal. It provides an excellent forum for discussing canal matters and the advice it provides to Devon County Council in its management of the Canal is valuable and much appreciated.
The County Council aims to maintain and conserve for the future the integrity of the Grand Western Canal Country Park and Local Nature Reserve as a peaceful, attractive and wildlife-rich corridor within which a range of suitable recreation activities may be enjoyed. It also seeks to promote and demonstrate good practice on this multi-interest site, providing opportunities for enjoyable visits by a variety of users in a way that also benefits local communities.
The Joint Advisory Committee is chaired alternately by Devon County Council and Mid Devon District Council members, for terms of one year. The committee meets twice a year – in October and March – and also has a Summer Site Visit.  Mid Devon District Council provide the secretariat for the committee and host the meetings.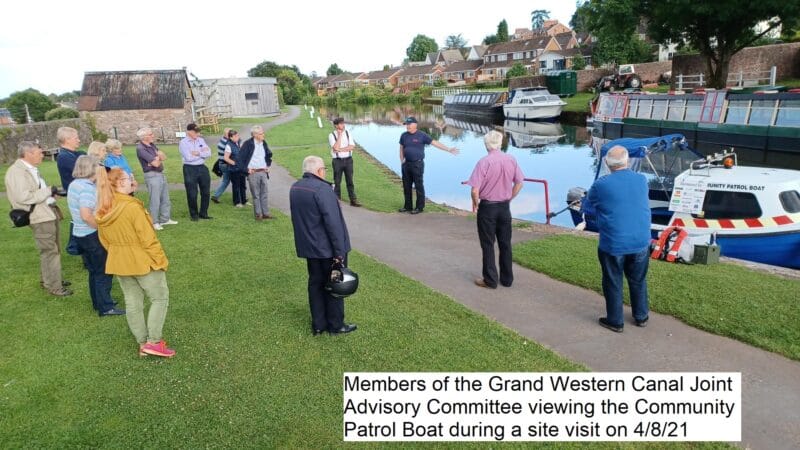 ---
Date of the next Canal Joint Advisory Committee meeting:
Date: Tuesday 3rd October 2023
Time: 7pm
Location: To be confirmed (depending on Covid 19 situation, either in-person at Phoenix House, Zoom meeting or hybrid of both)
The public are welcome to attend and there is a public question time programmed at the start of each meeting.  If attending online, please register with MDDC member services by emailing Committee@middevon.gov.uk by 4pm before the meeting if you wish to ask a question.
---
Below is a list of the various organisations that are members of the GWC JAC. If you wish to contact any GWC JAC members a list of their contact details as well as agendas and minutes from previous meetings are available on the Mid Devon District Council website
| Groups represented | Votes |
| --- | --- |
| Devon County Council  – Cabinet Member for Climate Change, Environment and Transport | 1 |
| Devon County Council – Member for Tiverton East | 1 |
| Devon County Council – Member for Willand and Uffculme | 1 |
| Mid Devon District Council – Portfolio holder for Street Scene | 1 |
| Mid Devon District Council – Members for Cranmore (3 councillors) | 3 |
| Mid Devon District Council – Member for Halberton | 1 |
| Mid Devon District Council – Members for Canonsleigh (2 councillors) | 2 |
| Tiverton Town Council | 1 |
| Halberton Parish Council | 1 |
| Sampford Peverell Parish Council | 1 |
| Burlescombe Parish Council | 1 |
| Holcombe Rogus Parish Council | 1 |
| Friends of the Grand Western Canal | 1 |
| Devon Wildlife Trust | 1 |
| Wildlife Advisory Group | 1 |
| Inland Waterways Association | 1 |
| Tiverton and District Angling Club | 1 |
| Devon Bird Watching and Preservation Society – NE Devon Branch | 1 |
| Tiverton Sea Cadets | 1 |
| Cycling UK | 1 |
| The Tiverton Canal Co. | 1 |
| Mid Devon Moorings | 1 |
| Canal Businesses Group | 1 |
| Officers | |
| Devon County Council – Public Rights of Way and Country Parks Manager | 0 |
| Devon County Council – Country Park Manager (Grand Western Canal) | 0 |
| Mid Devon District Council – Director of Community Services | 0 |
| Mid Devon District Council – Member Services Officer | 0 |
---
Privacy policy for Grand Western Canal Country Park customers.