Case Study
Tools and Equipment to assist with Highway Works in various locations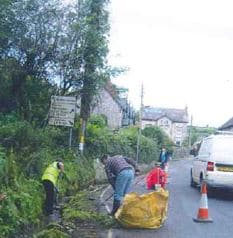 Beer, Bovey Tracey, Buckland Tout Saints, Modbury and Yealmpton parish councils have all successfully applied for grants through the HMCEF, in order to purchase tools and equipment to enable works within their local areas.
Beer Parish Council used the grant to provide a shed, tools and personal protective equipment (PPE) for their volunteer group.  The aim of the volunteer group is to help maintain the network and improve the village environment.  Projects undertaken so far include footpath clearance, fencing, verge maintenance and improvements to parking spaces.  The group have also cleared a waterway to prevent flooding of the highway.
Buckland Tout Saints received a grant for £177.00 to fund the purchase of personal protective equipment for highway related works.  The equipment will be used by volunteers to work on small maintenance projects on the highway.
Bovey
Tracey Town Council were awarded £560.00, this was used to purchase a leaf blower which is predominately used by the town council's ground staff.  The blower is used on a weekly basis, clearing leaves and other debris from high footfall pathways in and around Bovey Tracey.
The key focus of attention currently is the Wray Valley Cycleway, which runs through Mill Marsh Park as this is very popular, all year round.
Modbury Parish Council were awarded £457.96 for the purchase of a Plate Compactor. This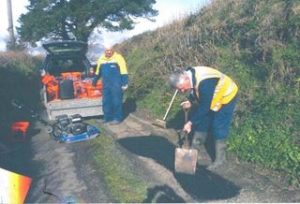 purchase has enabled the parish council to undertake repairs to minor potholes on the highway within the parish.
The photo (see right) shows Councillor Taylor and the parish road warden undertaking potholes repairs on a minor road.  They filled a total of 18 potholes and used 20 tubs of pothole repair material.  The plate compactor is available for use by surrounding parishes, please contact Modbury Parish Council if you are interested.
Owing to increasing complaints from residents about the lack of weed management within Modbury, the parish council decided to take control of this with 3 councillors volunteering to undertake specialist training in weed spraying training.
Once training had been carried out it was necessary to purchase our own spraying equipment, together with safety equipment and clothing, plus supplies of the necessary chemicals.  The parish were awarded £2,244 from the HMCEF.
"Last year, there were plants growing in our gutters and drains and all along the footpaths.  This year, thanks to the HMCEF, Modbury will be able to keep on top of weed prevention, thereby making Modbury a more attractive and appealing town, PLUS there will be less debris to block gullies and drains from plant material."
Yealmpton Parish Council secured funding towards the cost of purchasing tools, cleaning materials and waste disposal fees associated with various maintenance works undertaken within the parish.
The work will enhance the longevity of highway assets, improve pedestrian access and improve the appearance of the village.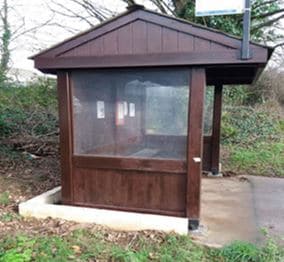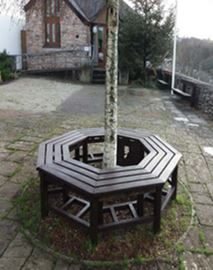 More case studies - Highway Maintenance Community Enhancement Fund (HMCEF)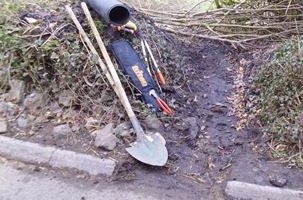 Clayhidon Parish Council received funding over two financial years through the Highway Maintenance Community Enhancement Fund (HMCEF). Read more >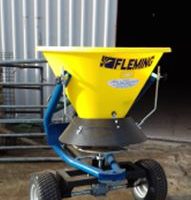 A Highway Maintenance Community Enhancement grant was awarded to Shillingford Parish Council, for the total of £820.00 to purchase tools and equipment such as the salt spreader shown to grit roads in the parish which are not treated by Devon County Council. Read more >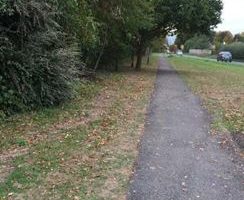 Following their joint application to the Highway Maintenance Community Enhancement Fund, the villages of Stoke Canon and Rewe have carried out footpath improvements. Read more >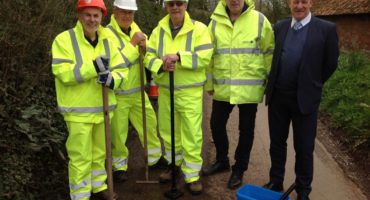 We received a total of 44 bids in 2019/20 and approved 41 of those.  We provided over £12,000.00 of funding to enable projects valuing over £27,400.00 to be undertaken in the community. Parish Summery of Work Clyst Hydon Parish Council Pothole repair material Lustleigh Parish Council Pothole repair material Modbury Parish Council Pothole repair material… Read more >
Chittlehamholt, Satterleigh and Warkleigh Parish Council received funding of £2000.00 from the Highway Maintenance Community Enhancement Fund (HMCEF). Read more >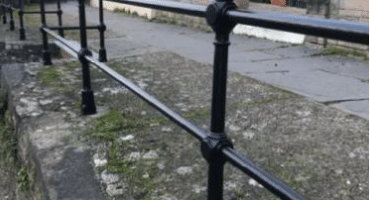 Great Torrington Town Council receive funding to re-paint railings. Read more >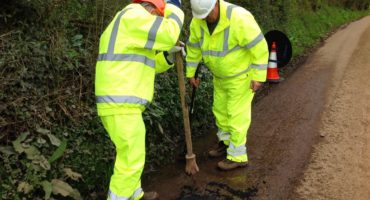 Bradford and Cookbury Parish Council received funding from the Highway Maintenance Community Enhancement Fund (HMCEF).  The sum of £1000.00 was approved and the parish council used the money to hire equipment to enable ditch clearing to be undertaken. Read more >
Drewsteignton Parish Council received funding through the Highway Maintenance Community Enhancement Fund (HMCEF) towards the replacement of 4 sign posts and the repair and cleaning of several others within the parish. Read more >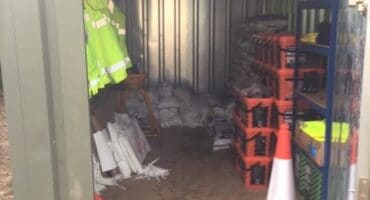 Kingsbridge Parish Council received funding for materials and equipment to fill non-intervention potholes under the Road Warden Scheme Read more >