Safer Devon Partnership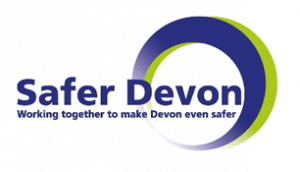 Safer Devon is a partnership of public, voluntary and community organisations that work together to make Devon's communities safer. It provides leadership for community safety work carried out across the county.
Our Partners include Devon's four local Community Safety Partnerships which cover:
Safer Devon and its partners are committed to supporting Devon's communities through preventing and tackling community safety issues which negatively affect local people and communities, such as crime, hidden and visible harm and exploitation.
Our priorities

Safer Devon's current priorities are to prevent and tackle hidden and visible harm, including addressing the root causes of:

Intra and extra-familial violence and abuse

intra and extra-familial violence and abuse covers violence and abuse taking place within the home or family (such as domestic violence and abuse) and that taking place outside of the home environment. This can include violence (including sexual violence) and abuse within peer groups, or perpetrated by friends, associates or members of criminal gangs;
Safer Devon supports Devon County Council and its partner organisations to prevent and tackle sexual violence and domestic violence and abuse. You can find more information about this work and signposting to advice and support on our Domestic Violence and Sexual Abuse website.

Problem drinking and problem drug use

Exploitation

exploitation involves people being groomed, forced or coerced into doing something for someone else's gain. It is a complex and hidden issue. People who are being exploited can find themselves in situations where they experience abuse and violence, and may be forced to take part in criminal activities;
you can find out more about the various forms of exploitation partners are tackling in Devon, including modern slavery and human trafficking, on the Safer Devon website – as well as signposting to further information, help and support;
we have also developed, in partnership with the Devon Children and Families Partnership and the Torbay and Devon Safeguarding Adults Partnership, an online Preventing Exploitation Toolkit. This toolkit is aimed at anyone working in a paid or voluntary capacity who is likely to come across people who are vulnerable to exploitation.

Offending and reoffending, with this cutting across the above priority areas.

offending and reoffending are heavily linked to the above issues, which can increase vulnerability to committing offences and becoming involved in the criminal justice system. Likewise interventions to reduce harm and violence in these areas are key to achieving wider reductions in offending and reoffending.

Further information

You can find out more about Safer Devon on our website, including:

Our website also has information about Domestic Homicide Reviews carried out in Devon. Domestic Homicide Reviews are a review of the circumstances in which the death of a person aged 16 or over has, or appears to have, resulted from violence, abuse or neglect by someone to whom they were related or was/had been in an intimate personal relationship, or a member of the same household. The purpose of these reviews is to identify lessons to be learnt from the death.

Prevent

Safer Devon coordinates and oversees the local delivery of Prevent within Devon. Prevent is part of the UK's Counter Terrorism Strategy (2015, updated 2018). The strategy involves agencies working together to safeguard people and communities from the threat of violent extremism and terrorism.

The Strategy places a statutory duty on specified agencies, including Devon County Council, to have "due regard to the need to prevent people from being drawn into terrorism". To fulfil this Duty the Council must collaborate with other specified partners to ensure the effective delivery of leadership, partnership working, learning and development and information sharing in relation Prevent.

In Devon Prevent is delivered in partnership with Safer Communities Torbay and Torbay Council. Organisations involved include the police, prisons, probation, the NHS, child and adult safeguarding services, and education. Our aim is to reduce vulnerability to being drawn into radicalisation and violent extremism and intervene early to support and divert those who are most vulnerable. We also work to increase the resilience of communities to engage with and challenge violent extremism.

Channel is a key part of Prevent. It is a multiagency approach to identifying and providing support to individuals who are at risk of being drawn into terrorism. Devon County Council is the lead authority for Channel across the county and chairs and coordinates the Devon Channel Panel.

Our website provides further details about our work to raise awareness of radicalisation, information about why people may be vulnerable to radicalisation and signs that may indicate that someone is being radicalised.