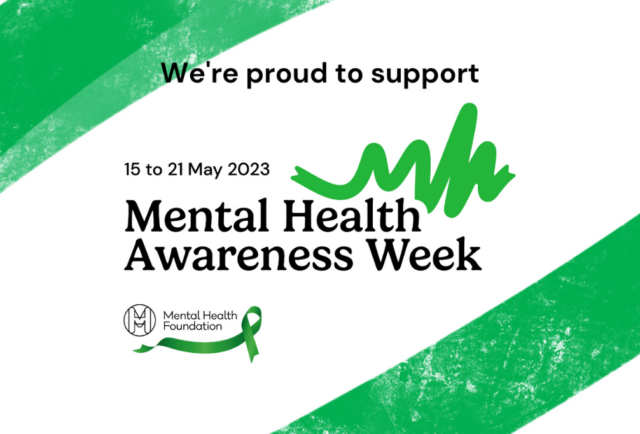 #MentalHealthAwarenessWeek ran from Monday 15 to Sunday 21 May, with a focus on anxiety. Anxiety is something we can all experience from time to time. There are lots of reasons why we get this feeling. It can be connected to a job, school, a relationship, social situations, how we feel about ourselves, or a change in our life.
The Mental Health Foundation has a set of suggestions for things that can help cope with feelings of anxiety. These include getting active, connecting with nature and connecting with other people.
Below are some suggestions on ways to do that here in Devon, grouped around the five ways to wellbeing. These are five simple steps you can take to help you cope, feel more positive and able to get the most out of life. They're also all good for the planet!
Connect
Good relationships and connecting with others is important to build a sense of belonging and self-worth, and give you an opportunity to share positive experiences. 
Community Action Group (CAG) Devon support and empower community groups to act towards a more sustainable future. Check out their website for inspiration and ways to get involved in everything from repair cafes, surplus food cafes and compost workshops to litter picks, jumble trails, and clothes swaps. 
The Devon Climate Emergency project is raising awareness and encouraging everyone to act to tackle climate change. Find out more about current projects and news on their website, and follow their social media for tips and ideas this #MentalHealthAwarenessWeek.
Be active
Being active is not only great for your physical health and fitness: it can also boost your mood. And Devon has plenty to offer if you want to build a little more movement into your daily life.  
Active Devon work together with local communities and partners to connect, advocate and enable people to move more. Active Devon offer fun and healthy ways to get and stay active with activities, campaigns and events for everyone. 
Changing the way you travel can bring benefits to your wellbeing and the environment. If you are looking for top walking tips, local walking and cycling trails and car sharing opportunities then Travel Devon has it all.
Take a look at Explore Devon to make the most of the beaches, shorelines and estuaries, the moors, parks and woodlands, and discover the variety of wildlife, plants and animals that makes Devon the stunning county it is.  
Learn
Learning new skills and doing new things can improve your mental wellbeing by boosting self-confidence and helping you to build a sense of purpose.
The Devon Climate Emergency have top tips to help learn and understand what you can do about climate change and nature loss with effective ways to reduce your carbon footprint.
On Devon e-Learning(DeL) you can find a 15 minute online learning course about understanding and managing stress. It incorporates the five ways to wellbeing and includes Care for the Planet as the sixth way to improve your wellbeing. Log on to DeL and search for 'stress less'.
Joining a Climate Café is a way to express and understand our feelings and emotions about climate change. The Climate Psychology Alliance host online cafes, or if you would like to attend a Climate Café in person you can find out about the Exeter Climate Café.  
Give
Acts of giving and kindness can help improve your mental wellbeing by creating positive feelings, a sense of reward and self-worth.  
Volunteering can be a good way to give: even small amounts of time or support can make a difference.
The Devon Local Nature Partnership (LNP) collaborates with a huge range of partners who are committed to working together to restore Devon's natural environment for people, wildlife and business. You can learn more about the wildlife you might find in Devon through the different volunteering opportunities available through the LNP.  
Devon Connect is an online community hub, connecting people to their community and promoting social action. Search the Volunteering Opportunities page for a range of ways to get involved in a wide range of projects in your local communities. 
Recycling and reusing are ways to give back to the environment. Recycle Devon have resources to help you try ways to reduce, reuse and recycle at home, in the garden and in schools.  
Notice
Paying more attention to the present moment can improve your mental wellbeing. This includes your thoughts and feelings, your body and the world around you. Some people call this awareness "mindfulness".  
Taking notice of the nature and wildlife around you while you are out walking or cycling is a good place to start. May is Devon's Naturally Healthy Month, encouraging people to get outside. Find out more about opportunities to get involved, including their online webinars to learn more about the wildlife and nature you can spot from your doorstep.  Wild About Devon is a local network to help guide and inspire community action for wildlife.  
Ways to find out more
Follow these social media accounts discover more ways Devon's natural environment can help with mental health this week and every week.
You can also visit the mental health and wellbeing Yammer community.
Support if you are experiencing anxiety
Throughout the year, you can use our mental health and wellbeing guide to find support, including financial wellbeing support.
Our Employee Assistance Programme, run by Care first, also offers confidential, impartial advice and support online and over the phone, 24 hours a day, 365 days a year.