Following a two-year development phase, Devon County Council, which owns Stover Country Park, has been awarded a £2.1m grant from the National Lottery Heritage Fund (NLHF) for its 'Restoring Stover Park' project.
This has been secured in combination with the following match funding commitments:
National Highways £848,000, Devon County Council £667,000, Bovey Tracey Town Council £10,000, Kingsteignton Town Council £10,000 and Devon Remembers £13,000
Public donations at the entrance 'Wishing Tree' at Stover Country Park, promoted by the Friends of Stover Country Park, have raised £1,600 in the past year.
The three-year grant from the NLHF will enable the delivery of the following elements of the project:
Stover Lake

Wet dredge 14,000m³ of sediment from Stover Lake and spread the sediment adjacent to the lake on 1.4 Ha of removed conifer plantation before replanting with 55% deciduous broadleaf trees, 15% conifer and 30% open grassland.

Restore a 100m portion of the Serpentine Lake directly beneath Stover School (Stover House) recreating views seen in 19th Century etchings.
Repair and interpret the Grade II* listed Granite Gatehouse.
Extend the Discovery Centre and build a new workshop facility.
Improve the car park within the existing footprint and increase capacity by 14%.
Purchase two fields (totalling 9.85 acres) and a peripheral strip of a third (totalling 0.58 acres) enabling a new pedestrian route into the wider landscape and implement an agreed permissive route through Sibelco woodland to join two key paths.
Design and deliver new interpretation, wayfinding and signage along with a new digital offering
Deliver an Activity Plan with six programmes to provide a framework and identity for the project and engage target audiences.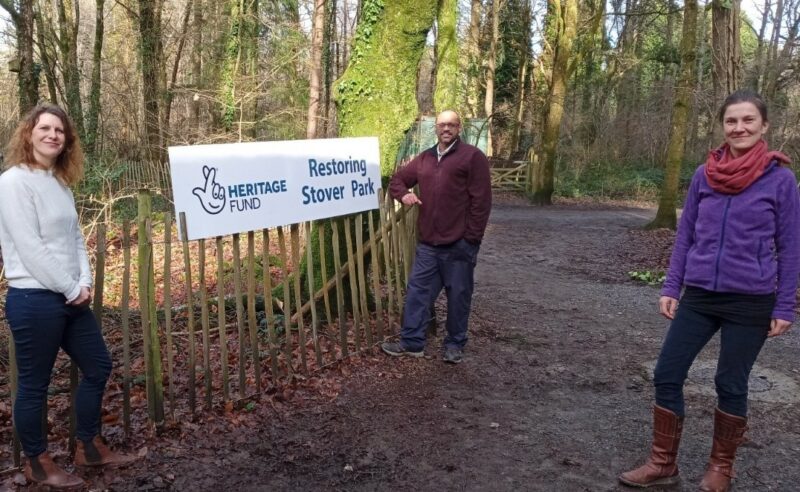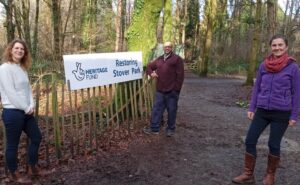 Councillor Andrea Davis, Cabinet Member for Climate Change, Environment and Transport, said:
"This is fantastic news for Stover Country Park and a credit to everyone who has worked so hard to secure this funding over a number of years.  This investment from the National Lottery Heritage Fund along with funding from Devon County Council, National Highways and other key partners will make an enormous difference to the Park.  Not only will it remove the Gatehouse from the National 'Heritage At Risk' register and assist Stover Lake into regaining its SSSI favourable condition criteria by de-silting, but it will enable a new programme of activities to improve existing visitors' experience and encourage use of the Park by under-represented communities.  All in all, it will help secure a vibrant future for Stover Country Park."