As the Lead Local Flood Authority, we are committed to the delivery of flood improvement works to vulnerable communities in Devon.
---
COVID-19 Update on Flood Improvement Schemes – Updated 21st August 2020
All projects have been delayed due to the COVID-19 pandemic. Site works were demobilised and design teams disrupted as a result of home working and restricted access to design software. However, works are now resuming with safe working methods in line with Government guidance.
---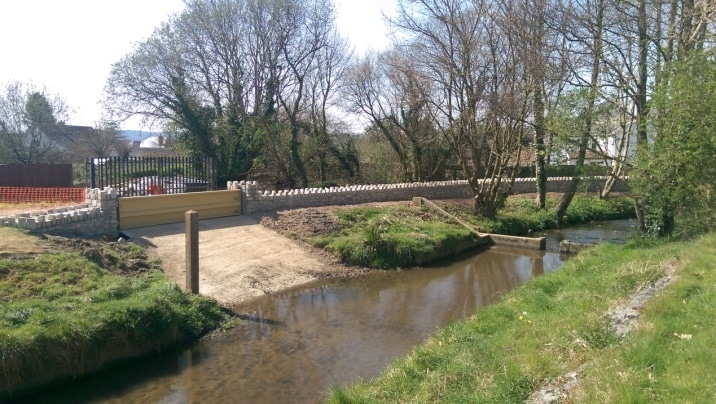 In partnership with other risk management authorities such as district councils, the Environment Agency, South West Water and Devon Highways, we look for synergies and overlaps in order to ensure that flood risk is investigated and resolved in a coordinated manner where possible.
Where a flood risk has been identified, we work with our consultants and design teams to investigate, optioneer and promote effective options that fit within achievable funding opportunities. Depending on the source and extent of flood risk, the options and form of new defences can vary. These range from 'hard' engineering measures such as new culverts, flood relief channels, flood walls and embankments, to 'soft' engineering measures, known as Natural Flood Management. These Natural Flood Management techniques aim to slow the flow in the upper catchments such as woody debris dams, field buffer strips and soil management. These more natural measures can stand alone, or support and enhance a hard engineering scheme. Where significant improvements cannot be installed, properties at risk can be supplied with Property Flood Resilience measures such as flood doors, boards, airbrick covers and non-return valves in order to limit the impact of flood water coming into contact with the building.
Funding for flood risk management schemes can be obtained from various sources, these include Devon's allocated budget toward flood improvement measures, the Regional Flood and Coastal Committee administered Local Levy pot, contributions from other Risk Management Authorities, private contributions from local businesses/property owners benefitting from the scheme and Flood Defence Grant in Aid funding allocated by HM Treasury and administered by the Environment Agency. The current national funding mechanism stipulates the requirement of partnership funding toward Flood Defence Grant in Aid funded works; and as part of the role DCC perform, we will approach affected stakeholders in order to coordinate contributions and produce business case documents to support flood defence scheme applications.
As part of the Local Flood Risk Management Strategy, each year DCC allocate funding to support flood scheme development and delivery throughout the County, forming part of the Action Plan approved by cabinet members. This gives authority for money to be spent in those locations deemed high priority and most at risk as well as give the flexibility to promote works in a location where the opportunity arises.
Flood Risk Management Schemes
Devon County Council are continuing to deliver the schemes prioritised in the Annual Flood Risk Management Action Plan. Many schemes are ongoing and will continue to be delivered through 2020/21, subject to contractor availability and safe working practices as a result of the Covid-19 pandemic. See below for an update on the progress of various schemes:
Achievements in Flood Risk Management in 2019/20 – updated 02/06/20 to reflect effects of pandemic
Achievements in Flood Risk Management in 2018/19
Current flood schemes
DCC has an input in flood schemes over a number of locations throughout the County. This includes contributions to works by others, investigations and physical improvement works. All of DCCs current schemes and their progress can be viewed on the DCC Environment Viewer interactive map. Individual case studies can be accessed below.
Historic case studies
Last updated: September 2020