---
Devon Local Flood Risk Management Strategy Update
This newsletter is the first instalment for 2023 engaging with our partners and local communities to inform them of the work being undertaken in local flood risk management. A copy of the full Strategy can be found on our website.
Flood Risk Management Working Arrangements
Over the past couple of years of hybrid working the Flood & Coastal Risk Management team have established a routine that maintains the high level of service expected, ensuring the risk of flooding to people's homes and businesses is prioritised and reduced. The majority of the team spend most of their time working from home and go to the office at County Hall when it is appropriate to do so. Communicating directly with the team, either through email or telephone is not affected by these arrangements.
Team members can undertake site visits where necessary and are mindful of individual wishes when meeting indoors or sharing vehicles. Most of our meetings continue to take place via video conferencing wherever possible, saving time and money. Safe working practices will continue to be followed to enable us to fulfil our responsibilities as the Lead Local Flood Authority.
Flood incidents
9th May Storms
The recent flood event in Devon on 9th May caused severe disruption and flooding to over 100 properties and major parts of the highway network. This was due to a significant thunderstorm that moved across the County with a very localised high intensity rainfall over the Exeter and East Devon area. The worst affected area included Newton Poppleford, Colaton Raleigh, Tipton St John, Metcombe, Venn Ottery and Harpford.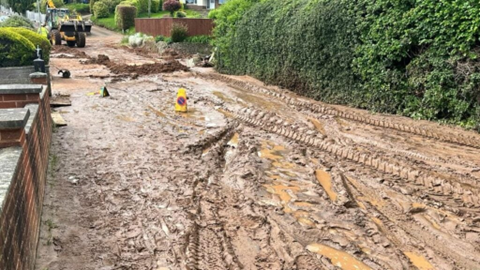 As the Lead Local Flood Authority it is our duty to produce a Section 19 Flood Investigation Report detailing the source of flooding and the relevant Risk Management Authority who will consider exercising their functions. In the report we will endeavour to give a clear explanation of the event, the scale of disruption and consideration of any immediate or longer-term actions that will help reduce the risk of future flooding. In accordance with our Local Strategy we will aim to publish the findings in the next 3 months, however any 'quick-wins' identified will be carried out by the relevant authority, subject to available funding, and any enforcement requirements will be progressed.
We are now continuing to work closely with our partners at the Environment Agency, District and Parish Councils to gather as much detail as possible on the extent of the flood event and assess how many properties have sustained damage from floodwater. We are also engaging directly with the affected residents through local drop-in surgeries giving them the opportunity to share their experiences of the flooding. Such events have been held at Newton Poppleford and Colaton Raleigh and a further event scheduled for Tipton St John.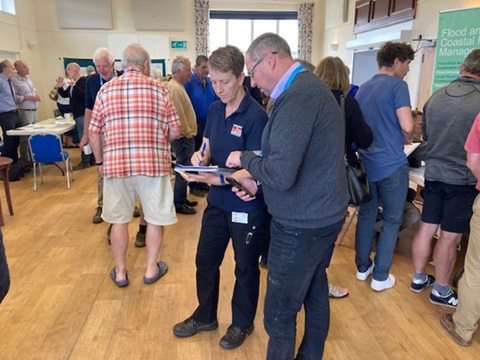 If you are aware of any flooding in your area and not had the opportunity to discuss this with us, then please do contact us through the floodrisk@devon.gov.uk mailbox or alternatively report the incident on the Flood Online Reporting Tool (Fort) detailed below in this newsletter.
12th – 14th January Flood Event
A flood investigation report will also be published shortly on our website detailing flooding that occurred on 12th to 14th January 2023. 27 properties in total were recorded across Devon to have flooded internally, with 24 of those affected in communities along the River Exe. The worst affected locations were Bickleigh, Exebridge and Oakfordbridge, which saw flooding due to high levels along the River Exe.
Many properties in this area already have Property Flood Resilience (PFR) measures installed, either funded by themselves or through Devon's individual property flood resilience scheme. An additional five properties which we would have expected to flood were protected in this event. Whilst two other properties had their measures overtopped due to large vehicles driving through road closures and creating bow waves.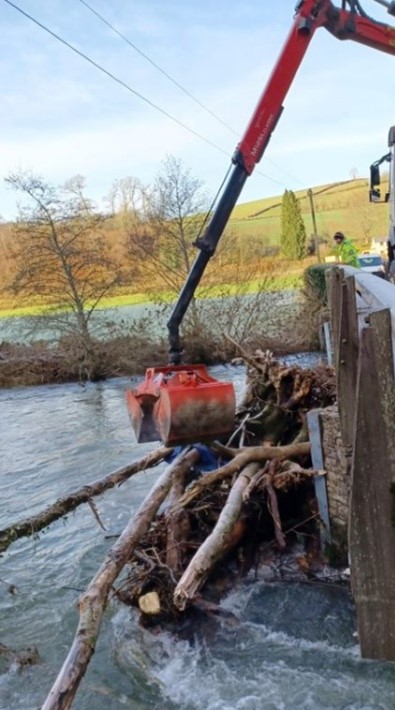 The event saw a heavy impact on Devon's highway network and we would like to thank all those involved in responding to this event, in particular the efforts of our Highways and Structures colleagues.
If you have been affected by internal property flooding please report this on FORT which is our Flood Online Reporting Tool.  Flooding, including muddy flood water or soil erosion from local land entering the water system should also be reported to the Environment Agency Incident Hotline number: 0800 807060.  It's a freephone number and is available 24/7. For more information on who to contact during or after a flood event please refer to our website.
Natural Flood Management (NFM)
DCC's Flood and Coastal Risk Management Team is committed to the delivery of flood improvement works throughout the county and will continue to endorse NFM measures either as standalone projects or within larger flood improvement schemes to future proof against the effects of climate change. To progress this, DCC is currently working in partnership with the Environment Agency to deliver NFM pilot studies in a few selected locations across Devon.
Kit Brook Natural Flood Management
DCC were able to provide some funding to support the Kit Brook River Restoration Project which has enabled NFM works to be installed in the Chardstock area. This included the leaky dams shown below, where using fixed point photography has already been shown to be attenuating flows.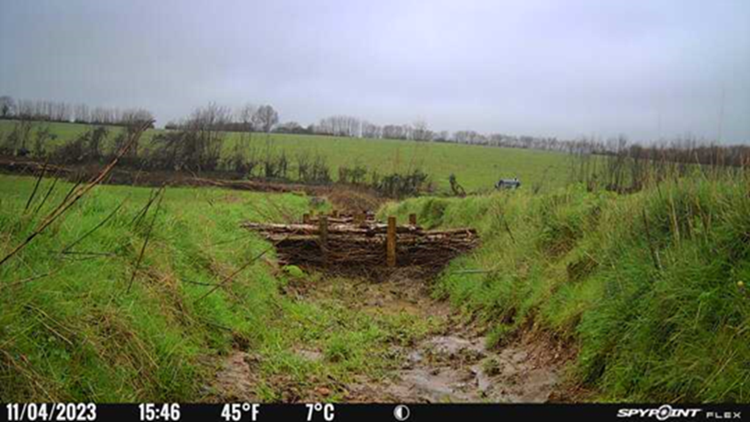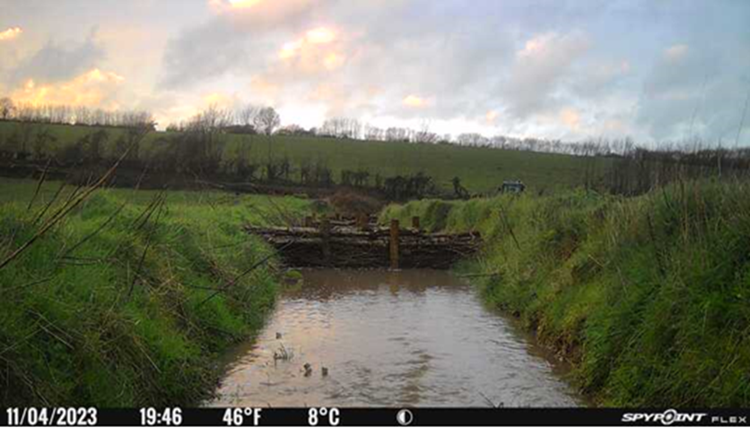 Devon, Cornwall and Isles of Scilly Nature Based Solutions and Natural Flood Management Group
The Devon, Cornwall and Isles of Scilly Nature Based Solutions and Natural Flood Management Group (DCIoS NBS & NFM Group) continues to share knowledge and learning across organisations, taking the opportunity to expand this sharing of information.
The group have had successful hybrid meetings combined with site visits with some valuable learning from academic and industry experts.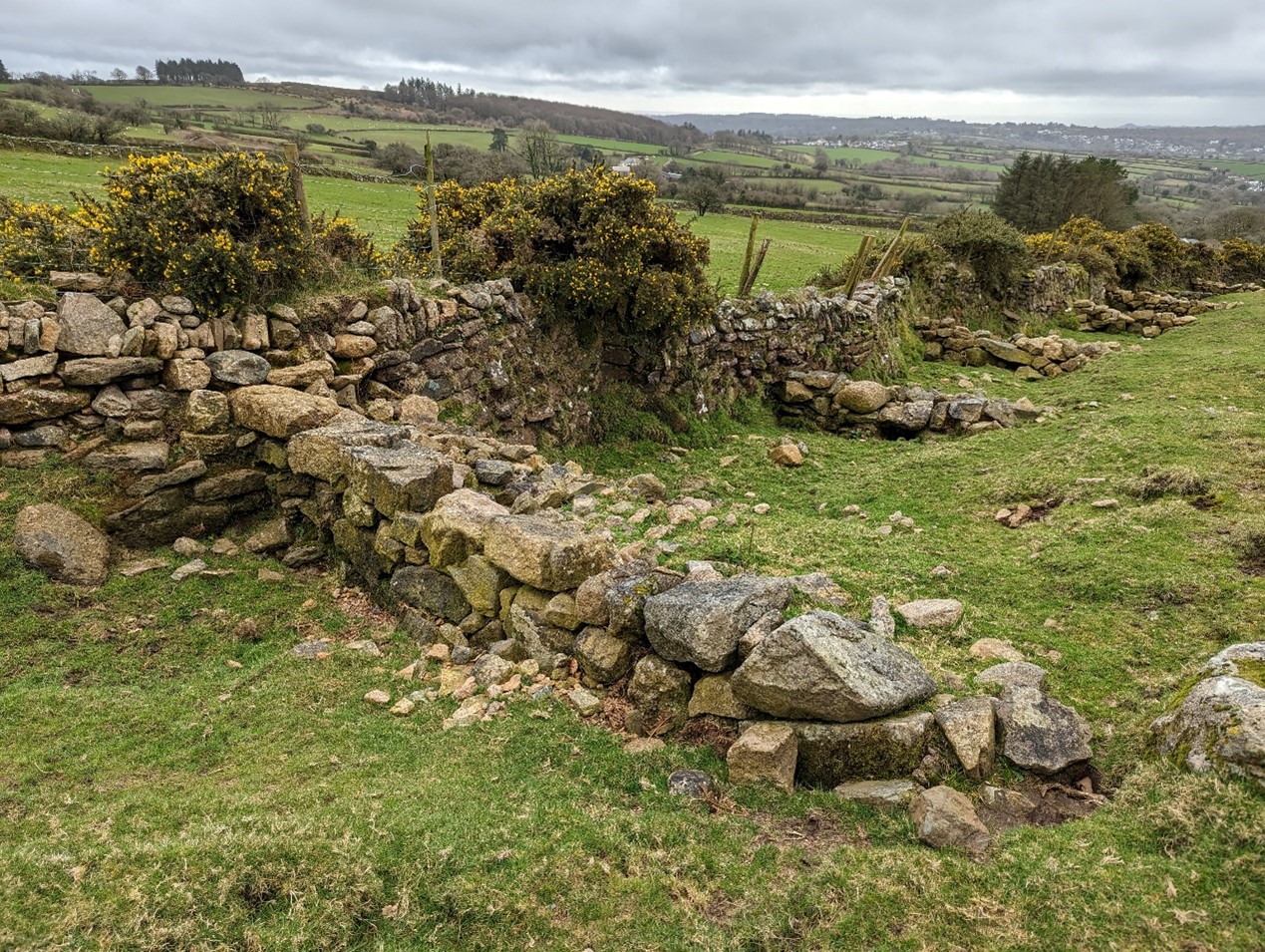 The project board consists of the Environment Agency, Devon County Council and Cornwall Council. The latest group meeting was in March 2023, which combined a hybrid meeting and site visit to look at the NFM pilot measures that have been put in place at Walkhampton as part of the Dartmoor Headwaters Project.
Are you carrying out works within a watercourse?
If you need to carry out works in an Ordinary Watercourse, then please apply for Land Drainage Consent. You can find information on the consenting process on our Land Drainage Consent webpage and you can apply for a consent online using this form.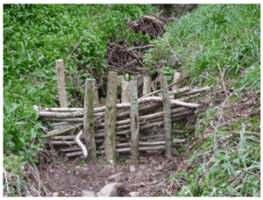 There is now also guidance available on what should be considered as part of NFM works in watercourses.
Please note that works in watercourses are restricted from October through to the end of May to protect fish spawning, migration, and other biodiversity. Please ensure you apply for Land Drainage Consent in good time to allow appropriate works to be programmed and completed during the summertime window when river levels are low and there are fewer environmental impacts.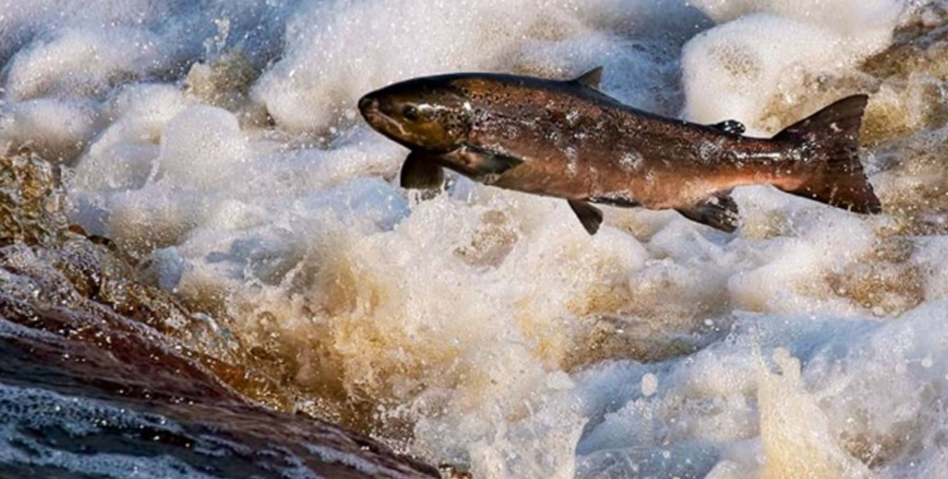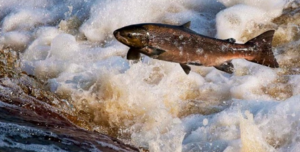 Defra Six Year Programme 2021-2027
We are now in year 3 of Defra's £5.2bn 6-year programme for flood and coastal erosion risk management, with a target of better protecting 336,000 properties across the country. We cannot tackle this on our own, so there is a reliance on collaboration with all Risk Management Authorities including the Environment Agency, water companies, Unitary, County and District Councils and Highways. Each authority has their part to play in tackling the many sources of flood risk to achieve the target set. In the early years of the programme there are many studies and investigations taking place for future investment, as such the number of properties protected increases year on year throughout the programme. The schemes delivered in the Devon, Cornwall and Isles of Scilly for 2022/23 reduced the risk of flooding to 520 properties, whereas the target for 2023/24 is 1,248.
Flood Improvement Projects
DCC continue working on the delivery of flood improvement schemes to make Devon more resistant and resilient to flooding. At the time of writing DCC is working with our consultants to investigate and develop schemes in over 12 locations that, subject to funding, will be delivered over the coming funding window up to 2027.
Many of the schemes currently being progressed are property flood resilience (PFR) focused. The sector continues to experience significant challenges due to the availability and rising costs of materials and the increased demand. DCC have worked tirelessly to continue to progress these and to help overcome the challenges posed.
Ongoing Studies and Initial Assessments
Flood studies in the following locations are continuing to be developed. High level options will be considered for any further investment in detailed investigations and/or development. Early indications suggest a programme of over £13million in the coming years with over £10million of external funding to be justified and drawn down.
| | |
| --- | --- |
| Seaton | Sidmouth |
| Budleigh Salterton | Barnstaple East |
| Exmouth | Teignmouth |
| Newton Abbot | Tiverton |
| Crediton | Totnes |
| Bideford | Exeter |
| Kingsbridge | Ilfracombe |
| Okehampton | Dartmouth |
| Dawlish | |
Our programme of initial assessments is also continuing to be progressed in the following locations:
| | |
| --- | --- |
| Bampton, Shillingford | Lynmouth |
| Kennford, Kenn | Westwood, Broadclyst |
| Salcombe | Lee |
| Bovey Tracey | North Tawton |
| Uffculme | Kerswell, Dulford |
| Rockbeare | Woodbury |
| Newton Poppleford | Kingskerswell |
| Ashburton | Newton St Cyres |
| Beer | |
The purpose of these initial assessments is to populate our future programme of works and also identify whether any quick wins can be implemented to reduce the risk in a shorter time frame.
Beeson
We now have a contractor on board to deliver the much-needed flood alleviation works in Beeson, South Devon. The works include the provision of a new double culvert arrangement in the village, along with works downstream in order to accommodate the additional flows that will be passed forward. We would like to thank the residents for their patience and for accommodating elements of the scheme on private land. The works commenced on site late May 2023 and subject to weather, should be complete within 4 to 5 weeks.
Stokeinteignhead PFR
Works in Stokeinteignhead are close to completion. Currently snagging works and the final few properties PFR are being installed. We would like to thank the Neighbourhood Highways Team for going above and beyond to help address a blockage in a local watercourse that was causing complications for a property and the delivery of their PFR.
Colaton Raleigh and Broadhempston
The proposal for a joint PFR project for Colaton Raleigh and Broadhempston has been well received by residents, with 21 property owners having registered for inclusion in the project. The initial property surveys have been undertaken with the tender documents required to engage with a product supplier and installer now being produced.
Due to the recent flooding event affecting this location we have re-engaged with the community to encourage further property owners to sign up to the project. We are very keen in providing protection to as many properties as possible to maximise benefit from the project and feel this is an appropriate cause of action. Delays will be kept to a minimum to enable the flood measure to be implement at the earliest opportunity.
Longbrook Street, Exeter PFR
Listed building consent has been submitted to Exeter City Council at the end of January 2023 for PFR for at least 4 of the affected residential properties along Longbrook Street. Discussions are going well with the aim of delivering these improvements this current financial year.
Barnstaple West
The Proposal for a PFR project for Barnstaple has been well received by the residents of Sticklepath Terrace and Clifton Street area with 47 property owners having registered for inclusion in the project. The Initial property surveys have been undertaken with the tender documents required to engage with a product supplier and installer now being produced.
Axminster PFR
The Axminster Millbrook PFR scheme has been completed with post installation surveys being undertaken in the last week of April 2023. The scheme has been delivered within 18 months of the flood incident and completed under the original expected budget.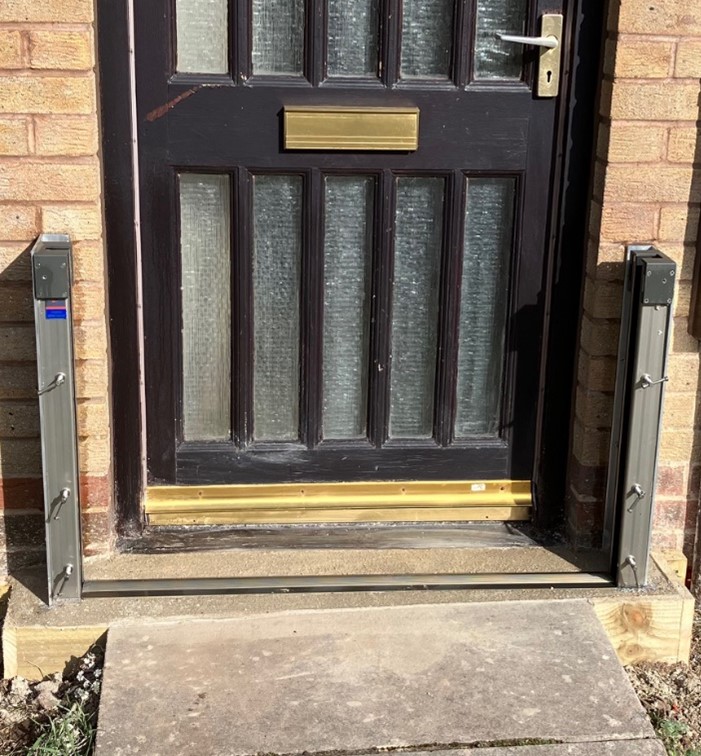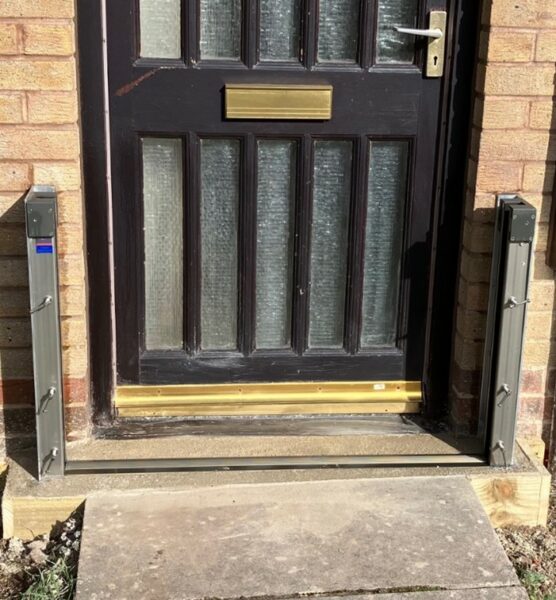 Seaton
As part of our ongoing investigations in Seaton, DCC met with the community group to discuss the longlist of options in November and are now looking at modelling the shortlist options. Separately DCC have been working hard to seek solutions to issues that have emerged post the flooding event in October 2021 with relevant landowners and partners. There has also been close working with our DCC Engineering Design Group colleagues to ensure that the drainage for the new cycle path is appropriately future-proofed.
Property Flood Resilience Funding Scheme
The information below has been maintained from the last newsletter and explains the PFR funding scheme. For more information on the PFR scheme and funding policy, and to download an application form please visit our website.
The PFR scheme is available for residential property owners to apply for up to £5,000 worth of funding. With this, a property survey will be carried out and a list of recommended resilience measures produced, which will need to be purchased and then installed by a selected contractor. Any additional budget requirements over £5,000 are at the expense of the property owner.
There is limited funding, with an allocation to be made available each year by Defra, Local Levy and DCC. Applications will therefore be prioritised based on the criteria set out in DCC's PFR Policy to maximize the number of properties benefitting from this opportunity and to ensure those properties with the greatest need will receive the funding.
Devon Resilience Innovation Project
The Devon Resilience Innovation Project (DRIP) is one of twenty-five projects in the country funded by Defra as part of the flagship £150 million Flood and Coastal Resilience Innovation Programme to develop and test new approaches to flood resilience.


Devon County Council and 18 partners have been awarded over £7 million of funding over a 6-year period (April 2021 – March 2027) to deliver thirty flood resilience pilot projects in rapid response catchments in Devon, including installing NFM measures, PFR measures in targeted community facilities and providing localised surface water flood warning systems. The project will also develop and test new spatial planning tools to ensure flood resilience is part of the decision-making process.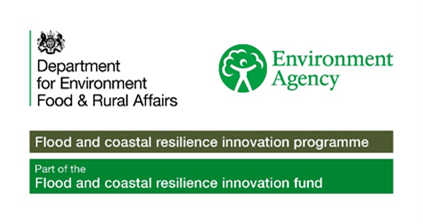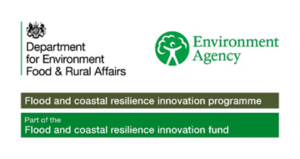 DRIP is an opportunity to work towards creating climate resilient places which are greener, cleaner, and more flood resilient. Overall DRIP will test and trial a range of replicable low-cost resilience actions that can be delivered by local authorities and communities in the future where traditional flood defences are shown not to be appropriate or cost beneficial.
Communities have been identified and selected by the project partners to become part of the project. Partners will start engaging with targeted communities to develop further the flood resilience interventions over the next 6 months. You can view the Project Map on our website.
Update for 2023
In the first quarter of 2023, progress has been made with regards to community and stakeholder engagement in the three DCC led NFM pilot projects: South Pool, Exton, and Stokeinteignhead. Engagement events have included presentations, village hall events and meetings, and extensive consultation with landowners in these catchments, with a view to fulfilling one of our main project aims –  implementation of NFM in upper catchments.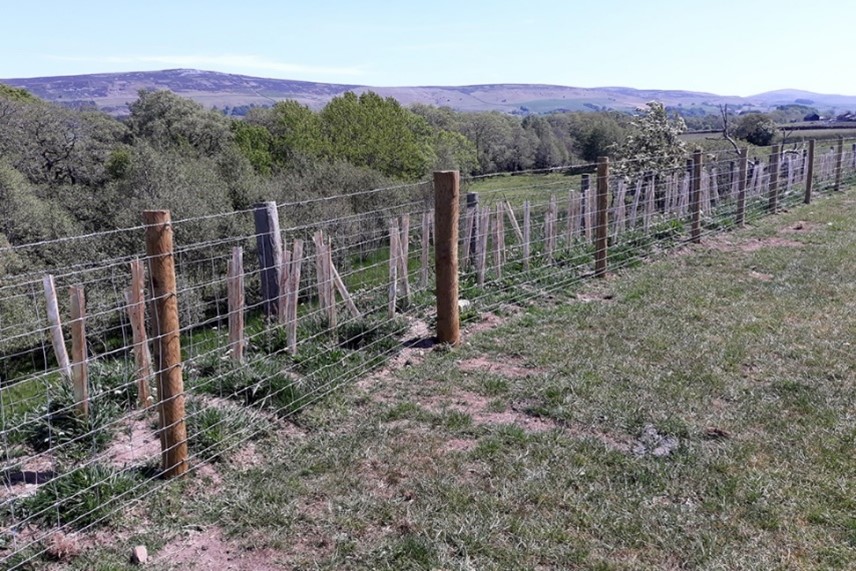 When considering the implementation of NFM interventions within the target catchments, the NFM hierarchy should be followed, by first considering the opportunities to restore natural processes (increasing infiltration by improving land management practices), and then considering the opportunities to slow the flow of water and increase water storage within the landscape (e.g. leaky dams and attenuation ponds). DCC have commissioned NFM specialist farm advisors from the Westcountry Rivers Trust to work with landowners within the catchments being targeted by DCC for NFM.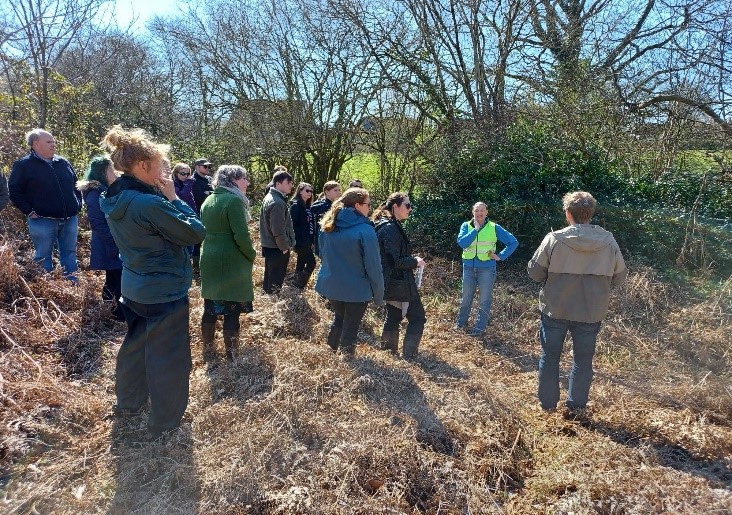 The DRIP partners are also progressing their own NFM projects, with measures beginning to be implemented in areas of the Culm Catchment by the Blackdown Hills AONB team. The North Devon Biosphere team are progressing with their project to reinstate historic catch meadows within Combe Martin and implement NFM measures across the Little Dart catchment. Several depth sensors have been installed within both catchments to monitor the performance and effectiveness of the NFM interventions. Beavers are continuing to carry out their own NFM on land managed by another of our partners, the Devon Wildlife Trust, who maintain several beaver sites in the Otter catchment.
Property Flood Resilience for community buildings
Another important resilience aim of the project is the installation of PFR for community assets vulnerable to surface water flooding. Community assets are organisations and businesses such as village halls, village shops, doctor's surgeries, pubs and cafes, which can assist people when they have suffered flooding. Village halls have been used in emergency flooding situations to house flood victims and provide them with a warm space to sleep and stay whilst waters recede. Shops and pubs can provide food and hot drinks in a flood event when flood victims cannot use their own kitchen facilities. Making these places flood ready and resilient in flood events, provides communities with added capacity to withstand and recover from a flash flood. Grants are available from DCC's Flood Risk Management team for PFR on residential buildings. For more information, please see the PFR Funding Scheme section of this newsletter.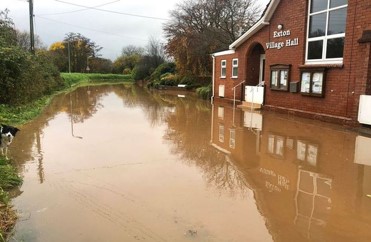 The PFR element of the DRIP will commence once the target catchments have been finalised.  DCC are working with JBA Consulting to progress this project, with the aim to engage with the target communities over the next quarter and to carry out PFR suitability surveys prior to offering grants for PFR on these important community hubs.
Flood Mapping and Warning
The Environment Agency provides a national flood warning service to areas at risk of flooding from rivers and the sea. Further details on this can be found here: https://check-for-flooding.service.gov.uk/.
Currently there is no equivalent flood warning system for areas at risk from surface water flooding – flooding caused by intense rainfall events resulting in water ponding or flowing overland. DCC are leading on a DRIP pilot project which aims to trial a surface water flood warning service within five selected communities across Devon. DCC have commissioned JBA Consulting to manage this pilot project. They are working with Kisters to provide the software required for the surface water flood warning system. Within the next quarter, DCC aim to engage with all five of the communities selected for this trial. The support of the communities is vital to the success and evaluation of this pilot project.
Flood Hub Website
One of the legacies of DRIP will be the development of a comprehensive website available to the public which will act as a one-stop-shop for all things flooding related within Devon and the Southwest. It aims to bring together information from all flood risk authorities in the Southwest including local Risk Management Authorities such as district and county councils, Environment Agency and water companies. The South West Flood resilience Hub will be a platform through which information can be accessed, issues can be communicated, and resilience can be quantified.
A current example of this kind of platform (operating in the North West of the UK) can be found here https://thefloodhub.co.uk/
The Devon Community Resilience Forum
The Devon Community Resilience Forum, supported by Devon Communities Together, provides invaluable support and engagement to local communities ensuring they are prepared for the emergencies they could encounter. The Forum is well established between Devon County Council, the Environment Agency, Devon & Somerset Fire & Rescue and Devon & Cornwall Police to help bring communities together and share their knowledge and experiences.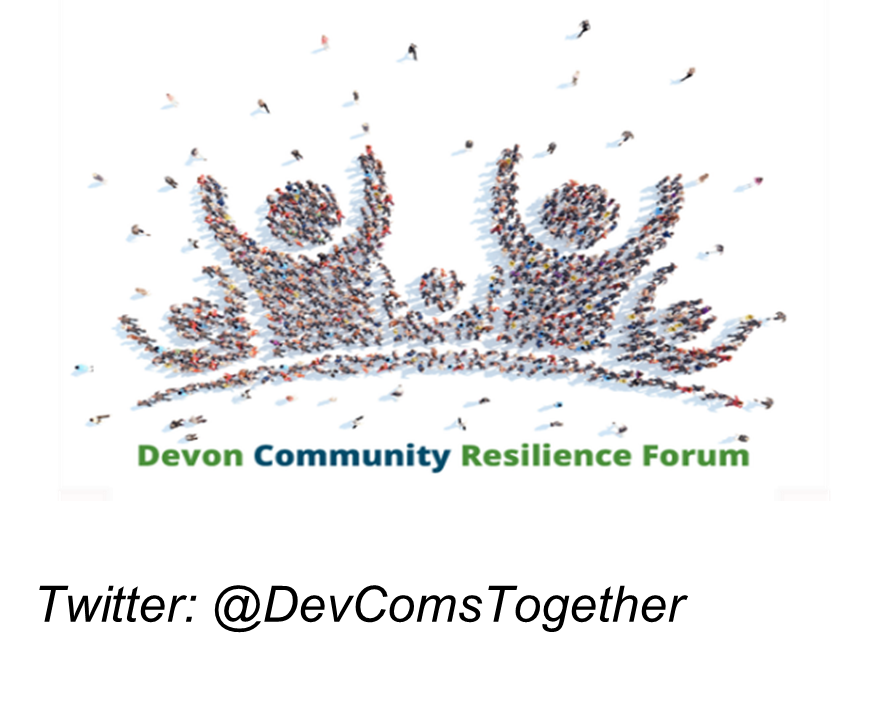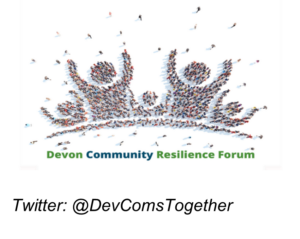 The Forum is excited to be holding a free in person event on Wednesday 17th May 2023 at Bridestowe Village Hall. You can register for the day on Eventbrite. The programme will include presentations and workshops:
Find out how you can help prevent emergencies, such as flooding.
Take part in an emergency exercise to find out how prepared you are in case of the unexpected.
Hear from, and chat to, communities and groups that already have their Community Emergency Plan in place.
Join experts from local organisations such as the Environment Agency and Devon County Council, who will be on hand to offer support and advice.
Enjoy refreshments and a complementary local buffet lunch.
Discover how to apply for grants to help you create or update/enhance your plan.
Funding opportunities are still available to support communities with developing their own emergency plans and the purchase of essential equipment to operate the plans and help make their communities more resilient. More information on the Grant Funding for Community Emergency Resilience can be found on the Devon Communities Together website.
Report flooding to your property on the Flood Online Reporting Tool, FORT
Please use the Flood Online Reporting Tool (FORT) to report current or recent flooding. We use this to gather and record information about flooding that has taken place, in particular when internal flooding of a property has occurred.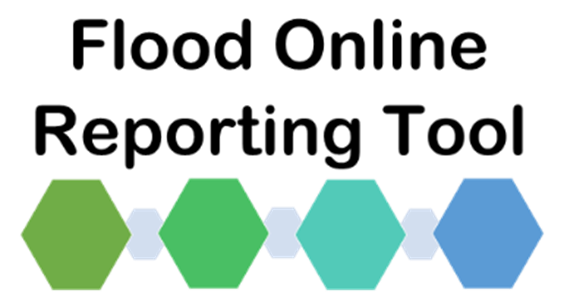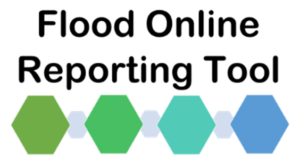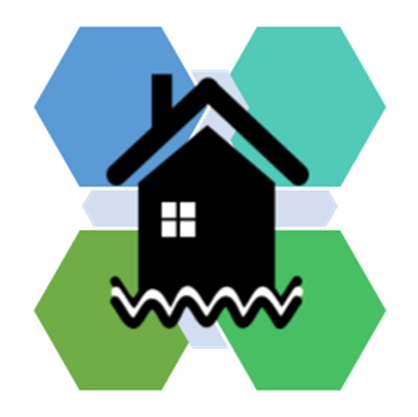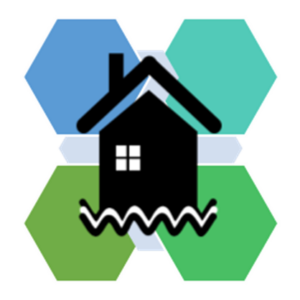 Sustainable Drainage Systems (SuDS)
We are finalising Devon's Sustainable Drainage Guidance and once it is ready, it will be made available on our website here, for use by the public, developers and Local Planning Authorities.
Back in December 2022, the Association of SuDS Authorities (ASA), along with several other signatories have signed a letter to the Prime Minister encouraging Schedule 3 of the Flood and Water Management Act 2010 to be implemented as it has been delayed for 10 years. Subsequent to this, the Government announced on 10 January 2023 that implementation of Schedule 3 is expected in 2024.  This will make County and Unitary Local Authorities a SuDS Approval Body (SAB).  The Government's review recommends that this duty is placed within the Lead Local Flood Authority (LLFA).  We have been participating in the various survey on Schedule 3 implementation conducted by ASA and skills survey by Defra.
ASA are intending to organise the ASA conference during the Flood and Coastal Conference 2023.
Useful Information
The following documents provide useful information and guidance:
National Flood and Coastal Erosion Risk Management Strategy
Devon's Local Flood Risk Management Strategy 2021-2027
NFM Guidance for Devon (PDF) / Accessible version: NFM Guidance for Devon Webpage
Meet the Team
| | |
| --- | --- |
| Flood & Coastal Risk Manager | Martin Hutchings |
| Flood & Coastal Risk Project Engineer | John Galt |
| Flood & Coastal Risk Officer – Projects | Vacant |
| Flood & Coastal Risk SuDS Engineer | Hock Lee |
| Flood & Coastal Risk Officer – SuDS | Joshua Lewis |
| Principal Flood & Coastal Risk Officer – Area issues and Land Drainage Consents | Jessica Bishop |
| Flood & Coastal Risk Officer – Area issues and Land Drainage Consents | Thomas Aldridge |
| Flood & Coastal Risk Officer – Area issues and Land Drainage Consents | Jago Burris |
| FCRIP Project Manager | Doe Fitzsimmons |
| FCRIP Project Officer | Gale Alexander |
| Environment Technician | Kieran Miller |
| Graduate Flood & Coastal Risk Intern (Area issues, Land Drainage Consents & FCRIP) | Freya Money |
| Graduate Flood & Coastal Risk Projects Intern | Ruilin Jiao |
What to do in the event of a flood - Your guide on who to call
In the event of a flood, there are many authorities available to help. Below outlines who should be contacted for the various types of flooding incidents and emergencies that occur. The local authorities rely on information reported to them to inform any investigations and prioritisation of investment.
If it is an emergency and there is danger to life as a result of flooding, you should not hesitate to call 999
To report flooding of the highway and blocked drains contact Devon County Council's Highway Customer Service Centre on 0345 155 1004 or visit the Roads and Transport webpage. Office hours are Monday to Friday 8am – 8pm and Saturdays 9am – 1pm. For emergencies outside of these hours call 01392 383329
For any flooding on major trunk roads (the M5, A30, A38, A35 and A303) contact the Highways Agency on 0300 123 5000 (24 hour service)
To report flooding from sewers and water pipes contact South West Water on
0344 346 2020 (24 hour service)
For enquiries about flood warnings contact the Environment Agency's Floodline on
0345 988 1188 (24 hour service)
For general enquiries about Main River or flooding from the sea contact the Environment Agency on 03708 506 506
For all other flooding enquiries contact the Devon County Council Flood Risk Management Team on 0345 155 1015 or email floodrisk@devon.gov.uk.
Preparing for a flood
Please refer to Devon County Council and Environment Agency web pages for advice on what to do before, during and after a flood. In the first instance of flooding and sandbag requests contact your local District or Parish Council to be directed to any local sandbag supplies that may be available.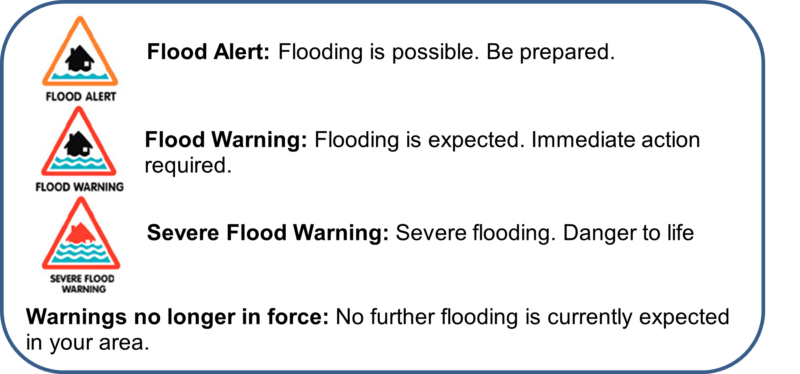 Sign up to flood warnings: https://www.gov.uk/sign-up-for-flood-warnings