Case Study
Signage Repairs in North Bovey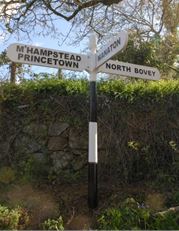 North Bovey Conservation Group received funding through the Highway Maintenance Community Enhancement Fund (HMCEF) to purchase personal protective equipment (PPE), signage and materials to enable maintenance throughout the village.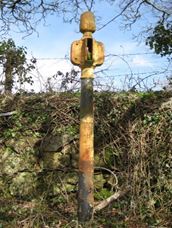 The group have completed two separate signpost renovation projects to date. The first was near Hele Farm.  The sign is a cast iron heritage signpost and was in a derelict condition, in particular rusty with missing finger posts.
The post was cleaned and repainted in classic black and white livery as recommended by Historic England. New fingerposts were made from 25mm marine ply and the designated captions were agreed after some research and local knowledge. The characters were generated courtesy of The Fab Lab facility at the DCC Library in Exeter.
In addition, the group have also undertaken signpost remediation at Bughead Cross on the B3212 and at Hospit Cross on the lane between North Bovey and Moretonhampstead.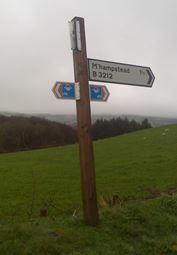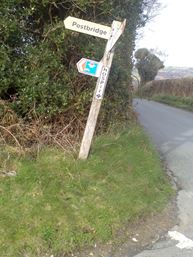 (Left: Signpost at Bughead Cross on the B3212)
(Right: Signpost at Hospit Cross, between North Bovey and Moretonhampstead)
More case studies - Highway Maintenance Community Enhancement Fund (HMCEF)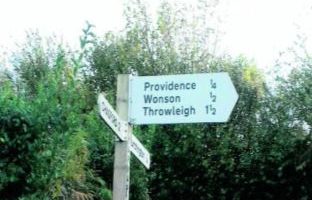 Throwleigh and Murchington Parish Council were granted funding through the Highway Maintenance Community Enhancement Fund (HMCEF) to enable maintenance work to sign posts within the parish. Read more >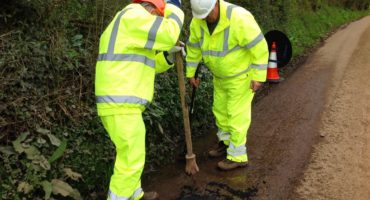 Bradford and Cookbury Parish Council received funding from the Highway Maintenance Community Enhancement Fund (HMCEF).  The sum of £1000.00 was approved and the parish council used the money to hire equipment to enable ditch clearing to be undertaken. Read more >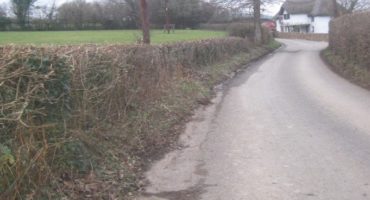 Doddiscombsleigh Parish Council granted funding for assistance with road sweeping and gully clearing. Read more >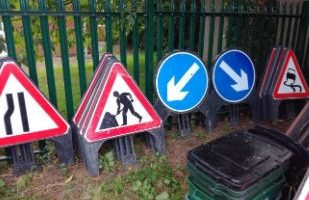 Ermington Parish Council were granted funding to purchase road signs and cones to use in the Parish. Read more >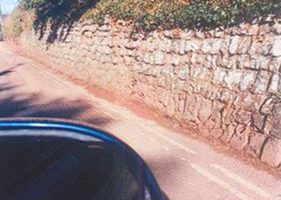 North Tawton Town Council received funding through the HMCEF to clear a wall and hedge free from weeds, brambles and earth accumulation to make the road safer for pedestrians to use. Read more >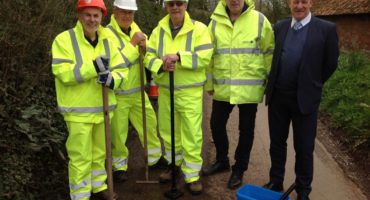 We received a total of 44 bids in 2019/20 and approved 41 of those.  We provided over £12,000.00 of funding to enable projects valuing over £27,400.00 to be undertaken in the community. Parish Summery of Work Clyst Hydon Parish Council Pothole repair material Lustleigh Parish Council Pothole repair material Modbury Parish Council Pothole repair material… Read more >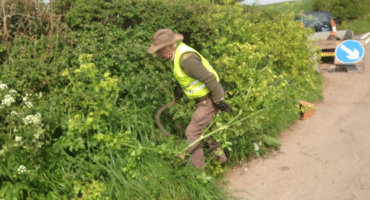 Information about the applications for the Highway Maintenance Community Enhancement Fund (HMCEF) that were approved in 2017/18. Read more >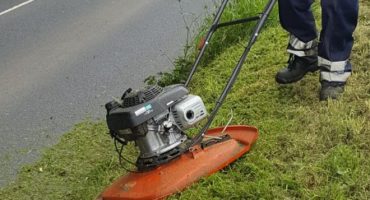 Bridestowe Parish Council were awarded funding towards the employment of a contractor to undertake grass cutting, weed spraying and hedge cutting within the parish and to fund the purchase of equipment for highway maintenance work. Read more >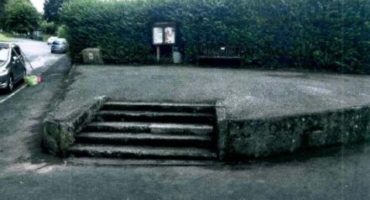 Buckfastleigh Town Council successfully applied for a grant of £700.00, through the HMCEF to enable the purchase of personal protective equipment (PPE) and a shed for the storage of tools and personal protective equipment. Read more >