Devon County Council is over 110 years old and in so many ways, its history reflects the changing way of life over that time for the people of Devon.
The story of the County Council begins with the Local Government Act of 1888, which in effect, brought democracy to the county's local government for the first time. Before that date the smaller towns and rural areas of Devon were governed by unelected magistrates through the Devon Court of Quarter Sessions based at Rougemont Castle in Exeter.
It wasn't until 16 January 1889 that elections for the first County Council were held. Life wasn't too comfortable for the early County Councillors. There was no Council chamber so the first meeting took place in one of the courtrooms at nearby Rougemont Castle. But from tiny acorns mighty oaks grow, and so it has been with Devon County Council. In the beginning it operated with a budget of just £50,000. Today we are the largest authority in the South West of England, serving a population of over 680,000.
In its early days, the County Council was strictly men only. Women became eligible for election in 1907 and had to wait 24 years before the first female County Councillor was elected.
A brief history of Devon's coat of arms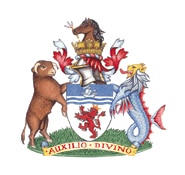 Although the grant of the original coat of arms was not made until 1926, its components date back centuries
The silver field and lion crowned with gold is an ancient device said to have been granted to Devon in the 13th century by Richard, Earl of Cornwall, King of the Romans and brother of Henry III.
Devon's maritime importance is shown by the waves of the sea and the 13th century ship, while the Latin motto, 'Auxilio Divino' – 'by divine aid' – was also that of the great Elizabethan sea dog, Sir Francis Drake.
The sea is also represented by the sea lion and the significance of farming to the county is acknowledged by the presence of the Devon bull. Another reference to the county's character appears in the crest where a Dartmoor pony can be seen holding a sprig of the purple heather which is found in great swathes on the National Parks of Dartmoor and Exmoor.