The latest updates on the progress of the scheme will be posted on our newscentre and links to all of these announcements will also be included here:
April 2021
Construction work started on the new Railway Station at Marsh Barton.
May 2021
This picture, taken from the Energy Recovery Facility, shows an overview of the site at the end of May.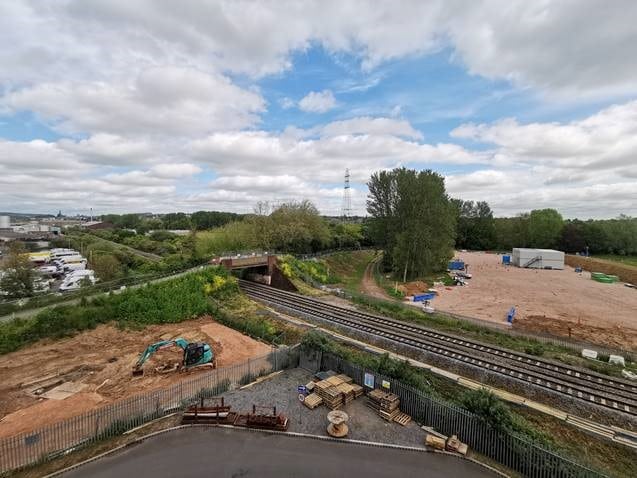 June 2021
Preparatory work well underway.
Vegetation has been cleared, existing utilities protected, and a site compound and access road have been created ready for the next phase to begin in June including the closure of Clapperbrook Lane East to vehicles.
August 2021
Timelapse of the ongoing construction work.
November 2021
Latest timelapse video of the station construction work.
January 2022
Full steam ahead on Marsh Barton rail station construction
Work on Marsh Barton railway station is progressing well and remains on track for completion next winter.
February 2022
Latest timelapse of construction work at Marsh Barton.
March 2022
Installation of new pedestrian and cycle bridge.
A new pedestrian and cycle bridge has been lifted into place as part of the development of Marsh Barton railway station.  ( Watch the timelapse footage of the bridge installation ).
July 2022
Marsh Barton Railway Station taking shape
Devon's newest railway station at Marsh Barton, in Exeter, is taking shape as work continues at pace this summer. Partners involved in the development of the new station at Marsh Barton were recently invited to visit the site to see how work is progressing.
January 2023