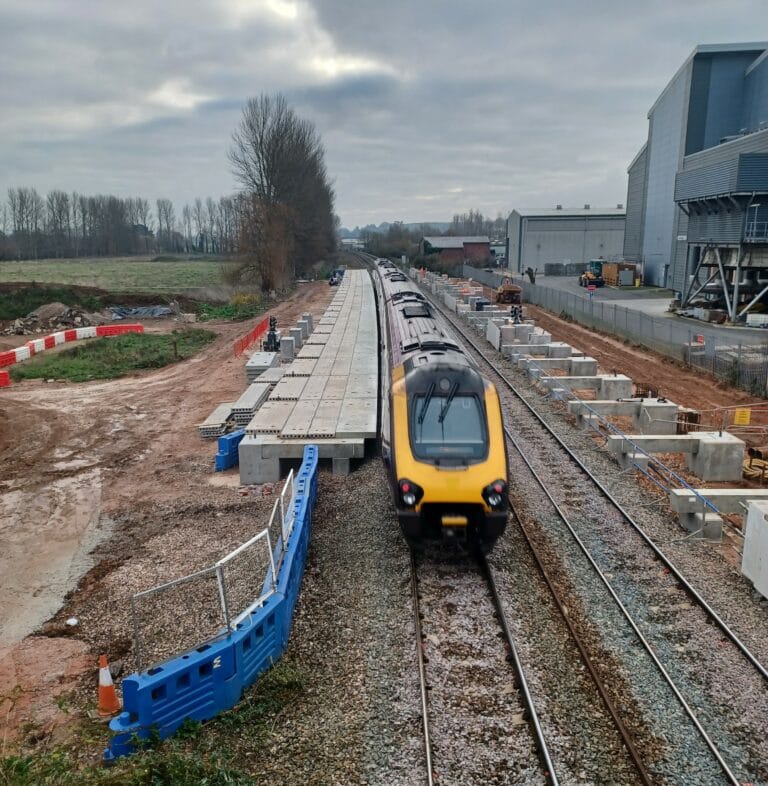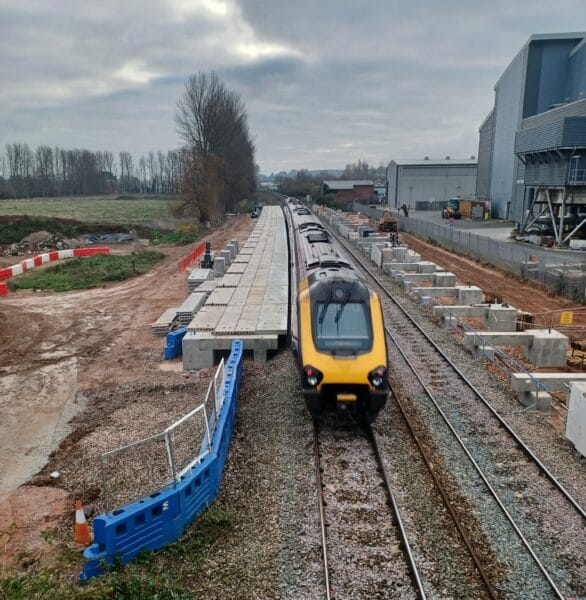 Work on Marsh Barton railway station is progressing well and remains on track for completion next winter.
Construction on the station, which is located near the Energy from Waste plant on the eastern edge of Marsh Barton, started last spring.
Development of the two platforms is ongoing and concrete piles and pile caps have been completed on both platforms. Concrete beams and slabs have been installed on platform one.
Work is underway on the foundations for the pedestrian and cycle bridge which is due to be installed in the coming months. This bridge will provide active travel links to the station as well as improving connections between Alphington, Marsh Barton and the Riverside Valley Park.
Work has also begun on the access roads and pavements leading into the Station.
Councillor Andrea Davis, Cabinet Member for Climate Change, Environment and Transport, said:

"It's encouraging to see the station taking shape and the project is progressing well. With major elements of the scheme such as the pedestrian and cycle bridge due to be installed in the coming months it's really coming together. Marsh Barton is one of the key employment areas of the city with more than 7,000 people working there, so it's vital that it's served with sustainable transport links. The rail station will also be an important asset to support economic growth to the south west of Exeter, as well as Dawlish and Newton Abbot."
Councillor Yvonne Atkinson, County Councillor for Alphington and Cowick, said:

"The canal area is very busy with people out walking and cycling. We are enjoying no cars going over Clapperbrook Lane. It's good to see families stopping to look over the bridge at the works as they take shape and its starting to look like a station now. That canal side walk/ride to the Double Locks and Turf watering holes is really lovely and I am sure train passengers will soon be stopping off at the Halt to enjoy the delights of fantastic Alphington before, after and during work."
The station at Marsh Barton, which is being developed by Graham Construction Ltd on behalf of Devon County Council, is a core element of the Devon Metro rail strategy for Exeter.