Summary below and less technical summary here.
Purpose
This report describes the greenhouse gas emissions produced by Devon County Council's activity (our 'carbon footprint') in the financial year from April 2021 to March 2022 (referred to as 2021/22). These emissions are compared to previous years' data and our baseline year of April 2012 to March 2013 (referred to as 2012/13).
The Carbon Reduction Plan explains the activities we are implementing over the next seven years to achieve a net-zero operation.
Summary
Overall, we are still 53% below our baseline year of 2012/13 and ahead of target to achieve a 70% reduction by 2030. The current plan is for the remaining 30% to be offset.
Not surprisingly, emissions increased very slightly last year against the previous 'lockdown' year but are still lower than 2019/20 (See Table 1 below). Increases in carbon emissions from business travel were countered by a reduction in emissions from street lighting due to the LED upgrade programme. In addition, the impact of major building retrofits, solar PV installations and electric vehicle purchases, which have gone ahead this year, will not be seen in the data until next year.
Part A – Summary Table and Graphics
The Greenhouse Gas (GHG) Protocol sets the global standard for how to measure, manage and report a carbon footprint. Within the standard, emissions are split into three scopes:
Scope 1 GHG emissions are 'emissions from sources that are owned or controlled by the organisation'. In our case this is the burning of fossil fuel (e.g. gas and diesel) in buildings and our vehicle fleet.
Scope 2 GHG emissions are defined as 'emissions from the consumption of purchased energy'. In our case this is electricity.
Scope 3 GHG emissions are defined as 'emissions that are a consequence of the operations of an organisation but are not directly owned or controlled by the organisation'. Scope 3 is an optional reporting category which can include several different sources of GHG emissions. In this report we have included GHG emissions associated with providing 'home to school' transport, travelling for our work purposes, water consumption in our corporate buildings, home working and the GHGs emitted during the process of extracting, refining and delivering fossil fuels and electricity to our business locations – these are termed 'Well to Tank' emissions.
Table 1 shows our gross 2021/22 emissions in comparison to previous years and the baseline year of 2012/13. The data is displayed in tonnes of carbon dioxide equivalent. This is a measure of the effect of a basket of greenhouse gas emissions (such as methane and nitrous oxide) on the atmosphere, not just carbon dioxide. All the years are directly comparable as we have recalculated the data to remove the effect of significant changes to the organisation, such as a year where we may have closed a significant number of buildings. Encouragingly, emissions for last year are only up a tiny amount, considering that business travel has grown given the lifting of restrictions related to the pandemic.
| | | | | | |
| --- | --- | --- | --- | --- | --- |
| | 2012/13 Base Year | 2019/20 | 2020/21 | 2021/22 | % Change Base Year |
| Scope 1 | 4,667 | 2,598 | 2,207 | 2,274 | -51% |
| Scope 2 | 18,701 | 6,252 | 4,969 | 4,153 | -78% |
| Scope 3 | 18,367 | 12,791 | 12,580 | 13,339 | -27% |
| Gross Emissions | 41,735 |  21,641 |  19,756 |  19,767 | -53% |
| Gross Emissions per £m of Gross Expenditure at 2021 prices | 26 | 17 | 15 | 13 | -51% |
| Emissions (excluding school transport and street lighting) per Full Time Equivalent staff | 3.1 | 1.7 | 1.3 | 1.5 |  -54% |
Table 1: Devon County Council's greenhouse gas emissions data for 2012/13, 2019/20, 2020/21 and 2021/22 displayed in tonnes of carbon dioxide equivalent (tCO2e).
Figure 1 shows the gross corporate greenhouse gas emissions for each year on a bar chart. Included in Figure 1 is a green line showing the level below which our emissions need to be to reach our target of reducing gross corporate emissions by 70% by 2030 from 2012/13 levels. It is proposed to offset the remaining 30% through certified carbon offsetting mechanisms in the United Kingdom to achieve 'net-zero emissions'.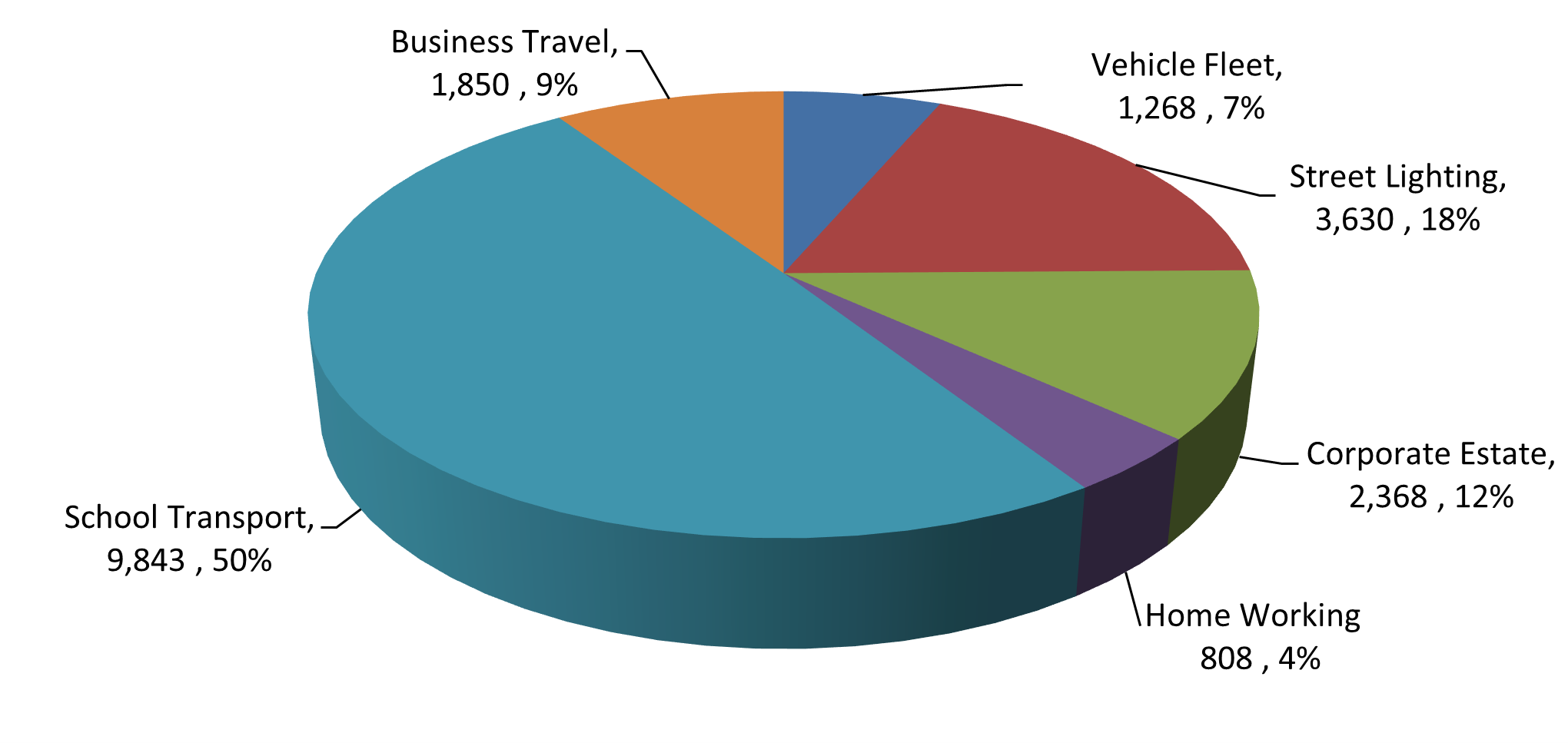 Part B – Supporting Explanations
Company Information
Devon County Council is the upper tier local authority in Devon, excluding the unitary areas of Torbay and Plymouth.
Quantification and Reporting Methodology
We have followed the Defra Guidance on 'Environmental Reporting Guidelines: including mandatory greenhouse gas emissions reporting' dated October 2013. The scope of the carbon footprint is based on our activities that can either be measured from consumption data or reasonably estimated from finance data. We have used the 2021 emissions factors from the Department for Business, Energy and Industrial Strategy for this assessment.
Organisational Boundary
Devon County Council has used the financial control approach to identify operations from which to collect data. Therefore, schools and leased properties are excluded from scopes 1 and 2.
We are always looking to improve what and how we count in the footprint and carry out a regular review of the boundary and the scopes.
Operational Scopes
DCC has measured its scope 1, 2 and available scope 3 emissions. These are shown in Table 2 along with the change in the previous 12 months.
 
2020/21 GHG (tCO2e)
2021/22 GHG (tCO2e)
% Change in last year
% of relevant scope in 2021/22
Scope 1
Gas
1,327
1,229
-7%
54%
Oil
25
20
-20%
1%
LPG
10
9
-9%
0%
Owned transport
846
1,016
20%
45%
Total Scope 1
2,207
2,274
3%
Scope 2
Purchased electricity – street lighting
4,111
3,335
-19%
80%
Purchased electricity – corporate
858
816
-5%
20%
Total Scope 2
4,969
4,151
-16%
Available Scope 3
School transport
7,738
7,912
2%
59%
Business travel
867
1,162
34%
9%
Water
41
6
-85%
0%
Home working
1,021
808
-21%
6%
Well to Tank
2,907
3,450
19%
26%
Total Scope 3
12,574
13,339
6%
Exclusions
Scope 1
Emissions and sequestration of greenhouse gases of land assets.
Fugitive emissions from air-conditioning units – considered insignificant.
Scope 3
Emissions from the fossil fuel and electricity used to operate school buildings. These are not formally reported as we do not have financial control over these assets, but the emissions are monitored. In 2021/22 the emissions were 3,144 tonnes.
Employee commuting due to difficulties in collecting relevant and timely data.
Leased assets are excluded as the tenant has responsibility for paying the energy bills.
Supply chain emissions are not part of the corporate carbon footprint yet and we will decide how to bring them in as we get a more accurate picture of how much and the biggest sources of emissions. However, we have been able to update our estimate based on spend by using 2019 carbon-emission conversion factors rather than the previously available factors from 2009. Indicative carbon emissions from our supply chain for 2020/21, estimated using the previous carbon intensity factors for different types of public sector activity, were 386,000 tCO2e. Using the new factors, this has come down to 284,500 tonnes – almost 100,000 tonnes less. It is likely that this is down to the decarbonisation of the electricity grid. Whilst this is good news, it does show the importance of getting actual data from our suppliers. We have produced a draft Net Zero Supply Chain Strategy, which proposes a way forward. We are already working with larger suppliers to obtain actual emissions, starting with highways maintenance contractors.
Reasons for Changes in Emissions
Our gross GHG emissions are 53% below the 2012/13 base year. Reasons for this are:
Replacement of older boilers with condensing models through the maintenance programme
Installation of LED lighting in corporate property through the maintenance programme
Installation of part-night and LED street lighting
Installation of heat pumps in corporate buildings
Installation of solar arrays on corporate buildings
Gradual improvement in the carbon intensity of staff vehicles
Technology enabling less travel, such as Windows 10 and Microsoft Teams, greatly accelerated by the COVID pandemic.
Reduced carbon intensity of grid electricity due to renewables – more than half now comes from non-fossil fuel sources and renewables can be as much as 75% generation on certain days. (National Grid: Live (iamkate.com))
Base Year
We will recalculate the base year emissions whenever:
Property disposals and terminated services represent 5% or more of base year emissions
New properties, services or previously excluded emissions make the base year incomparable
There is a significant change in reporting accuracy that makes the base year incomparable.
We recalculated Base Year emissions and subsequent years' emissions in 2017/18 to reflect the significant outsourcing of services and staff reductions that had occurred. The components that were recalculated were emissions from corporate property and business travel. Disposed buildings were removed from previous years' data. Business travel emissions were recalculated by multiplying the 'business travel emissions per employee' arising in each previous year by the number of employees in the organisation in 2017/18.
2012/13 has been retained as the base year, which remains relevant in the context of our new Carbon Reduction Plan.
Target
Our Carbon Reduction Plan has set targets to reduce the corporate carbon emissions by 70% over the 2012/13 baseline by 2030 and offset the remaining 30% to achieve 'net-zero emissions'. The 70% is based on an assessment of available, affordable carbon reduction technologies, which Devon County Council can adopt by 2030.
We know from experience that buying sufficient UK-based offsets for 2030 is looking difficult. We are therefore working with Exeter University to understand whether a more ambitious reduction target is feasible, which will reduce the need for offsets.
Intensity Measurement
We have chosen to use Gross Operating Expenditure as the intensity measurement. This provides an indication of the extent of activity we deliver and is applicable to all components of the carbon footprint. Our gross emissions per million-pound spend, adjusted for inflation, has reduced by 50% since 2012/13. (See Table 1)
External Assurance Statement
Our GHG emissions data is not covered by an External Assurance Statement.
Green Energy Tariffs
We have not purchased a green energy tariff, as there are serious concerns about the validity of these tariffs i.e. that they do not tie to real additional renewable energy generation. Instead, we are investigating power purchase agreements (PPAs), where we would purchase electricity directly from an installation owned by a (community) energy company. We could then net off any carbon savings from our scope 2 emissions, which would make a significant difference.
Woodland Carbon Units
We have not retired any Woodland Carbon Units.
We started building our experience in carbon offsetting by attempting to purchase Woodland Carbon Units to equal 5% of our 2019/20 gross emissions and 10% of the gross emissions in 2020/21. This was not possible because the market could not provide enough units. Instead, we purchased Pending Issuance Units, issued under the Woodland Carbon Code, that will mature into Woodland Carbon Units in the late 2020s, 2030s and 2040s. We are looking to buy the same or similar products in 2023.
In addition, we bought 11 hectares of land near Okehampton for tree planting to trial this more direct approach to offsetting; there are additional benefits for wildlife and public access. We are applying for grant money to plant the trees next winter and will register the project with the Woodland Carbon Code.
Renewable Electricity Generation
Our solar PV arrays on non-school properties have generated 211 MWh of renewable electricity in 2021/22 saving just over 61 tCO2e and about £44,600.
We have installed air source heat pumps in some of our non-school properties and are determining how to monitor the renewable heat they generate.