Information on Devon's environment has been mapped on our Environment Viewer. These maps give access to spatial (geographic) data for Devon on a wide range of topics. These include:
*NOTE this Woodland planting considerations map shows data pre-selected from all environmental topics above that are relevant to woodland creation. To understand more, including why the data is relevant, and what to do if data is shown on or very near your potential planting site, see this table of environmental considerations from the Right Place Right Tree guidance.
Tips for using the Viewer
1. Click on one of the map weblinks above, read and scroll to the bottom of the terms and conditions and tick to say you agree.  Note there is an About or Information button at top left.


2. Enter a place name or postcode in the top left box ('find an address or place'). The map will then zoom in on your area of interest.


3. Click on this icon in the top right to open up the map Legend. You should then be able to understand what the symbols showing on the map mean.


4. To view data held by Devon County Council, click Layer List icon. A box should pop up explaining what the map feature is. If unsure, you can look for it in the legend OR click on this icon in the top right, to open up all the layers of information available on the map. You'll see these are grouped under environmental topic headings e.g. ecology, historic environment etc. You can expand the list by clicking on the arrow to the left of the ticked box.    Note you need to tick the box against all upper tiers 'above' a layer to make the required layer become visible.


5. Explore what else you can do. For example, use the Basemap Gallery to change the base maps to other formats, aerial photos, or historic maps. Click on this icon in the top right.


6. Use the Add Data button, to add any external data or data of your own.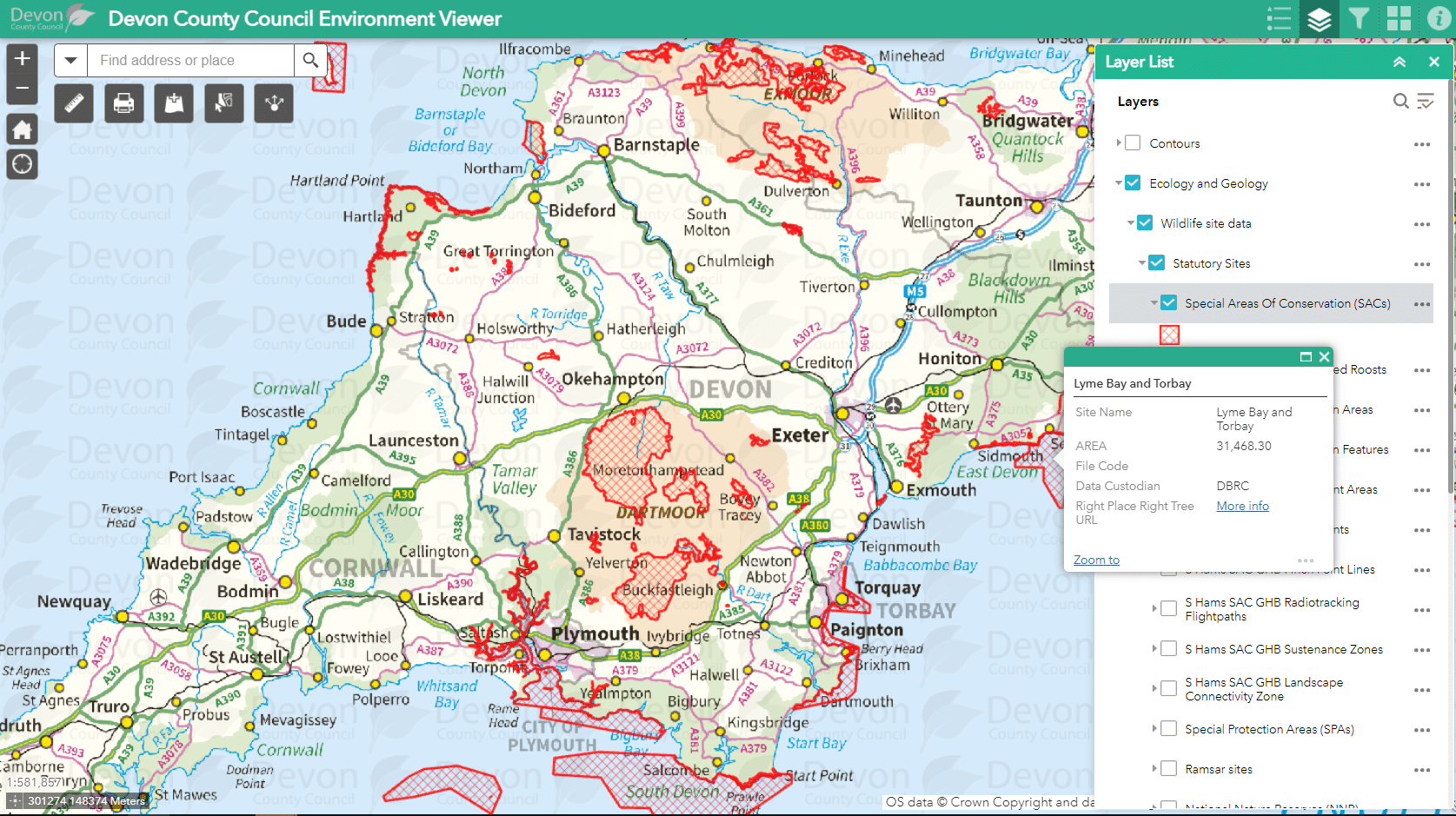 All of this data is made available by Devon County Council. The data is either owned and managed by Devon County Council, or derived from data given by other organisations (such as the Environment Agency, Natural England and Devon Biodiversity Records Centre, amongst others) who allow Devon County Council to display their data on this website.
Please note that the Environment Viewer has been live since spring/summer 2016 and is being improved all the time. We are aware that it is currently quite slow to load and we are in the process of resolving this issue.
Feedback and comments regarding the data should be sent to: