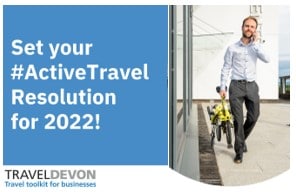 Businesses of all shapes and sizes are being encouraged to think about how they might be able to support active travel to and from the workplace in the future.
Travel Devon has produced a series of blogs to help businesses support their staff in making positive changes to how they travel to work in 2022 and beyond.
The COVID-19 pandemic has changed the landscape of work forever and travel habits have been greatly disrupted.
Now is a good time for businesses to look ahead and think about how they can support their staff.
Active travel makes business sense and benefits your staff, business, and our communities. By increasing active travel to your site, you can:
Reduce your travel related carbon emissions
Improve productivity
Create a happier and healthier workplace
Setting yourself an #ActiveTravel resolution to support your staff to travel more actively is a great way to start.
Read up on the business case for active travel in our first Travel Devon blog and find out more about the #ActiveTravel resolution campaign and how your business can get involved and inspire others.
Ready to start making some changes? In our second blog we suggest three easy steps to help you identify quick wins and the changes that will have the biggest impact for your workplace
Follow Travel Devon on Facebook or Twitter to stay in the know about future blogs, support offers and resources for you and your staff and news about walking and cycling challenges.
You can inspire other businesses to set an active travel resolution by making a public pledge on social media. Simply retweet or share a Travel Devon #ActiveTravel resolution post from Facebook or Twitter and tell others about your plans for positive change at your workplace.
For more information or with any questions, please get in touch with us at traveldevon@devon.gov.uk. For general information on how to get around in Devon, please visit the Travel Devon website.
Visit the Devon County Council website for Coronavirus advice in Devon. Please also refer to the government guidance for safer travel.