Highway Self Help
Overview
What is highways self help?
Highways self help is when an individual or organisation carries out minor works in or around the public highway.
What type of work can be done and where?
The following work can be completed under a road closure or using appropriate traffic management:
clearing weeds

cleaning signs

cleaning drainage (gully grating)

cutting grass

repairing finger posts

cutting hedges

set up a road closure for special events
The above list is not exhaustive.
Works on the live carriageway (open to traffic) should only be carried out by contractors who hold the necessary qualifications. Volunteers should not carry out works on the live carriageway unless the work is being undertaken through the Road Warden Scheme.
All works should be discussed, in the first instance, with the local Highway Neighbourhood Officer.
How to get involved
Town and parish councils: If you'd like to carry out a self-help project and would like further advice call 0345 155 1004 or email hwaymain@devon.gov.uk
Individual volunteers and community self-help groups: The majority of self-help projects are organised via town or parish councils. Contact your parish or town council, in the first instance, to see if there are any projects arranged and offer your assistance. To get the right contact details for your area please use the postcode checker below. If the parish or town council don't have anything planned, contact Devon County Council on 0345 155 1004 or email hwaymain@devon.gov.uk and we may have something planned which you can get involved in.

FAQs
Can I apply for a Highway Maintenance Community Enhancement fund?
Yes you can. Please note that those signed up to the Road Warden Scheme will get priority application status.
Devon Highways has made a sum of money available in grants to towns, parishes and community groups in Devon.  The fund has been created following the implementation of the Road Warden and Community Self Help schemes.
Initial feedback indicated that although organisations were interested in the schemes, they often found it difficult to financially support any works or find volunteers who were able to make the commitment to both the training and future projects.
The fund aims to encourage community enhancement in towns and parishes by providing the financial assistance, which may be required, as well as encouraging collaborative working, where possible, between towns, parishes and voluntary and community groups.
It is designed to support people carrying out work on a voluntary basis, however if you are unable to find volunteers you can apply for up to 25% of the cost of a contractor to carry out the work
Initial applications should detail the type of work that will be undertaken along with the overall benefit to the community.
Apply for a Highway Maintenance Community Enhancement fund.
What training needs to be done?
We would advise that those involved in organising the works should undertake a Highway Safety Awareness course or equivalent.
If road closures are being set up, for community events, then those setting up the traffic management should have undertaken the Traffic Management for Community Events course or equivalent.
If sub-contractors are employed to carry out works on the highway, either through a road closure or with the required traffic management, they have to have the appropriate qualifications to enable them to do so. It is the responsibility of the organisation, hiring the sub-contractor, to ensure that this is in place.
Is there free training available for community self-help projects?
Yes, there is free training available. We run a Highway Safety Awareness Course and also offer a two day Chapter 8 course. For further information email hwaymain@devon.gov.uk
What insurance do I need to be a volunteer?
We advise that public liability insurance is in place prior to any works starting. This may already be provided by those organising the works but should be confirmed.
We also advise that personal protection insurance be in place. Again, this may be provided by those organising the works but should be confirmed.
Devon County Council does not provide any insurance cover for community self-help works or volunteers.
I am a representative of a parish / town council but struggle with finding volunteers to do community works
A number of communities, especially the larger rural parishes with small populations, struggle to find the volunteers available to assist with community projects.
There are, however, several organisations that can assist with providing volunteers and we are already working with a number of them. These include the Community Payback Service, Army Cadet Force (Western part of the County), Police Cadets and Westward Pathfinder. You can make contact with these organisations directly or we are happy to facilitate this for you.
Why should we get involved in community self-help?
Devon County Council has a legal responsibility to keep the highway safe for the user but does not have a legal responsibility to keep areas clean and tidy.
Many people take pride in their communities and, especially in Devon, rely on tourism to boost the local economy. In order to assist communities with keeping public highway areas clean and tidy, and in response to feedback we have received, we are helping to enable communities to carry out minor works.
What is the difference between Highways Self Help and the Road Warden Scheme?
Highways Self Help Scheme:
There is no formal agreement with DCC

DCC does not provide third party insurance for community self-help work outside of the Road Warden Scheme

Pothole repairs can only be carried out when a formal Road Warden agreement is in place

Work can only be carried out on the live carriageway (open to traffic) by employed contractors with the relevant qualifications
Details
Devon County Council will provide:
advice on schemes that are a priority for local people

if agreed, a road closure
Volunteering details
When: Weekday am, weekday pm, weekends
Transport provided: No
Public transport nearby: Dependent on location of work
Disabled access: No
Training provided: Yes
Group activity: Optional
One-off opportunity: Optional
Out-of-pocket expenses paid: No
Funding and guidance
Apply for a Highway Maintenance Community Enhancement Fund
Highway Maintenance Community Enhancement Fund terms and conditions
Safety at street works and road works – A code of practice
Case studies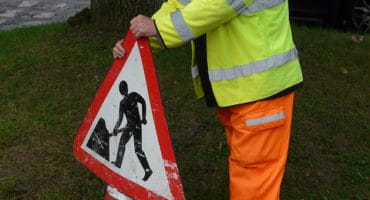 One of the initial issues facing local councils is access to appropriate signs and equipment. Read more >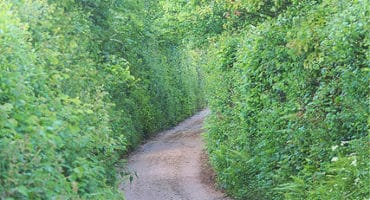 Marwood Parish Council joined the highway self help scheme and uses its funds towards a parish handyman. Read more >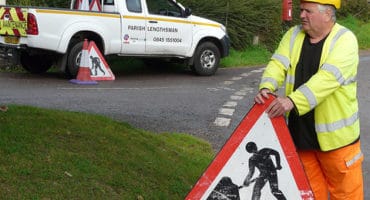 Highway Self Help scheme gives town and parish councils and community self-help groups the opportunity to do small maintenance tasks. Read more >