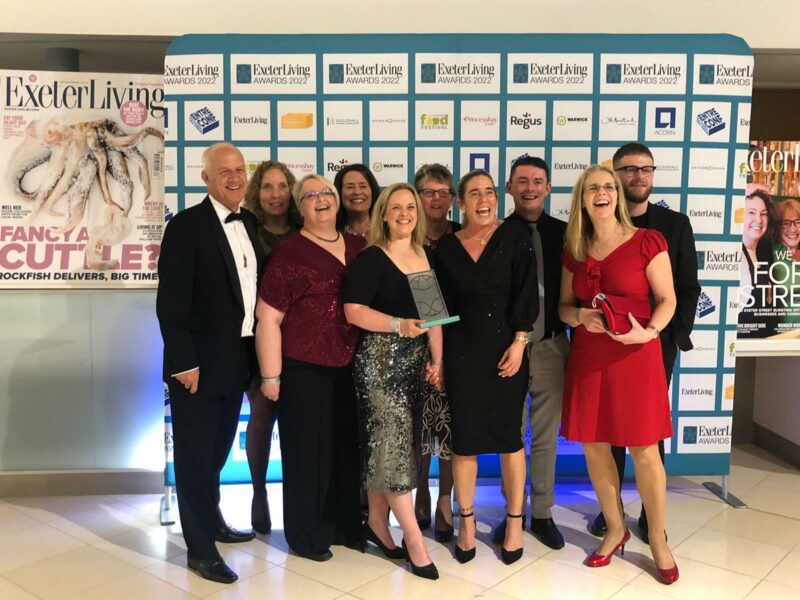 Two vital services – Youth Hub Devon, which helps young people find work, enter education and build their confidence, and Exeter Works which supports adults – have been recognised by the Exeter Living Awards.
Both organisations won the 'Civic' category at a prestigious awards ceremony at the University of Exeter last week.
Organised by the publishers of the Exeter Living Magazine, the awards recognise organisations, businesses, projects, and voluntary groups that have made an outstanding contribution to the City.
Youth Hub Devon, which we and the Department for Work and Pensions fund, and which is supported by Exeter City Council, and Exeter Works, were both created in response to the economic downturn caused by the COVID-19 pandemic.
They support local people by providing a package of assistance tailored to a person's individual needs to help them make the most of the opportunities available to them.
Youth Hub Devon, has helped around 200 young people through a mix of job centre referrals and drop-in sessions and as a direct result more than 100 young people have found jobs, begun training or started a course.
This has been achieved by working with businesses and other organisations to create a service that puts young people at the heart of everything they do. Youth Hub Devon is also available in East and Mid Devon.
The Exeter Works service had been contacted by over 200 people looking for a variety of support, including CV advice, job search support, help with interviews, digital skills and help to start their own business.
There has been a significant amount of work with the business community to support sectors and employers holding recruitment events and activities.
This has included 'jobs fairs' in the Hub for both the hospitality and retail sectors as well as the Health and Social Care sector.
They also provide a weekly 'vacancy round-up' which is promoted across social media every Friday and supported by around 60 employers in the area.
Devon County Council's Cabinet Member for Economic Recovery and Skills, Councillor Rufus Gilbert said:

"They are an essential cog in Exeter's post-pandemic recovery, and I was delighted to hear that the dedication and hard work of the Youth Hub team has been recognised by this award. Ensuring that our young people are supported in a constructive way is important for now and for the future."
Councillor Rachel Sutton, Exeter City Council's Lead Councillor with responsibility for the Skills agenda, said:

"It's fantastic they have been recognised with the Civic Award for all the hard work and dedication of the teams to make this initiative such a success. The City Council are proud to be working collaboratively with Exeter Chamber to bring the Exeter Works service to the people and businesses of Exeter. Undoubtedly, there is still a lot to do, and the team are always looking to improve the service they offer and to flex what they do to meet the needs of residents and businesses alike."
Lee Tozer, the Department of Work and Pensions Greater Devon Partnership Manager, said:

"I am very proud that DWP have supported the fantastic work of the Devon Youth Hub team to help win the award for Civic contribution at the Exeter Living awards. This has been a great example of collaborative working to bring this project to life to support Young People."
Kate, a user of the Youth Hub said:

"I would not have the job I am in now without the help of the lovely staff (of the Youth Hub) and I am grateful for their help."

She added: "I found them very helpful and feel very strongly that their help should be recognised. They host events for young people, giving them the opportunity to seek jobs they never knew they might be interested in, which is how I found the job I am in now (and) they speak to employers about jobs in Devon County Council. I particularly found Tom, my work coach, helpful and full of charisma making me feel comfortable and welcome when I had my first meeting. Not only this, but his knowledge and skills helped me adapt my CV and write a page statement which is different from any way I've applied for jobs before, which I felt proud to have done so well at and can feel confident when applying these skills in the future."
Contact Youth Hub Devon if you are a young person needing support or an employer with available opportunities youthhub@devon.gov.uk
Contact Exeter Works if you are an adult needing support into the workplace via their website www.exeterworks.org.