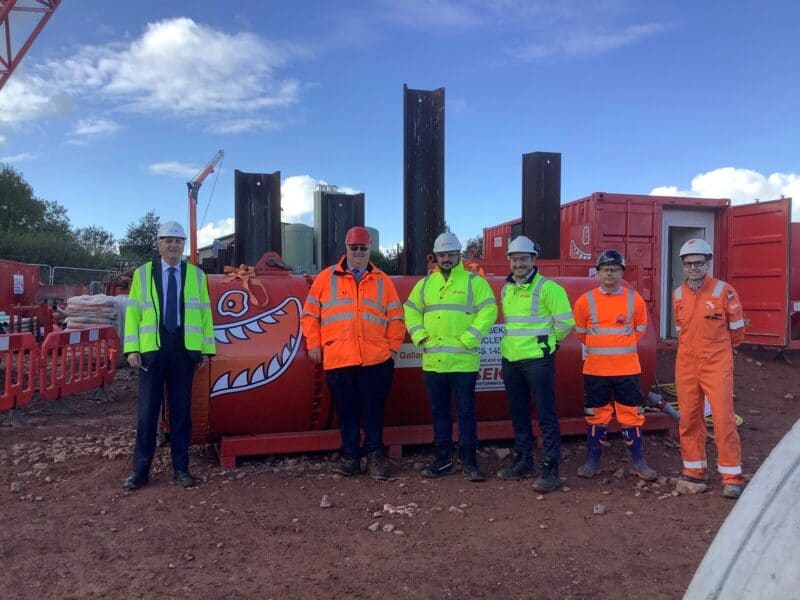 Exeter Science Park is set to be connected to a green energy heating system in the coming months with work to tunnel a new link under the M5 starting today (Monday 25 October).
The District Heating Network, provided by E.ON Energy, has been designed to provide an integrated heating system covering the Science Park and housing developments in Monkerton.
E.ON's local heat networks operate out of two energy centres – one in the north-east corner of Exeter Airport/Skypark, which serves Cranbrook and Skypark, and a recently completed secondary centre on Tithebarn Way, on the Exeter side of the M5. This second energy centre will supply customers in Monkerton and West Clyst, and when the M5 connector is completed will also provide heating and hot water to the Science Park.
The connection through a small tunnel under the motorway will provide a link between the two sites. This will enable buildings in the Science Park to be connected to the District Heating Network, while existing buildings will be retrofitted to the system over the coming year.
We've had a significant role in facilitating the rollout of District Heating in the Exeter and East Devon Enterprise Zone as part of its commitment to reduce carbon emissions to net zero.
Councillor John Hart, Leader of the Council said:

"Starting work on this tunnel is an important step in this project and I'm pleased to see that this strategic link underneath the motorway will allow us to move forward with plans to connect the energy centre district heating network.

"As we look to reduce carbon emissions in Devon, the district heating network can be connected to new heat sources which are being developed in the area to replace gas fired boilers and provide decarbonised sources of heat."
Craig Underhill, E.ON South West General Manager, said: "Crossing the M5 is a key milestone for E.ON as it will connect our newly developed energy centre to the wider network therefore providing lower carbon heat to the entirety of the scheme."
Councillor Paul Arnott, Leader of East Devon District Council, said: "I am pleased to see another key infrastructure element being added into the west end of our District as it continues to integrate energy resources with the east of Exeter. Another welcome piece in the local energy jigsaw."
Councillor Phil Bialyk, Leader of Exeter City Council, said: "We welcome this important investment linking the Heat Network in Exeter across the M5 and which is enabling low carbon heating to homes and businesses."
It is expected that by early 2024 an interconnector pipe will provide 20 megawatts of energy to the network from a new energy recovery plant which is planned to be constructed at Hill Barton business park. This new interconnector is currently at the feasibility stage.