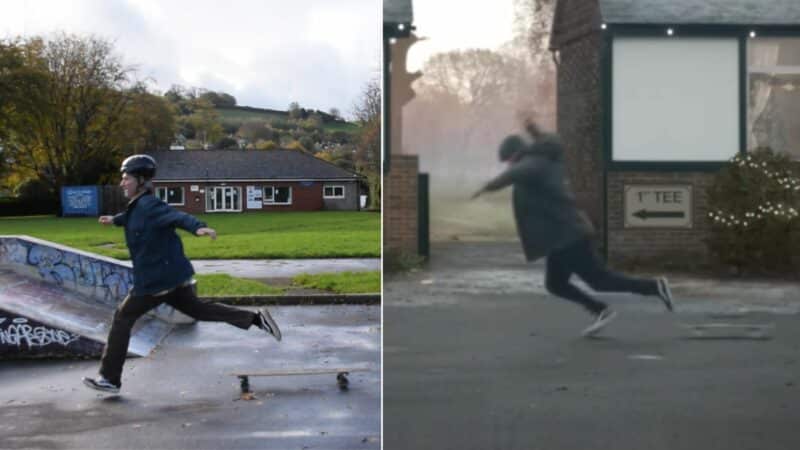 We and John Lewis, Exeter, have teamed up in celebration of fostering and children in care.
The connection follows the recent launch of the much-heralded John Lewis 'Christmas' TV advert, viewed by millions and seen by many to mark the start of the Christmas count-down.
Often poignant, the John Lewis advert this year focuses on children in care and follows the preparations by a foster carer ahead of the young person's arrival.
Knowing that the young person is a keen skateboarder, foster carer dad spends previous weeks learning how to skateboard, so as help the young person feel welcome and settled.
The advert prompted our fostering service to respond with an advert of our own, featuring Al, who works for our fostering service, learning to skateboard.
The video, posted on the Council's corporate social media accounts, has already had more than 2,000 views (links below).
"Hi, I'm Al" says Al, while practicing skateboarding in the park.

"While we can't guarantee that all of our wonderful foster carers are great skateboarders, we can promise to do our utmost in providing loving, caring homes for children in care.

"Thanks, John Lewis, for shining a light on foster care this year with their Christmas advert.

"Every child deserves a loving, caring home. Help change a young person's life and consider foster caring."
We and John Lewis have also agreed a series of pop-up events, featuring real foster carers and members of our fostering service, at the Princesshay store in Exeter.
They begin this Thursday (today), from 5pm onwards, to catch late-night shoppers.
Councillor Andrew Leadbetter, our Cabinet Member responsible for the fostering service, said:

"We were impressed with John Lewis's message and focus on children in care, so thought we'd ask their help in promoting our fostering service.

"They were more than happy and have invited us to organise a number of pop-ups at their Exeter store.

"It'll be a great opportunity for our fostering service to engage with people coming into the store, to chat and to answer questions about fostering.  And a great opportunity for the public to find out what it's like being a foster carer."
The pop-up dates are:
Thursday 24 November, from 5pm to 8pm
Thursday 1 December, 5pm to 8pm
Saturday 10 December, 12pm to 4pm
Thursday 15 December, 5pm to 8pm
Saturday 17 December, 12pm to 4pm
A spokesman from John Lewis's Building Happier Futures Programme, said:

"We believe that every child and young person should have a fair start in life. But this isn't the case for many of the 108,000 young people growing up in the UK's care system.

"We have been struck by the systemic unfairness faced by many children and young people whose childhoods were spent in care, who don't have the safety net of family to call on.

"At the John Lewis Partnership we are driven by our purpose to work in partnership for a happier world, therefore we are introducing a Building Happier Futures Programme to provide support for children in care, those who are care experienced and charities which support young people who are care experienced."
We're also exploring other ideas with John Lewis to help raise awareness of fostering among John Lewis Partnership's employees.
To find out more about fostering in Devon, visit our website.