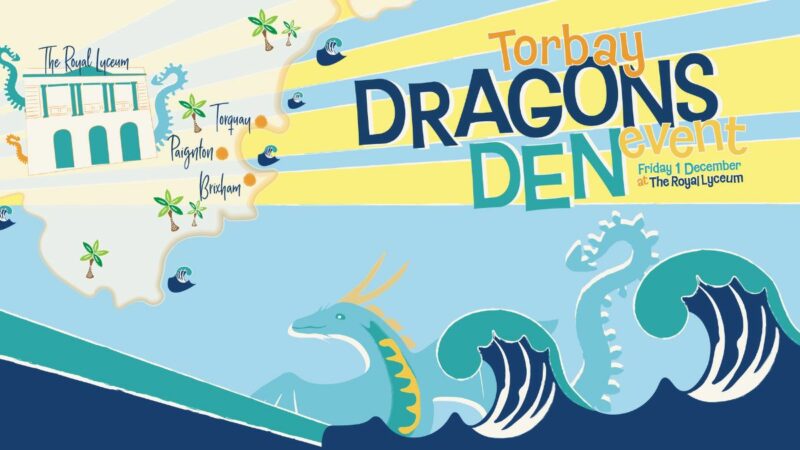 A Dragons' Den-style event is being held for Torbay secondary school students who have been working on business ideas with local employers.
The event, organised by Devon, Plymouth and Torbay Careers Hub in partnership with TDA, will involve several Torbay secondary schools and employers from the Bay's key sectors – tourism, health and social care, construction, photonics, and fisheries.
Year eight students, aged 12-13, have been tasked with coming up with innovative business pitches linked to one of the key sectors. They've been supported along the way by mentors from a range of local businesses and organisations including Arc Marine, Best Western Hotels, Hampton by Hilton Hotels, Leaman Support Solutions, Lumentum, NHS, Orcinus, Paignton Chamber of Commerce, TDA, Torbay Hi Tech Cluster SW UK, and Turning Heads CIC.
Most schools have run internal competitions with their students, with the successful teams going through to a final at the Royal Lyceum Theatre in Torquay on Friday 1 December.
The schools involved are Brixham College, Churston Grammar School, St Cuthbert Mayne, The Spires, Torquay Academy, Torquay Boys' Grammar School, and Torquay Girls' Grammar School.
The Careers Hub Dragons' Den event, in partnership with TDA, will provide the students with amazing facilities for their final presentations, including access to the large cinema screen. The students will also see presentations from the Dragons, finding out about their sectors and their journey to success.
There will be prizes very kindly donated by sponsors, for those with the best projects, as chosen by our Dragons.
Our Dragons are:
Alison Upton – Philanthropy Manager at Rowcroft Hospice
Tony Horsey – Ortus Construction
David Rowe – Conroy Couch Jewellers
Keely Pierce – I am More Academy – personal development consultant.
Tim Durrant – Photonics expert – Tim has spent 40 years in engineering and photonics and now supports STEM school activities.
Phill Adams – Economic Inclusion, Programme Lead for Devon County Council
The event aims to inspire young people and show them the opportunities available to them in the Torbay area. There will also be a number of stands from Torbay businesses at the event to give students the chance to find out more about them.
Event organiser Jacqueline Hobson, of Devon, Plymouth and Torbay Careers Hub, said: "It's been amazing to develop, help, and support this project. From running assemblies with employers from key sectors at schools including introducing 1,500 students to the world of photonics, to working with business mentors, to seeing students come up with exciting ideas. I'm looking forward to seeing the final presentations."
Councillor Rufus Gilbert, Cabinet Member for Economic Recovery and Skills, said:

"It's good to see the Careers Hub building on the success of last year's event. It's a great experience for students to work with local businesses and to have the opportunity to come up with their own business ideas. It could help inspire future entrepreneurs in our region."
Devon, Plymouth and Torbay Careers Hub is part of our Skills Team. It works with every state-funded secondary school, special educational needs school, alternative provision and post 16 college in the area, helping them to link with local employers to develop and deliver high quality careers support to all their students.