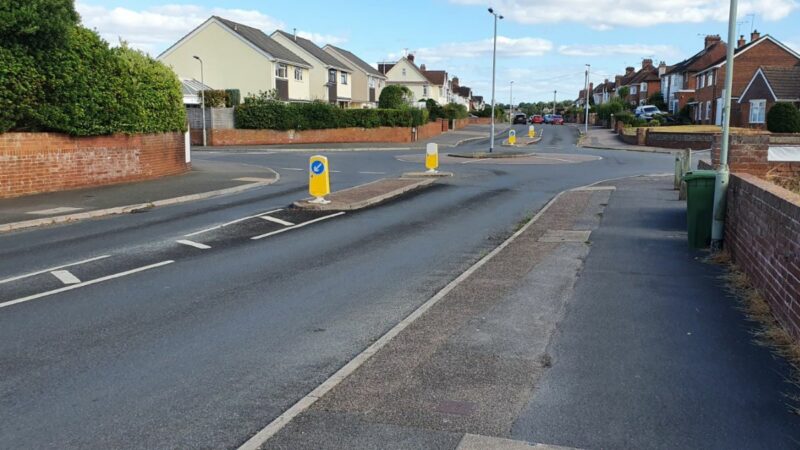 Work to introduce road safety improvements at a roundabout in Exeter is due to get underway next week.
Two raised pedestrian crossings are to be installed on the Sweetbrier Lane approaches to the roundabout which connects with Whipton Lane.
Work is scheduled to start on Monday 7 November and is expected to last two weeks.
The raised crossings were proposed as part of the Exeter Streets consultation to create safer and quieter residential streets in Heavitree and Whipton and were approved by Exeter HATOC earlier this year. They are designed to reduce traffic speeds and improve safety for people walking and cycling.
The roundabout forms part of the E3 strategic cycle route and would complement other recent schemes on this route. This includes traffic filters on Homefield Road and Chard Road and a contra flow cycle lane on Park Place. Traffic filters allow people walking and cycling to travel through but not vehicular traffic, helping reduce traffic volumes and improve safety.
Councillor Stuart Hughes, Cabinet Member for Highway Management, said:

"These measures were well supported by local residents during the Exeter Streets consultation and I'm pleased that work is now due to get underway. Between 2016 and 2020, there were seven collisions at this roundabout and five of them involved collisions between motor vehicles and cyclists. This scheme should slow traffic approaching the roundabout and make it safer for everyone."
Councillor Danny Barnes, County Councillor for Heavitree and Whipton Barton, said:

"I'm really pleased to see work will shortly start on making improvements to the design of the roundabout, which will lead to a reduction in the incidents we have seen in the past and a safer route for those choosing active travel. Of course, this is only one part of a wider strategy to improve walking and cycling infrastructure in the Heavitree and Whipton area, and I'm looking forward to seeing proposals for a low-traffic neighbourhood coming before the Exeter HATOC committee in due course."
The scheme will also include resurfacing, drainage improvements and new signs and road markings.
For the duration of the work Sweetbrier Lane will be closed between:
Whipton Lane roundabout junction and the side road junction with Whiteway Drive;
Whipton Lane roundabout junction and the side road junction with Endfield Close.
A signed diversion will be in place. All roads will remain open to people walking and cycling, although cyclists may need to dismount.
For more information visit our scheme webpage.