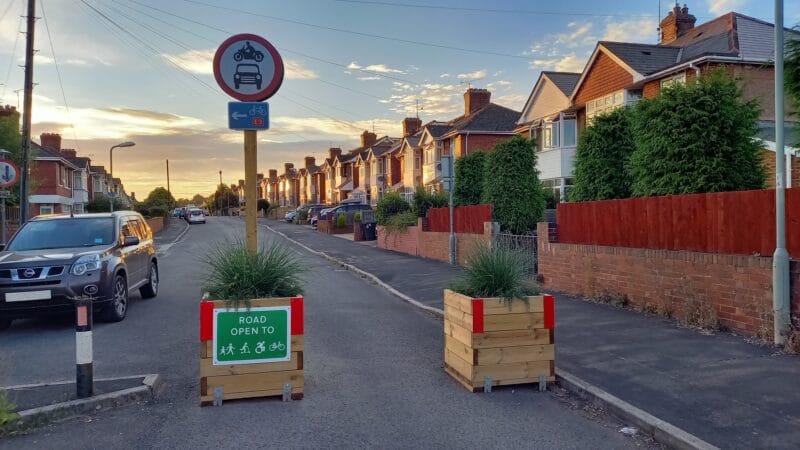 There is just a week left to have your say in the latest public consultation on improving streets in Heavitree and Whipton in Exeter.
Almost 800 people have so far taken part in our "Local Streets" consultation for Heavitree and Whipton which continues until midnight on Thursday 7 October.
People are being asked for their views on a number of options to create quieter and safer residential roads to reduce the impact of traffic and enable more people to choose walking and cycling for shorter journeys.
The proposals which have been put forward will remove through traffic on a number of roads but allow a mixture of either buses, cyclists and pedestrians to pass through.
The consultation is also seeking views on traffic calming schemes on Whipton Lane/Georges Close junction and the Whipton Lane/Sweetbrier Lane roundabout, as well as traffic calming proposals to Sweetbrier Lane itself between the roundabout and Hamlin Lane. It will also aim to establish where there is demand for electric vehicle charging facilities.
There has been extensive promotion of the consultation, not just through social media and a webinar, but directly with the community through schools newsletters, community organisations, local church newsletters and businesses. A number of pop-up events have also been held in the local park and outside schools, where we have talked to more than 150 residents.
Councillor Stuart Hughes, our Cabinet Member for Highway Management said:

"We've had a good response to this consultation so far but we want to encourage everyone who is thinking of taking part but hasn't yet done so to please make sure you have your say over the next week. This is a good opportunity for local residents in Heavitree and Whipton to give us their views on how they would like to see their local roads improved."
Councillor Danny Barnes, our Councillor for Heavitree and Whipton Barton, said:

"We are very grateful for the responses received so far and it's great to see local residents commenting on the bold approach the Council is taking to tackle traffic in the wider area. We need to support changes like these if we are going to address our carbon targets, promote active travel and reduce air pollution. We are keen to ensure all residents have the opportunity to respond before the 7 October deadline."
Councillor Su Aves, our Councillor for St Sidwells and St James, said:

Councillor Su Aves, County Councillor for St Sidwells and St James, said: "It is really important that we try to get as many residents as possible from Heavitree and Whipton responding to this consultation. Please contact all your neighbours, in local shops, outside schools etc and anyone you meet in your road, in person or by social media, before 7 October. Your opinion counts. Talk about it and get the conversation going, so that as many people as possible know it is worth filling in to give their own opinion too. If you do respond, you can influence the decisions made."
We will carefully consider all responses received for this consultation before deciding on whether to trial some of the measures proposed.
The consultation is available on the 'Have Your Say' pages of our website and https://placebuilder.io/exeterstreets/heavitreeandwhipton
Alternatively, you can request a paper feedback form or more information by emailing transportplanning@devon.gov.uk by post to Transport Planning, Matford Offices, County Hall, Topsham Rd, Exeter, EX2 4QD or by phone on 0345 155 1004.