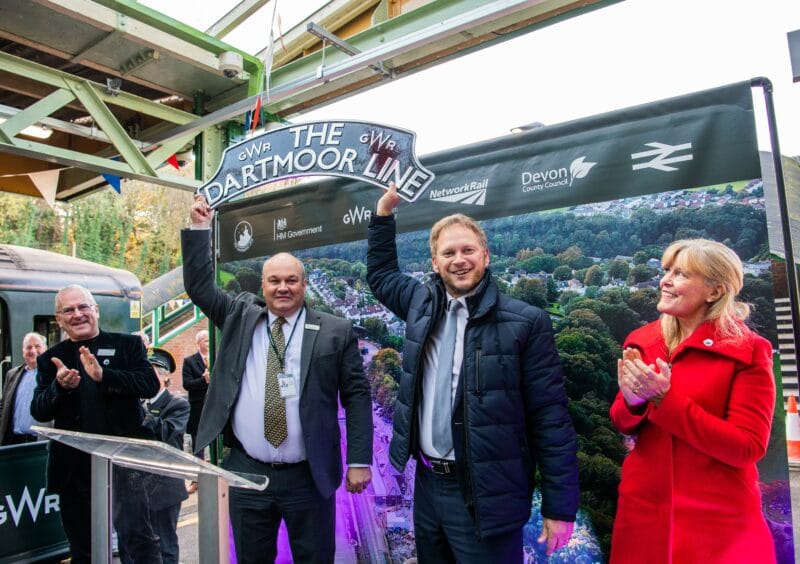 The newly restored Dartmoor Line has today (Wednesday 17 November) been officially opened by Transport Secretary Grant Shapps MP.
The reinstated rail line between Okehampton and Exeter is the first to reopen under the Government's Restoring Your Railway programme, and regular passenger services on the Dartmoor Line will start from this Saturday (20 November).
This weekend's launch will mark the return of the first regular service on the line for almost 50 years. This morning's official ceremony saw invited guests, including Transport Secretary Grant Shapps, arrive on the first train into Okehampton.
He said: "By restoring the Dartmoor Line, we are undoing 50 years of damage, reconnecting a community and creating new opportunities for jobs, tourism, education and recreation. We have made it our mission to reverse cuts made in the Beeching era of the 1960s.
"The passion, nostalgia and enthusiasm for that ambition is clear right across the country. People love their railways and rightly miss them when they're gone. Today – ahead of time and under budget – we've made a decisive step in fixing that, cutting the ribbon on a line and making a real difference to people's lives."
While the campaign to re-open the line ran for more than a decade, the work to make it happen has taken Network Rail and GWR around nine months, with the construction of 11 miles of new track, installation of 24,000 concrete sleepers and 29,000 tonnes of ballast.
The Department for Transport recognised that the project, "hugely benefitted from strong local support spearheaded by Devon County Council, without which it would have taken far longer to reach the point where regular year-round services can be restored after almost 50 years."
Councillor Andrea Davis, Cabinet Member for Climate Change, Environment and Transport, said:

"The re-opening of the Dartmoor Line marks a proud day for Devon and everyone involved in making this happen should feel proud of what they have helped achieve. It's marvellous to see the Dartmoor Line reinstated, and to be the first rail line to re-open under the Government's Restoring Your Railway programme is a magnificent accomplishment in itself.

"Devon County Council maintained the Summer Sunday service on the line since 1997 and in doing so, demonstrated what could be achieved. If nothing else it kept hope alive that we could see a return of regular services between Okehampton and Exeter. A heartfelt thank you and well done goes to everyone in the community and partner organisations who have played a part in helping to revive the Dartmoor Line, and Network Rail and GWR have worked flat out to ensure that it opened this year."
The Dartmoor Line connects Exeter St David's, Crediton and Okehampton, and around half of services, including at peak times, will also carry on to Exeter Central.
The new service will enable visitors to explore Dartmoor, as well as providing a regional link for local commuters and improving access to education for young people. It will run every 2 hours, with plans to expand to an hourly service in 2022.
From Saturday 20 November, Devon County Council is also launching the bus service 118 which will link Tavistock to Okehampton, via Mary Tavy and Lydford, to provide an integrated connection to the rail services between Okehampton and Exeter during the daytime. The new service is operated by Dartline and fully funded by Devon County Council.
For more information, please visit the Travel Devon webpages and for the latest updates on the Dartmoor Line go to www.dartmoorline.com