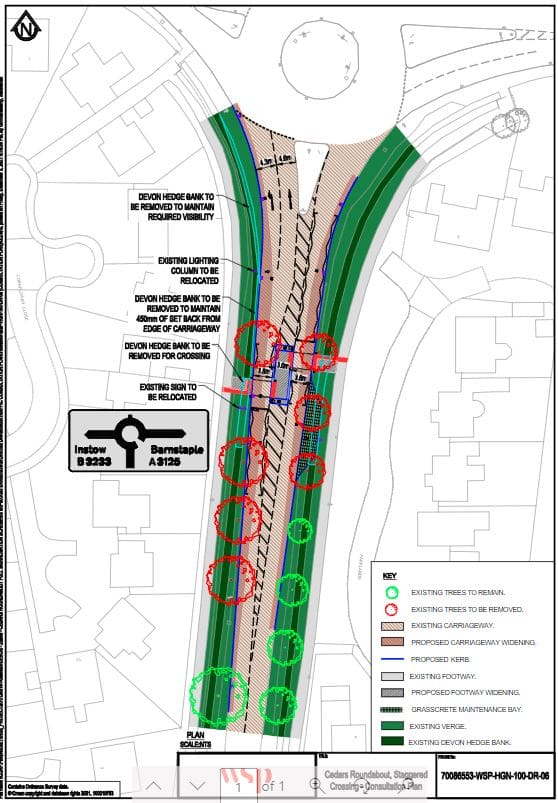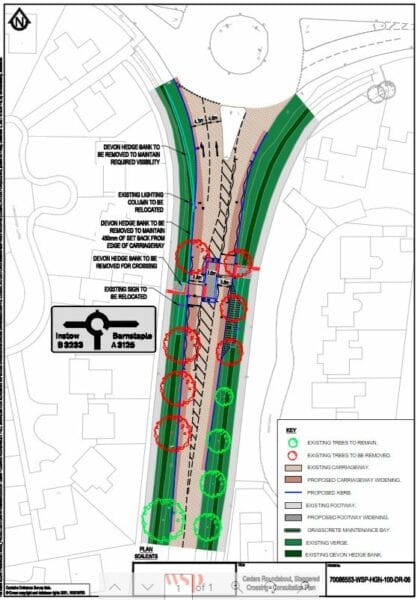 People are being asked for their views on proposals for a new pedestrian and cycle crossing on the Bickington Road approach to the Cedars roundabout in Barnstaple.
We're developing plans to introduce a new staggered crossing south of the Cedars roundabout and are inviting comment via our Have Your Say consultation webpages.
During peak times in the morning, the traffic lights at the crossing will turn red on the approach to the roundabout, even if no pedestrians are crossing, in order to allow traffic from Bickington and Fremington to enter the roundabout more easily.
A successful trial of such a crossing was carried out in February 2019, and traffic modelling has been undertaken to predict the impacts of introducing this measure.
Councillor Stuart Hughes, Cabinet Member for Highway Management, said:

"The trial and modelling has shown that installing this traffic light crossing would improve traffic flow and reduce journey times for traffic from Bickington and Fremington. The crossing would also provide a safe crossing point for pedestrians and cyclists across the A3125 Bickington Road."
Councillor Frank Biederman, County Councillor for Fremington Rural, said:

"I am delighted, after many years of lobbying for action to be taken on the traffic congestion experienced by many travelling through Bickington, that we are finally moving forwards on this important scheme and urge residents to take part in the consultation. Modelling after the two-week trial in 2019 showed journey times improved from the Roundswell direction by two minutes, and from Bickington by up to 15 minutes, with the signals in place. This will not only improve journey times, but reduce emissions for those people living along the road in Bickington."
Subject to the results of the public consultation, Devon County Council is aiming to construct the crossing in the next financial year using funding from housing developments in the Bickington and Fremington area.
Comments on the proposals can be sent by email to transportplanning-mailbox@devon.gov.uk. The consultation on our Have your Say webpages will be open until Tuesday 1 February 2022.
A paper copy of the plans and consultation can be requested in writing to: Highway Development, Devon County Council, Taw View, North Walk, Barnstaple, EX31 1EE.