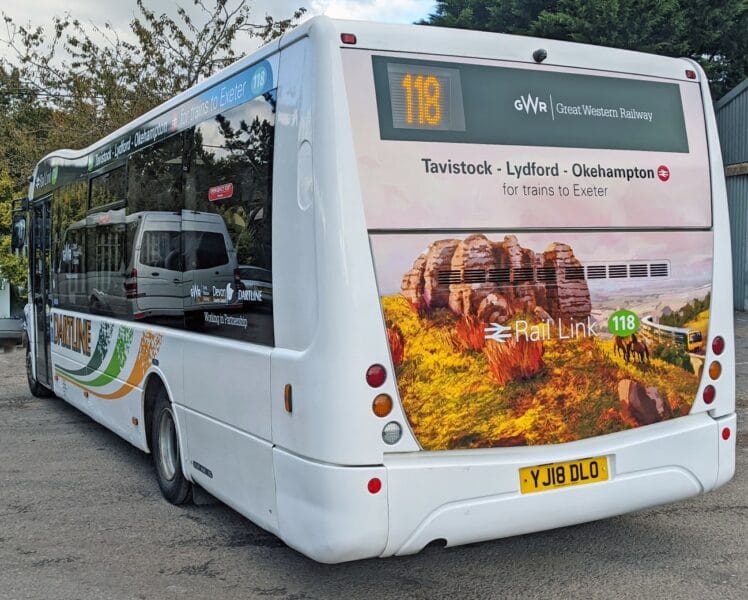 We're launching a new bus service to coincide with the re-opening of the railway line to Okehampton.
From Saturday 20 November, Service 118 will link Tavistock to Okehampton, via Mary Tavy and Lydford, to provide an integrated connection to the rail services between Okehampton and Exeter during the day.
As the 118 runs hourly and the rail service approximately every two hours, buses which operate in between the rail service times won't serve the station, but instead will stop nearby in West Street and Fore Street in Okehampton. The only rail services which will not have a connection with the bus service will be the evening journeys, due to the 118 finishing around 6.00pm; the last bus journey from Okehampton Rail Station leaves at 1755.
A maximum fare of £3, single or return, is being introduced for passengers on the 118 who have a valid rail ticket. There will also be a flat fare of £1 for those travelling from Okehampton town to the rail station. The new service is operated by Dartline and fully funded by Devon County Council.
Councillor Andrea Davis, Cabinet Member for Climate Change, Environment and Transport, said:

"We wanted to ensure that there was an integrated bus service to coincide with the re-introduction of the Okehampton rail services and we are demonstrating our commitment to public transport by funding 100 per cent of the new 118 bus service.

"Hopefully it will encourage and enable even more people to take advantage of the new rail connection between Okehampton and Exeter.

"This new service is also in line with our ambitious Bus Service Improvement Plan, which puts public transport, and greater integration between bus and rail services, at the heart of our future transport network in Devon as we strive to reduce the county's carbon emissions."
From Sunday 12 December, there will be a minor change to both the rail and bus timetables on Saturdays and a new Sunday and Public Holiday service will be introduced. One journey on the latter will continue through to Gunnislake to make a connection with the Tamar Valley line. The £3 maximum fare for rail travellers will also apply on Sundays, including those travelling to and from Gunnislake.
For more information, please visit the Travel Devon webpages.