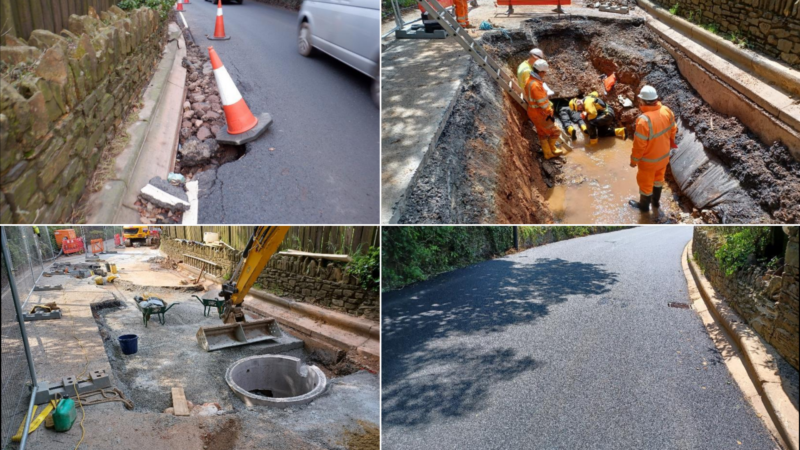 Our Cabinet Member for Highways, Stuart Hughes, has praised the engineers, work crews and contactors for 'pulling out all the stops' to ensure that a major South Hams holiday route was reopened in time for the recent bank holiday rush.
In early May the A381 at Halwell, the main road linking Kingsbridge and Dartmouth to Totnes was closed after a section of thecarriageway collapsed.
A deep culvert, linked to the drainage system, runs underneath the road – and when that failed, the road surface began cracking, eventually leading to a three-metre-long hole.
Works teams and contractors, including, Marine & Civil Solutions, Milestone Infrastructure, and IDVerde, then set about making repairs.
They worked seven days a week to ensure that the road was reopened ahead of what is traditionally one of the busiest weekends of the year at the end of May.
Over 18 days teams excavatedfifteen metres of road down to a depth of more than two metres, installed three new gullies, rebuilt the drainage system and resurfaced 43 metres of road – all while coping with bouts of flooding.
And for good measure, they replaced 10 defective gully gratings, and jetted and cleared out every gully from Totnes Cross to Halwell. They even cut back the vegetation, swept the road and removed a large dead ash tree.
Councillor Stuart Hughes, Devon County Council's Cabinet Member for Highways Management said:

"I want to congratulate our contractors, Marine and Civil Solutions, Milestone Infrastructure and IDVerde who with support from members of the Council's  Structures Team , Asset Management Team, Neighbourhood Highways Team and the Stakeholder Relations Officers pulled out all the stops came together and completed what was a difficult repair.

"With numerous events planned over the recent bank holiday weekend and many people heading to the coast we were very conscious that this would have been one of the main routes for those travelling from this part of Devon, and the disruption it would have caused if the road it had been open would have been significant.
""This was a highly complex and challenging project particularly so given its location and the timescale, and to complete this in just over two weeks is highly impressive. A real success story."
Councillor Rufus Gilbert, local member for Salcombe, said:

"This was a highly complex and challenging project particularly so given its location and the timescale, and to complete this in just over two weeks is highly impressive. A real success story."