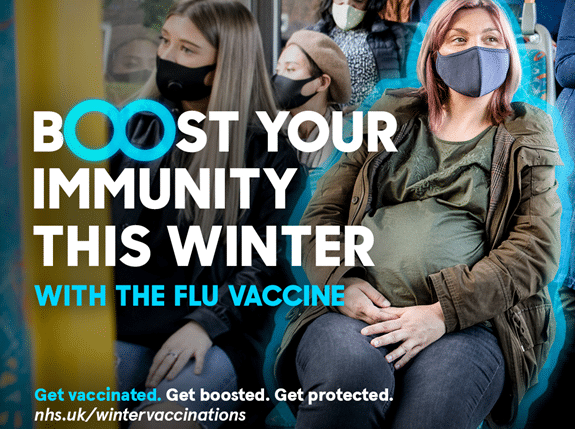 The COVID-19 pandemic has made us all more aware of viruses and how poorly they can make us. So the NHS in Devon is reminding people to get their flu vaccination to give themselves the best possible protection against illness this winter.
An average of 11,000 people in England die from flu annually, and this year the government has warned that there could be a significant flu surge coinciding with continuing or rising COVID-19 cases due to colder weather and increased social contact indoors.
Research shows that if you get flu and coronavirus at the same time, you're more likely to be seriously ill. It's also thought that more people are likely to get flu this winter as there won't be as much natural immunity due to lower levels of circulation last year during the national lockdowns.
The COVID-19 vaccine does not protect against flu so it is vital to have both your coronavirus and flu jab to reduce your chances of becoming unwell and needing hospital treatment. Getting vaccinated helps you and the NHS, which is already facing extreme pressures in the run up to the very busy winter season.
Some people are eligible to get the flu jab free on the NHS because of their age or circumstances, and can book their flu vaccination appointment at their GP practice or local pharmacy. If you are not eligible for a free NHS flu vaccine, you can still pay for one privately at a local pharmacy.
The people who brought us the ZOE COVID Study app have published a handy guide about flu, its symptoms, and how to keep safe this winter. It also describes the difference between flu and COVID-19.