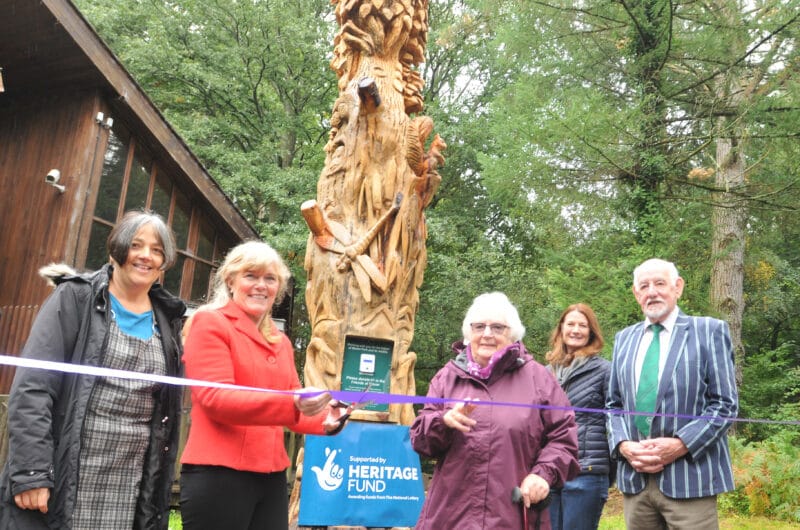 A "Wishing Tree" has been installed at Stover Country Park to help raise vital funds for the restoration of the historic park near Newton Abbot.
Along with the Friends of Stover Park charity, we are celebrating the the launch of the contactless donation system at the entrance to Stover Country Park's Visitor Centre. Visitors are being asked for donations to help the Park reach its £2 million fundraising target to support planned improvements.
We own and manage the 114 acre Country Park within the wider 440 acre Stover Park site, and were awarded a grant from the National Lottery Heritage Fund in March last year to develop detailed plans for our match-funding bid towards a £4 million restoration project.
The ambition of the 'Restoring Stover Park' project is to:
restore lost views and landscape features;
repair two Grade II* listed buildings and other listed structures;
remove silt from the Stover Lake SSSI;
expand the network of paths allowing visitors to explore the wider park;
improve the Visitor Centre to provide a new indoor learning space, workshop facilities for our volunteers and groups;
develop a full activity and interpretation plan to engage under-represented audiences.
Daphne Watts, Chair of the Friends of Stover Park said:

"As a Registered Charity devoted to raising funds for Stover Park, we are keen to do all that we can to boost our fundraising total. The Wishing Tree provides an additional means through which the public can choose to support Stover Park. Friends of Stover Park would like to thank the artist Gary Orange, who designed and created the tree, together with those who have been involved in creating the wishing tree. Protection of wildlife and habitats, and the preservation of the history of Stover will be the focus of our charity for the future, so that visitors can fully enjoy their time at Stover Park."
Councillor Andrea Davis, our Cabinet Member for Climate Change, Environment and Transport, said:

"Stover Country Park is one of Devon's most popular visitor destinations, regularly winning awards for its excellent facilities. Over the next few years Newton Abbot will continue to expand with new housing and infrastructure, and we're in the process of applying for a National Lottery Heritage Fund grant to help ensure our Country Park and the wider historic Stover Park are improved and conserved for the future.

"In the 'Restoring Stover Park' project, we are working with other landowners such as Stover School and Sibelco, and Statutory Bodies such as Natural England and Historic England, to assess the current condition of Stover Park including its landscape and historic buildings and develop plans for its improvement and future management. But we're also seeking support from residents, visitors, local community groups, schools and colleges and other local Councils and organisations to ensure we have the best chance possible to protect and conserve the Park and its infrastructure for the future.

"The Friends of Stover charity plays an important role in fundraising to supplement our funding and car park income to enable improvements to the visitor experience. Allowing visitors to donate via our new Wishing Tree will help us together preserve the historical integrity of Stover Park for generations to come."
Councillor George Gribble, our Councillor for Bovey Rural, said:

"This excellently sculptured 'wishing tree' at the entrance to Stover Park will hopefully serve its purpose in securing extra funding needed for the restoration of our wonderful Stover Country Park, to allow the many visitors to further enjoy the listed structures and facilities included in the beautiful Park and surrounds."
Stover Park is one of Devon's most accessible and popular heritage sites, a Grade II historic park and 18th century designed landscape. It was placed on the Heritage at Risk register by Historic England in 2009.
Match funding for the Restoring Stover Park project is also being sought from Devon County Council, Teignbridge District Council, National Highways (previously Highways England) and Historic England.
The application to the National Lottery Heritage Fund will be made in May 2022, which the committee will consider in September 2022. The project will run for the subsequent three years.
The Friends of Stover Park organises fundraising events including family trails, musical events and walks.