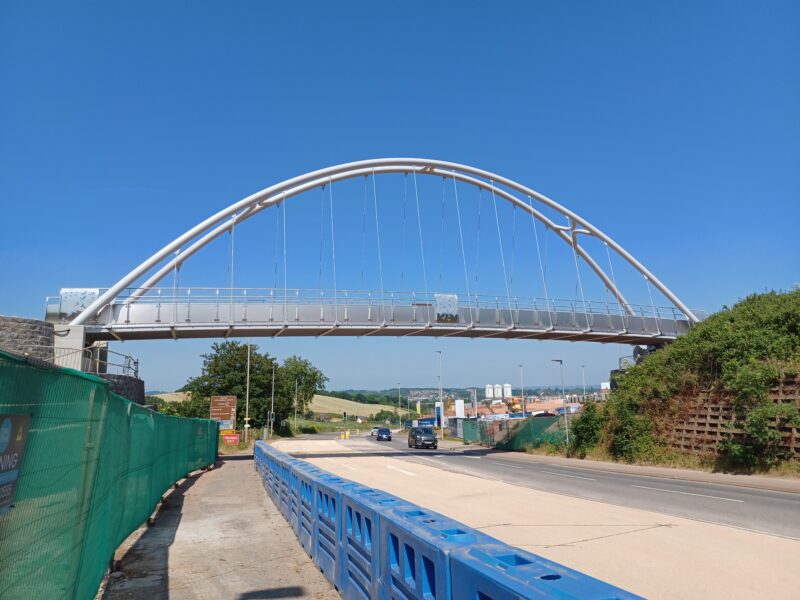 A new pedestrian and cycle bridge, which will eventually link new homes and a school to local amenities in South West Exeter was successfully lifted into place on Thursday evening, a full 24 hours ahead of schedule.
The bridge spans the A379 between Chudleigh Road and the Devon Hotel – the road was closed for part of this week to enable the operation to be carried out safely.
Once open it will form a link to the new development which is expected to deliver 2,500 new homes and 21.5 hectares of land for new employment.
The footbridge was delivered in sections and constructed on the roadside before it was lifted into place in one piece by a large crane.
The bridge is part of the infrastructure being delivered to support the new development following £55.1 million of funding from the Housing Infrastructure Fund, which is administered by Homes England, a government agency.
The contractor was John Graham Construction.
Councillor Stuart Hughes, Devon County Council's Cabinet Member for Highways Management said:

"The bridge was lifted into place without a hitch, and we hope that it will be open for public use by the autumn.

"I want to thank local resident's road users for their patience and observing the restrictions in place while this was carried out and we are sorry for any convenience that this caused."
Councillor Alan Connett, the County Councillor for Exminster & Haldon, said:

"It is certainly good news that the bridge was put in place so quickly. I know very many local residents were concerned about the possible disruption if the road closure had been longer. The bridge is another visible sign that the new development at Matford is progressing at some pace, and work also continues on the new Matford Brook Academy.

As part of this new development, there will also be a community centre and GP surgery and a planning application for both has been submitted in the last few days. Working together with Exminster Parish Council, I have been keen to see the key facilities needed by the new community at Matford are put in place as early as possible."