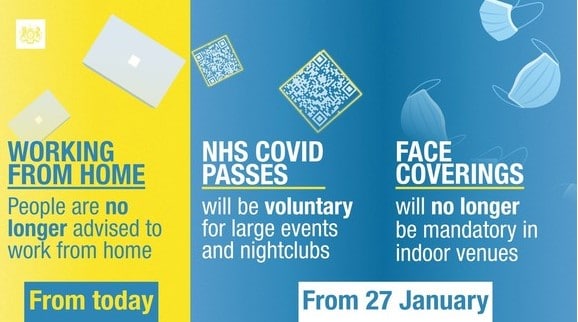 The government has announced that England's COVID-19 measures will revert from Plan B to Plan A.
This means:
the government is no longer asking people to work from home if they can. People should now talk to their employers to agree arrangements to return to the office
face coverings are no longer required for staff and pupils in secondary schools and college classrooms
from 27 January, face coverings will no longer be required for staff and pupils in communal areas of secondary schools, nor for staff in communal areas of primary schools
from 27 January, there is no longer a legal requirement to wear a face covering in public indoor places. The government suggests that you continue to wear a face covering in crowded and enclosed spaces where you may come into contact with other people you do not normally meet
from 27 January, venues and events will no longer be required by law to check visitors' NHS COVID Pass. The NHS COVID Pass can still be used on a voluntary basis
Visit the government website to find out more about the changes, and what you can do to stay safe and help prevent the spread of COVID-19.