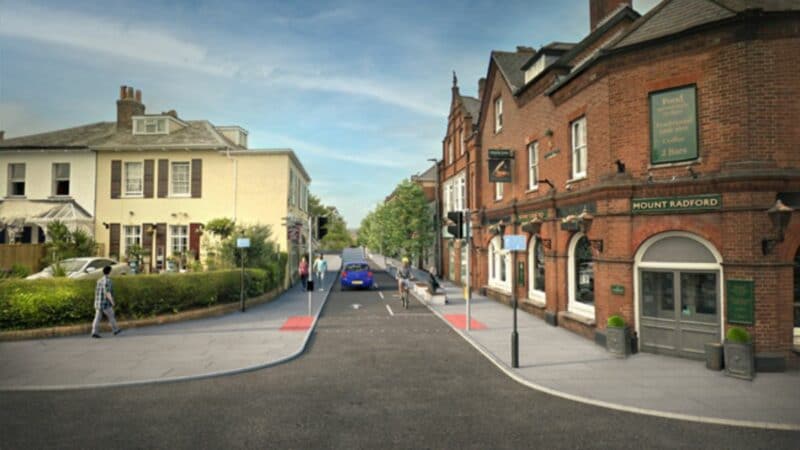 Councillors have approved proposals to make permanent changes to the layout of Magdalen Road in Exeter.
Temporary measures were introduced on the road in June 2020, along with other parts of the city and other communities in Devon, in response to the Coronavirus pandemic, using funding from the government's Emergency Active Travel Fund.
Cabinet agreed recommendations to keep the one-way arrangements for vehicular traffic, with contraflow cycle lane and the widened footway on the northern side of the road.
These changes are designed to encourage walking and cycling by creating a more attractive urban environment, while maintaining vehicular access for local businesses and residents.
Magdalen Road forms part of the E9 strategic cycle route which connects the Newcourt/Pynes Hill area to the Royal Devon & Exeter Hospital and city centre, linking Exeter residents to education, employment and other local amenities.
The measures in Magdalen Road complement changes elsewhere on the E9 route on Wonford Road, Dryden Road and Ludwell Lane, to create quieter routes for walking and cycling.
Traffic counts in June 2021 found that the one-way system has changed the balance of road users on Magdalen Road. Around 3,100 vehicles per day were recorded using Magdalen Road over a 12-hour period, a reduction of approximately 50% compared to July 2019, before the temporary one-way layout was implemented. Around 2,500 pedestrians were recorded over the same period, along with 500 cycles, which was an increase of 8% from 2019.
Councillor Stuart Hughes, Cabinet Member for Highway Management, said:

"The permanent introduction of this scheme builds upon our encouragement of active travel in response to the pandemic. The temporary measures have created a nicer environment in Magdalen Road, reducing traffic flows and making walking and cycling a more attractive option.

"Making this layout permanent will enable people to maintain their new travel habits in the longer-term. It also supports the County Council's Climate Emergency declaration and the adopted Exeter Transport Strategy which encourages moving towards more sustainable modes of travel."
Councillor Carol Whitton, County Councillor for St David's & Haven Banks said:

"The temporary traffic arrangements in Magdalen Road have made a real contribution to helping people take up cycling and walking within the city centre. Early fears that restricting car movements would kill trade and destroy the unique village atmosphere of the shopping experience have proved unfounded and Magdalen Road remains the vibrant community it always was. I look forward to the even greater benefits that the permanent scheme will bring with the replacement of the red and white plastic bollards, a new wider pavement area for pedestrians, and new street furniture and tree planting."
The measures being made permanent include:
Restricting vehicular traffic to one-way westbound on Magdalen Road, between the junctions with College Road and Denmark Road, with contraflow (eastbound) cycling permitted;
Introduction of a restricted parking zone to ban all parking and loading outside of existing limited waiting parking bays on the southern side of the road, and three new loading-only bays on the northern side of the road.
Introduction of a raised hump uncontrolled crossing point on Denmark Road, at its junction with Magdalen Road;
There will also be a number of improvements to the public realm, including
the introduction of planters and additional cycle parking.
The £900,000 scheme is being funded by Department for Transport Active Travel funding and our Local Transport Plan funding.
To address concerns around traffic being displaced onto Denmark Road, Exeter HATOC has also resolved to trial an extension of the one-way system to the Fairpark Road junction, once the Magdalen Road scheme has been made permanent.