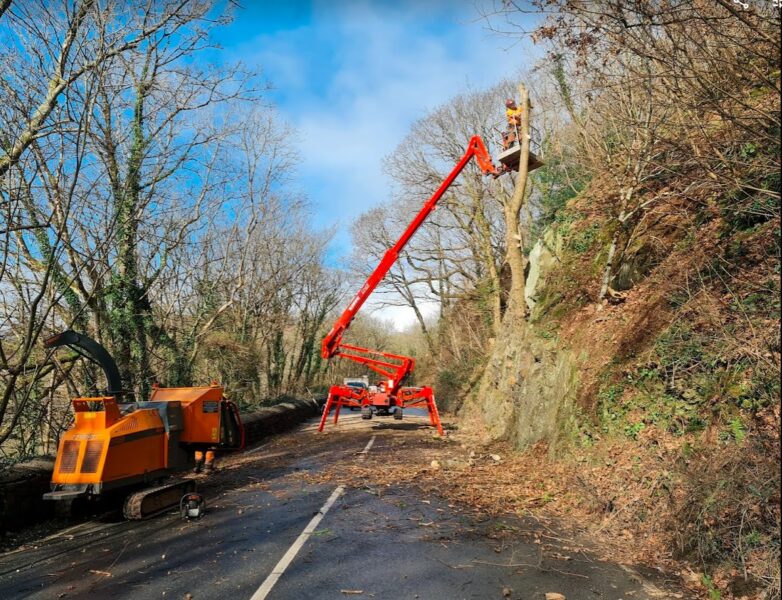 One lane of the A386 at Orford Mill, Torrington, has now reopened (Friday February 4) with traffic management and a 30mph temporary speed limit in place.
The road was closed last Thursday (January 27) after a landslip caused rocks and debris to fall onto the road leaving the rock face unstable. Milestone put the closure into place, with support from idverde.
Abseiling inspection by Frederick Sherrell Ltd and Abcas on Saturday (January 29) led to a better understanding of the geological situation and allowed work to begin.
On Monday (January 31), under the direction of a specialist geotechnical engineer from Frederick Sherrell Ltd, roped access workers from Abcas removed loose stone from the rock face to reduce the immediate risk.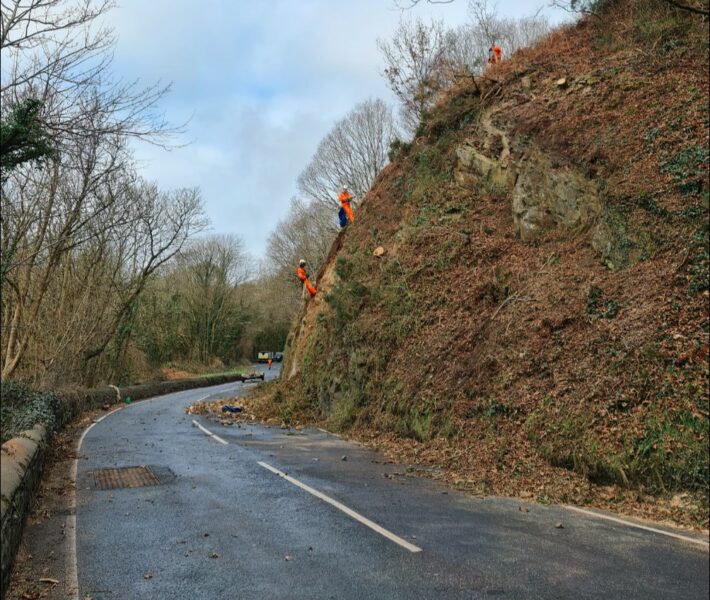 Teign Trees has cleared trees and foliage which were damaging the rock face, and, during the course of Friday (today), MacPlant cleared the remaining debris from the road, erected barriers and put in place the traffic management. All fallen stone will be put to good use by the nearby RHS Garden Rosemoor, minimising transport costs and carbon emissions.
There remains a risk that smaller pieces of stone could fall onto several areas of the closed lane. As an added precaution barriers have been put in place on the centreline of the road in front of these points.
The next stage of the work will require netting, rock bolting and anchoring specific areas of the rockface. Specialist materials will need to be acquired to complete the work and the public will continue to be updated on progress.
Councillor Stuart Hughes, Devon County Council's Cabinet Member for Highways Management, said:

"I would like to thank all the contractors, Milestone, idverde, Frederick Sherrell, Abcas, Teign Trees and Mac Plant. Because of their hard work we have been able to partially reopen this vital road earlier than we expected, a little more than a week after what was a significant landslip. Unfortunately, we don't yet know when we will be able to fully open the road. I know this road closure has been frustrating and we will continue to update the public with progress reports as often as we can."
Councillor Andrew Saywell, the local County Councillor for Torrington Rural, said;

"I have been very impressed with the efficiency and speed of our contractors to enable us to make the area safe and to partially reopen the road. Please abide by the speed restrictions and the traffic management that has been put in place and please be assured we will fully reopen the road as soon as it is safe to do so. I'd like to thank everyone for their patience while the road has been closed, in particular those communities that have been adversely affected by the road closure."